By the time he was an adult, Atin was a certified globetrotter, "I grew up in different parts of the world." He spent his youth soaking up culture and countrysides, always struck by the stunning landscapes surrounding him. This appreciation for nature stayed with him into his degree studies in Chemical Engineering, where he decided to do his major project on carbon offsets — a relatively unknown space at the time. Despite concern from his professors about the nascent topic, he followed his passion to not only complete his thesis, but to actively pursue a job in ESG.
Like his childhood, Atin's career has also been global. Before finding his home in Calgary at KPMG as a Partner in the ESG Practice, Atin worked across India, Asia and Europe, helping organizations navigate the complexities and changing regulations that emerged in the ESG space. It's this global experience that gives Atin the insights to help his clients navigate this same dramatic shift we are now seeing here in Canada. "I think the biggest challenge right now is the speed of change, and the lack of clarity on where regulations are going to end up." It is through these lived experiences that Atin has the unique foresight to help his clients create sustainable changes and envision long-term progress.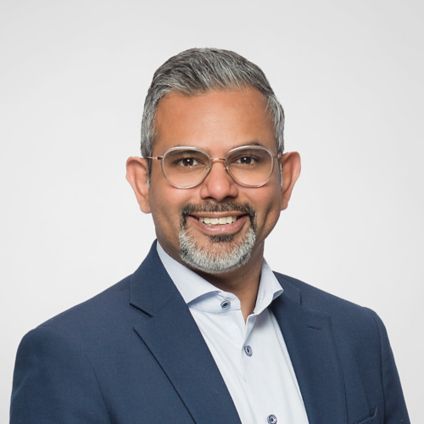 Equally valuable is his professional background. Having worked across multiple disciplines as a consultant, Atin understands that ESG is a holistic experience that touches every aspect of an organization. "ESG isn't something that can exist in isolation. It's inherently interdisciplinary," he explains. Therefore, for profound, lasting change to happen, it must be done collaboratively. He draws on KPMG's wealth of talent to build multi-disciplinary teams with a wide range of expertise: "Our team consists of engineers like myself, but we also have economists, data specialists and CPAs."
Atin believes the work he and his clients are doing is just the beginning of the ESG and sustainability movement here in Canada. As the space continues to grow, he sees many opportunities for innovation and progress, both at home and across the world. "There's a lot of momentum that can help solve environmental issues", he says, hopeful about a better future for the planet. And he's excited to help bring it to life.

Explore more stories
Learn more about the extraordinary people at KPMG living their passions, delivering insights and making an impact
Insights and resources
Turn ESG insights into a world of opportunity
Careers
Make a world of difference with a career in ESG
Connect with us
Stay up to date with what matters to you
Gain access to personalized content based on your interests by signing up today