Article Posted date
16 July 2021
Highlights | Future outlook | Download the report | Find out more
Chinese investment in Australia declined by 18 percent in 2020, from USD 2.4 billion (AUD 3.4 billion) in 2019 to USD 1.9 billion (AUD 2.5 billion). In Australian dollar terms, the decline is 26.8 percent.
Compared to past years, the downturn of 26.8 percent in AUD takes Chinese ODI in Australia back to pre-mining boom investment levels of 2007. This is the cumulative effect of Chinese government restrictions on capital outflow, increasing regulatory screening of Chinese and other foreign investment, deteriorating bilateral diplomatic relations, disruptions to business communication and contact caused by the COVID-19 pandemic.
This July 2021 report is the latest in a series of Demystifying Chinese Investment in Australia reports by KPMG and The University of Sydney. The report analyses Chinese Overseas Direct Investment (ODI) into Australia in calendar year 2020.

Despite the decline in investment, it is worth noting that Chinese investment in Australia this year remains on par with Chinese investment in other developed economies such as Canada and Germany. The decline in Australia reflects a number of factors, including a shift in priorities for Chinese ODI which is consolidating towards smaller deal sizes and projects targeting domestic demand and long-term profitability.
Report highlights
NSW received the largest amount of Chinese investment in 2020 with AUD 1.3 billion or 49 percent of the total.

The dominant target industries are mining, commercial real estate and services.
Chinese investments into the Australian services sector in 2020 totalled AUD 527.51 million representing 21 percent of the overall volume.

Investment volumes by private investors continued to be higher than those by state-owned enterprises in 2020.

Chinese investment in Australia is shifting toward smaller deals in the AUD 100 million range in less sensitive industries with strong global development outlook or stable demand in Australia and China.

Apart from the impact of the COVID-19 pandemic, the reasons for the decline in Chinese capital inflows are: continued restrictions on capital exports by the Chinese government, deteriorating bilateral diplomatic relations between Australia and China, increased screening regulations and geopolitical insecurity.


Snapshot of key findings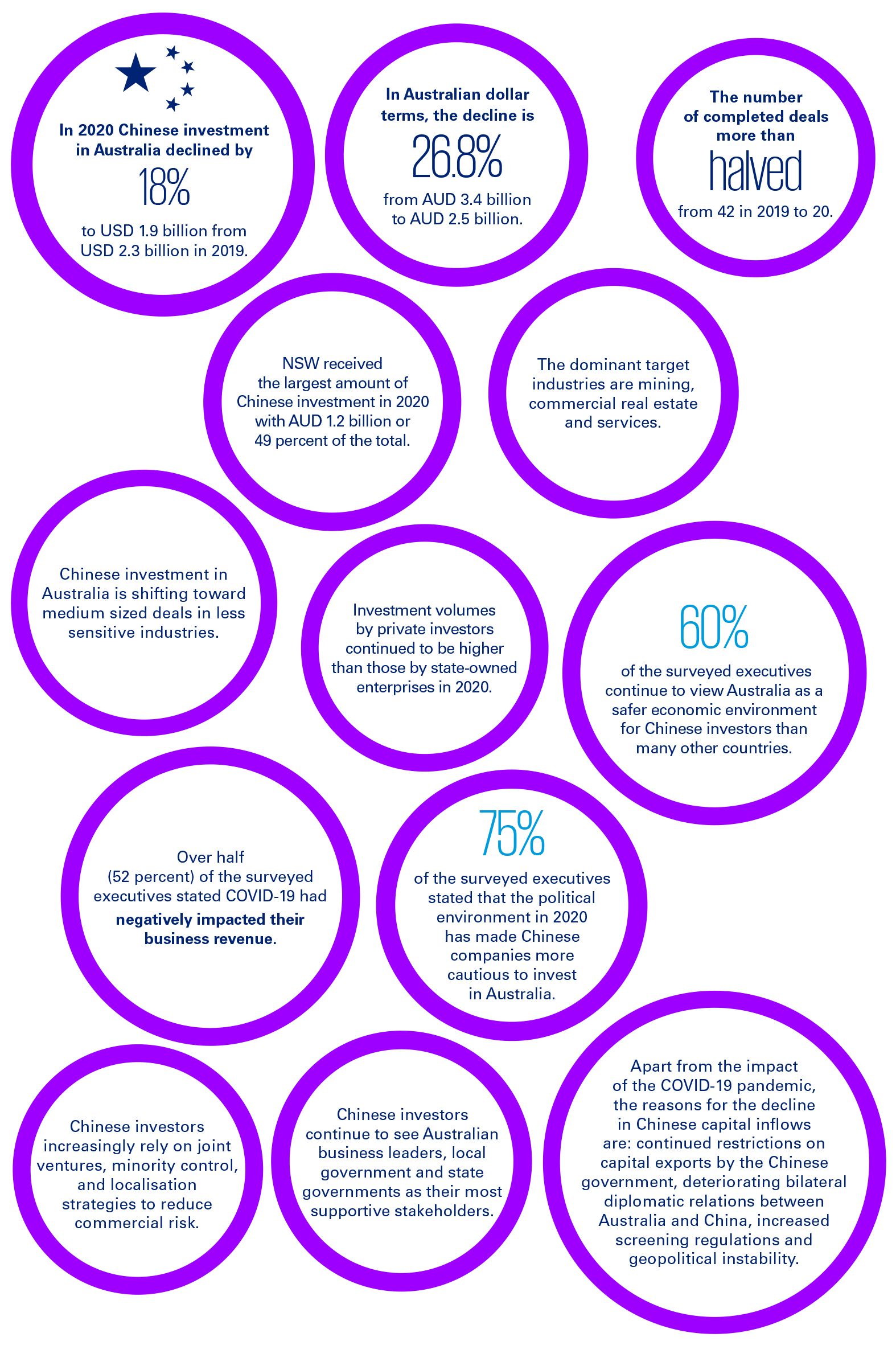 The outlook for Chinese Investment in Australia is mixed and uncertain with a shift in sentiment among Chinese investors towards more pragmatic business attitudes compared to the more lofty bilateral ambitions expressed in previous years.
Future outlook for Chinese investment in Australia
The outlook is mixed and uncertain, with less anticipation of future growth compared to previous years. Existing Chinese investors continue to see Australia as a country with solid market opportunities. However, Chinese executives are aware of the need for long term strategic efforts in building policy and stakeholder support for Chinese investment and foreign investment in general.
As to future Chinese investment in Australia, there are several pull and push factors affecting investment decisions. As Chinese headquarters and boards become more experienced and focused on return on investment, they are less willing to fund expansion for only for the sake of asset growth. There is more emphasis on synergies and profitability. There is less support from Chinese local governments for overseas investment/new Chinese international private equity funds pursue more targeted opportunities in specific industries and countries, such as agriculture in New Zealand, mining in South America and Africa, service and technology in Europe, and processing in southeast Asia with less emphasis on country to country strategic relations.
There is a shift in sentiment among Chinese investors towards more pragmatic business attitudes compared to the more lofty bilateral ambitions expressed in previous years. COVID-19 and the new political realities in bilateral diplomatic relations, coupled with a new and much more restrictive regulatory framework that applies to China, as well as other foreign investors, have all disrupted the inflated expectations of geo-strategic cooperation, regional infrastructure and hi-tech integration between Australia and China. Instead, Chinese investors are turning towards lower risk market opportunities with shorter term return on investment.

Footnote
We have not included the Chinese acquisition of the AUD 1.7 billion Australian owned Goodman property portfolio in Central Europe as Chinese investment in Australia. Allocating this large deal to Australia would have raised Chinese investment in Australia for 2020 by 68 percent to AUD 4.2 billion.

Email

Helen Zhi Dent (支巧玲)
Demystifying Chinese investment in Australia