Moving your SAP system to S/4HANA is an unparalleled opportunity to transform your organization. It's a chance to reduce costs through improved efficiencies, deliver data-driven insights to enable revenue growth and strengthen regulatory compliance.
At KPMG, we apply a business-first approach to SAP technology transformation projects. To address the business and technological imperatives for a greater return on investment at every level of the organization. To achieve a competitive, resilient, and modern business model.
Valued for our ability to deliver enterprise-scale transformation, KPMG professionals bring a wealth of knowledge, industry expertise, skills, and experience in business, process, and SAP technology transformation.
Our experienced consultants will guide you in every step, supported by our global transformation methodology called KPMG Powered Enterprise. Working closely with you, to get things done as your trusted advisor. Whether it's establishing your SAP strategy or implementing leading practices to achieve best in class processes, data, and systems. With the goal to transform your key business functions like supply chain, finance, procurement, sales and to drive sustainable change.
KPMG offers the following services
SAP enabled transformation
Companies need efficient and automated processes to be successful in the future and to gain competitive advantages. KPMG drives transformations across finance, procurement, sales and supply chain, enabled by the implementation of SAP S/4HANA. With KPMG Powered Enterprise, we provide tools and methods for adopting leading practices and driving business adoption.
SAP Program Assurance
KPMG supports your transformation project with an independent and objective (second) opinion. Using global framework and SAP program experience, we can be your critical friend to mitigate risks and assure that you achieve the goals of your transformation program.
SAP Advisory
KPMG supports process owners, project teams and complements technical system implementors to deliver a transformation that achieves the target benefits – on-time and on-budget. From determining your SAP technology roadmap options, to provide SAP program management or specialized expertise and experience in your workstreams.
Enterprise Architecture
KPMG brings extensive integration architecture experience to your SAP S/4HANA transformation program. To help you realize your most optimal target SAP architecture. Our experts evaluate your existing architecture and provide a roadmap and action plan based on better practices with the objective to support you in your transformation.
SAP Change Management
KPMG provides comprehensive change management services for organizations to help navigate and implement change in processes, systems, and people. The approach consists of comprehensive analysis, risk assessments and change strategies tailored to the specific needs of your organization and is data-driven to measure the success of initiatives ensuring your users' adoption of new digital technologies.

Data Management
KPMG offers solutions to help companies effectively manage their data, automate routine tasks, and improve the quality of their data. This enables companies to make better informed business decisions and drive growth. KPMG also supports migrations, the development of Data & Analytics (D&A) and AI, and the monetization of data in SAP systems.
Explore our services in detail
Companies need to align their processes and organization more urgently than ever to meet the demands of the future, because efficient and automated end to end processes are increasingly important in terms of contributing value to the overall corporate strategy.
A lean process architecture is important for organizations to be efficient and to deliver high-quality results with ever greater cost-efficiency.
Digitization has opened numerous opportunities for organizations to achieve this goal, and information must be intelligently connected with data to support overall business decisions.
We support your evolution into a modern, future-proof organization with KPMG Powered Enterprise.
KPMG Powered Enterprise is an outcome driven, functional transformation solution that combines deep industry knowledge, global delivery capability, and the market leading SAP technology. It helps drive sustainable change, rising performance and lasting value for our clients. It leverages pre-designed templates and leading SAP practices in conjunction with KPMG's Target Operating Model (TOM).
KPMG Powered Enterprise includes the following key elements:
Pre-defined business processes
Interactive & iterative validation workshops
An iterative and incremental design, development and testing process
The integration of accelerators and selected tools
A thorough project lifecycle change management approach
Evidence shows that it can be challenging to deliver large SAP programs on time and within budget. With the risk of leading to significant financial losses and frustration for the organizations involved. This shows the importance of an independent and objective (second) opinion on your transformation project to drive the coordination between business and IT, consistently manage risks and realistically assess the quality of key deliverables that are needed to make such transformations a success story.

This is where KPMG steps in as a trusted advisor in SAP S/4HANA transformation programs. With a wealth of experience and a strong reputation, KPMG offers independent program assurance services to ensure the success of SAP transformations.
KPMG offers a wide range of program assurance services customized to the client`s needs. Core services include a Go-live readiness assessment of SAP modules and ERP implementations to provide clients with an independent opinion on the quality of deliverables and status reports. This allows clients to make informed decisions and move forward with confidence in the knowledge that their ERP systems are robust and ready to handle the demands of the modern business world.
KPMG Powered Enterprise is KPMG`s major asset available to clients, offering a range of resources and expertise that can be used to maximize the benefits of their ERP implementation. This reference methodology, combined with a cost and business case assessment, allows clients to make informed decisions and achieve their desired outcomes in a cost-effective and efficient manner.
KPMG's SAP Program Assurance Framework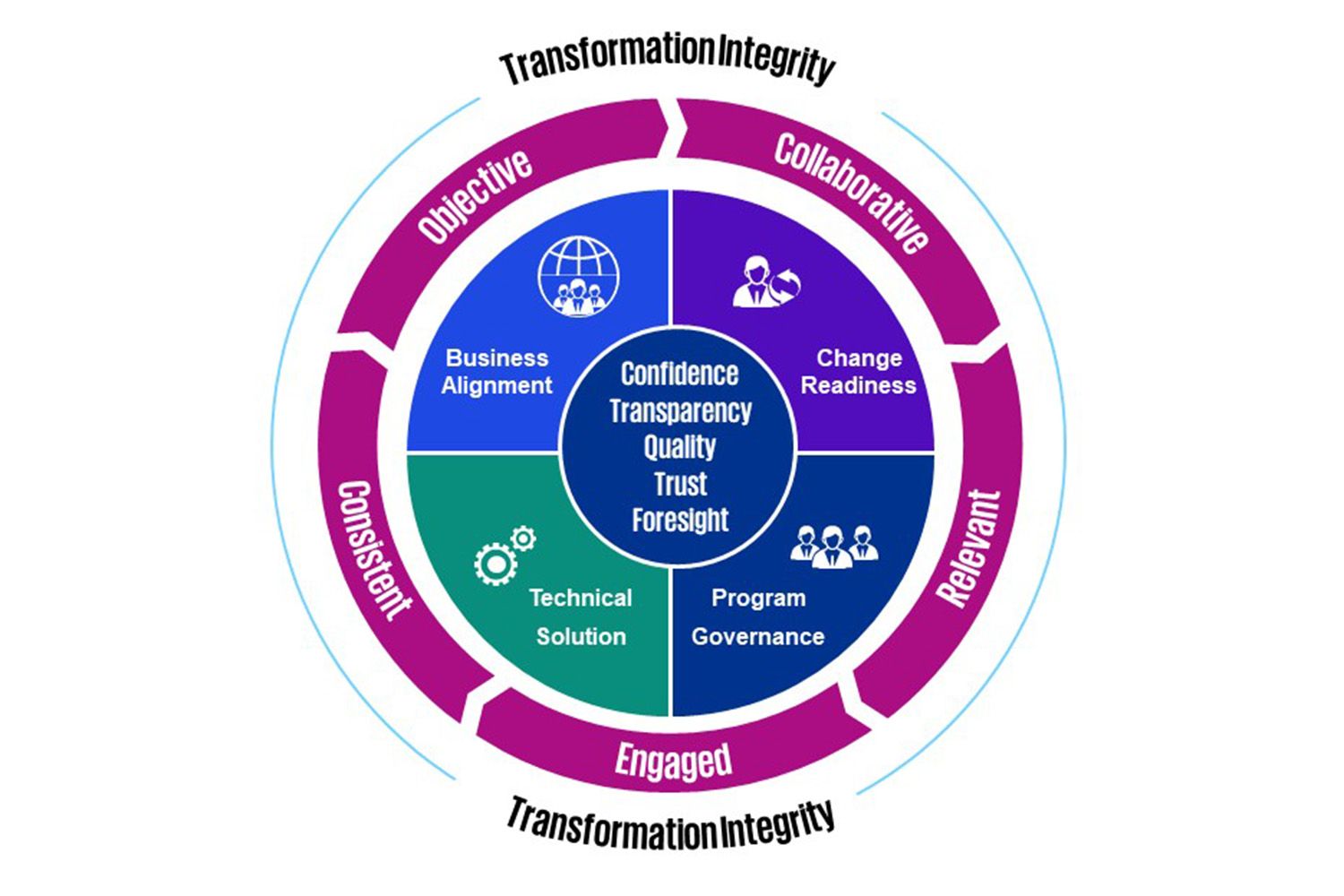 KPMG leverages a pool of highly experienced and certified risk managers. This team of experts provides clients with the re-assurance that their ERP transformation is being managed by professionals who have the knowledge, skills, and experience necessary to ensure its success
Finally, KPMG's SAP Program Assurance Framework is a natural extension of the firm's audit services, ensuring that the implementation of the ERP system is done in a systematic and structured manner. With KPMG's experience and reputation, clients can be confident in the knowledge that their ERP transformation will be a success.
Our dedicated SAP practitioners have a business-first mindset, to define the business problem to be solved, and map it to the desired target state with a clearly defined outcome. We provide a full range of business and technology integration services and solutions with deep strategy, industry, people, process, tax and software technology expertise.
We help clients navigate through each stage of the SAP implementation project to boost business value and ROI with:
ERP strategy development roadmap to SAP S/4HANA
Business case definition and benchmarking with industry
Tracking of benefits during the implementation to assess ROI
Business operating model design
Align processes around new applications
Leading practices to enable back-office transformation including Finance, Procurement and HR
Enhancements and re-engineering of functionalities and processes for existing SAP implementations
E-Procurement implementations
Program management advisory
Set up security and controls
Financial planning and consolidation
All these services come along with strong and proven assets. As an example, we leverage the Powered Execution Suite (PES) to significantly improve the project delivery experience.
The pre-configured, integrated suite of tools is designed to accelerate program setup and execution, foster transparency, and reduce risk to better manage the delivery of a business transformation engagement alongside client team members. PES is designed to support our joint teams to better manage the implementation, taking into account the comprehensive target operating model and relevant technology platform. PES contains the overarching method framework and a collection of pre-defined templates, delivery assets, and workflows that reflect what is needed for a particular function and target operating model. It guides your execution in all areas of project delivery.
Organizations often face challenges in navigating and implementing changes to their processes, systems, and people. To overcome these obstacles, it is crucial to have a trusted partner to guide the way. KPMG offers just that, as a leader in change management services. With extensive experience in technology enabled transformation programs across various industries, KPMG has the expertise to help organizations navigate through even the most complex change initiatives.
At KPMG, we understand that every organization is unique, which is why we take a tailored approach to change management. Our team carries out comprehensive assessments, including Risk Assessments, Stakeholder Analysis, Readiness Assessments, and Change Strategy, in close collaboration with project and business leaders. This collaboration allows us to understand the unique challenges and opportunities facing your organization and create a change management plan that is tailored to your specific needs.
Our change management services are also specific to SAP Change Management, which can be leveraged on a program level or project level across all lines of business. By providing data-driven change management, KPMG helps organizations measure the success of their initiatives. As a trusted advisor, we are committed to ensuring user adoption and competency of new technologies, which ultimately leads to better a return on investment.
At KPMG, we believe in the importance of maintaining high employee engagement throughout the change program. Our team of certified Change Managers utilize a proven methodology to ensure smooth implementation and adoption of new systems, processes, and technologies. With KPMG as your partner, you can be confident in your ability to effectively navigate change and achieve your goals.
Many companies are having a multitude of different IT solutions and best-of-breed cloud architectures. Making the success of organizations and its SAP programs depended on the integration of data and business processes.
At KPMG, we understand the importance of a comprehensive approach to SAP S/4HANA transformations. That's why we are analyzing your functional and technical integration needs from the beginning. To help you realize your most optimal target SAP architecture. Our experts evaluate your existing architecture and provide a roadmap and action plan based on better practices.
Our goal is to enable you to embark on your cloud transformation journey with confidence. By designing and deploying cloud architectures leveraging SAP's reference architectures including compliance and security requirements. By selecting the right cloud models and take advantage of the benefits that SAP with public and private cloud can provide. By getting the best out of the SAP Business Technology Platform (BTP) to achieve a compliant and automated integration architecture.
Our expertise combined with the power of KPMG Powered Enterprise, ensure that you have the support you need to succeed. Providing you with a structured and tailor-made method to answer any questions related to your SAP enterprise architecture.
KPMG is driven by the mission of enabling the complete potential of your organization's data. We believe that in today's fast-paced digital landscape, data is not just an asset, but a driving force for success. By leveraging our best-of-breed data governance models and enterprise data architecture, we help you unleash the power of your data, making it accessible and available for business applications and processes at the right time, to the right stakeholders.
Our goal is to support your digital transformation journey with cutting-edge solutions and a common data language that enables you to make better-informed business decisions and drive growth. Trust us to help you shape your data strategy, develop data literacy and capabilities, and monetize data with your SAP ERP System.
Our KPMG SAP Data Transformation and Process Automation solution approach can help organizations establish leading practices for managing their data, automate routine tasks, and improve the quality and trustworthiness of their information. By leveraging our expertise, our clients can make better-informed business decisions, driving business growth and success.

To do this, we use specially developed methods such as KPMG Powered Enterprise to help our customers design the technical business benefits with the help of SAP. This enables our clients to strive value driven margins, lower costs and gain market sharing.
We specialize in helping our clients shape their data strategy, execute innovation processes, build data literacy and capabilities, develop and scale Data & Analytics (D&A) and Artificial Intelligence, and monetize their data with SAP ERP Systems. Our services are centered around our global Data Value Chain framework, ensuring that our clients have access to the best possible solutions for their Data Management needs.
Contact our experts for more information
Contact us today to learn more about how we can help you implement SAP S/4HANA and successfully realize your digitalization projects.
We offer a comprehensive solution for transforming your business processes and work with you to maximize the full potential of SAP technology.
Our SAP consultants have many years of experience, know-how and have already successfully implemented projects in various industries.