Mitigating risk by enhancing strategies and creating value
Risk Management has become indispensable for businesses across the globe. Recent events like the Covid-19 pandemic, increasing cyber-crimes, economic recessions have brought our attention to the importance of risk management.
The risks that exist today demand advanced capabilities to measure, manage and respond to them and can no longer be tackled with traditional approaches. As businesses and organisations continue to evolve, it is extremely crucial for business leaders to be better prepared to identify and manage risks as and when they emerge. Our team is experienced in managing a diverse spectrum of risk issues and assisting risk management leaders around the world.
At KPMG in India, we help you rethink risk and compliances, develop strategies and enhance value, opening the doors to vast opportunities. Our 1,500+ risk advisory professionals, led by 55+ partners & directors present across 14 locations across India help clients navigate complex & challenging risk landscapes to achieve long-term, strategic ambitions.
We help you manage: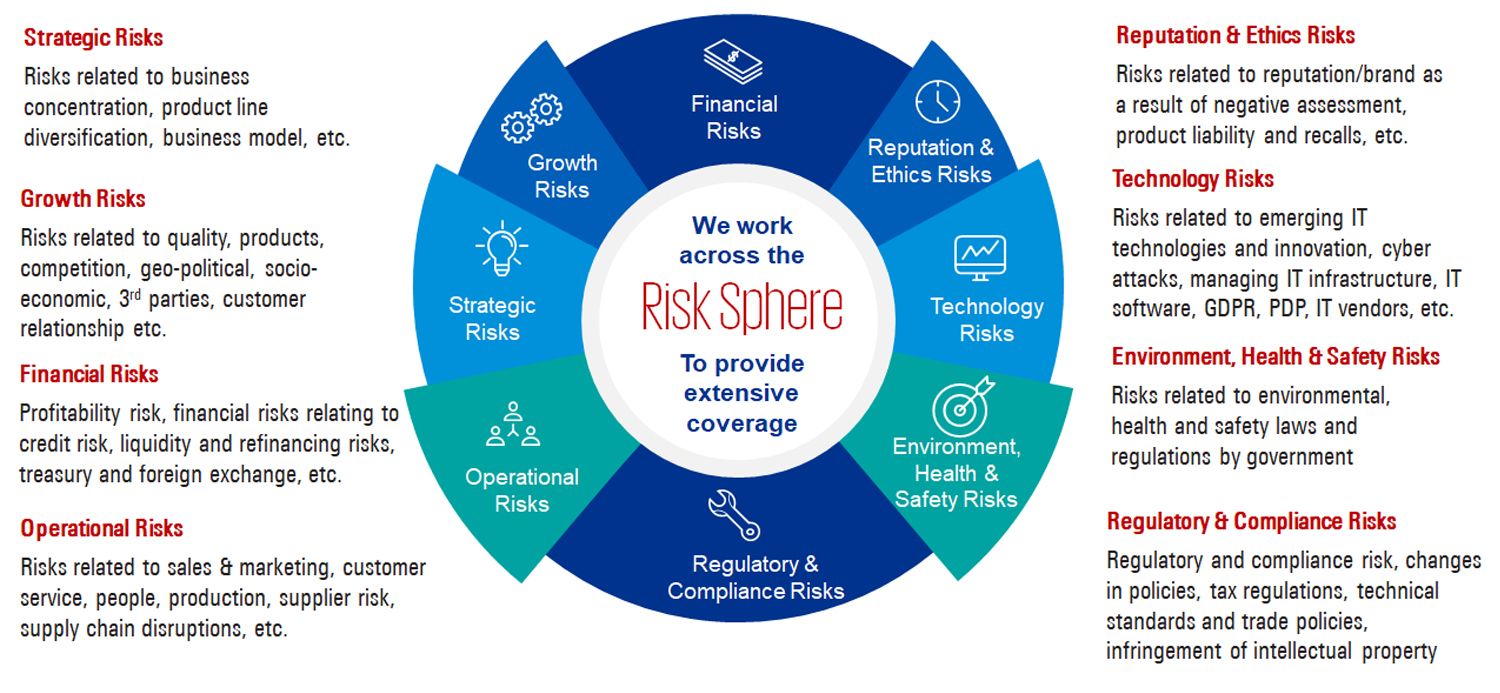 How we can help
Process and Controls design

Intellectual Property Advisory & Monetization
Treasury management
Foreign exchange and commodity risk management
Risk assessment
Finance management
Supply chain improvement
Optimizing risk-adjusted performance
Investigations and funds and asset tracing
Software license reviews and compliance
Financial risk management
Improving risk-adjusted performance
Revenue assurance
Loan staff
Employee background verifications
Senior management due-diligence
SOP creation and process manuals
Employee trainings and seminars on various process and system related topics
Technology Review
IT Risk Due Diligence and IT Internal Audit
IT Governance & Risk Management
IT Architecture & Infrastructure Reviews
Business Systems Controls
Dashboard, Analytics & Reporting
Data Governance & Assurance
Cyber Security
IT Attestation
Business Continuity Management
Forensic services
Commercial dispute resolution
Regulatory compliance
Ethics helpline
Pre-employment background screening
Corporate intelligence
Cyber incident response
Fraud risk management
Integrity due-diligence
Dispute advisory services
Anti-bribery and corruption
Regulatory compliance
Corporate governance advisory
Process reviews, validation and process reengineering
SOPs and process manuals
Internal audit and financial controls
Continuous auditing and monitoring
Enterprise risk management
3rd party due diligence
Contract compliance
Sustainability Reporting and Advisory
CSR advisory
Climate change mitigation strategy
EHSS reviews and Due Diligence
Ethical sourcing and supply chain reviews
Food Safety Advisory
Climate Change Adaptation Strategy
Climate Finance
Meet our Team
We have a team of 1,500+ skilled professionals, which has a mix of CAs, MBAs, CIAs, CISAs, CISSPs, Engineers, MCAs and Six Sigma experts to give you specialized knowledge and offer the right subject matter expertise. We are present across 14 locations in India and serve clients across the world. To help you in your journey, our teams will be led by seasoned leadership given below: