Trusted data can be a reality
At KPMG, the approach to data, AI & emerging technologies is rooted in trust. But the trust gap is growing. Close to 65 percent of decision makers raise concerns about trust in their organization's use of analytics.

Four anchors of trust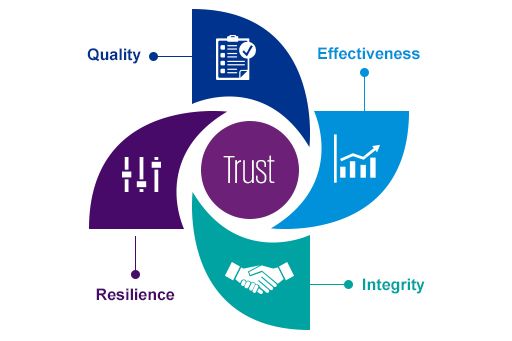 If you want to take advantage of the massive market opportunities being created by new technologies such as data, analytics, artificial intelligence and intelligent automation, you need to start by trusting them.
Our focus is on helping businesses make more confident decisions. In part, we do this through pro-active governance models and transparency and controls, which are built in at every step of the organization. But our processionals also view trust in analytics as founded on four key anchors: quality, effectiveness, integrity and resilience. And they use those four guideposts to help organizations ensure the proper governance of algorithms.

1. Quality of components
Are the inputs and building blocks good enough?
2. Effectiveness
Do the analytics work as intended?
3. Integrity
Is the data and analytics being used in an acceptable way?
4. Resilience
Are long-term operations optimized?
For more information about the importance KPMG places on trust in analytics, read our in-depth exploration of the subject: