Overview
Design thinking is a structured methodology used by designers to develop and deliver products, services and experiences that address latent human needs. By adopting design thinking principles, businesses can develop low cost working prototypes for various needs and test them in real time. Design thinking can be applied to complex problems that are difficult to decipher. Using design thinking, organisations could transform their cultures to become more innovative, which is likely to have a positive impact on their top line and bottom line.
KPMG in India's design thinking practitioners' workshop equips participants with the methodology and tools of design thinking and helps them:
Utilise these tools effectively to solve wicked/complex problems
Perform hands-on activities that facilitate understanding of the design thinking mindset
Understand core concepts of design thinking i.e. empathy, brainstorming, prototyping and storytelling.
Unlock new possibilities through Design Thinking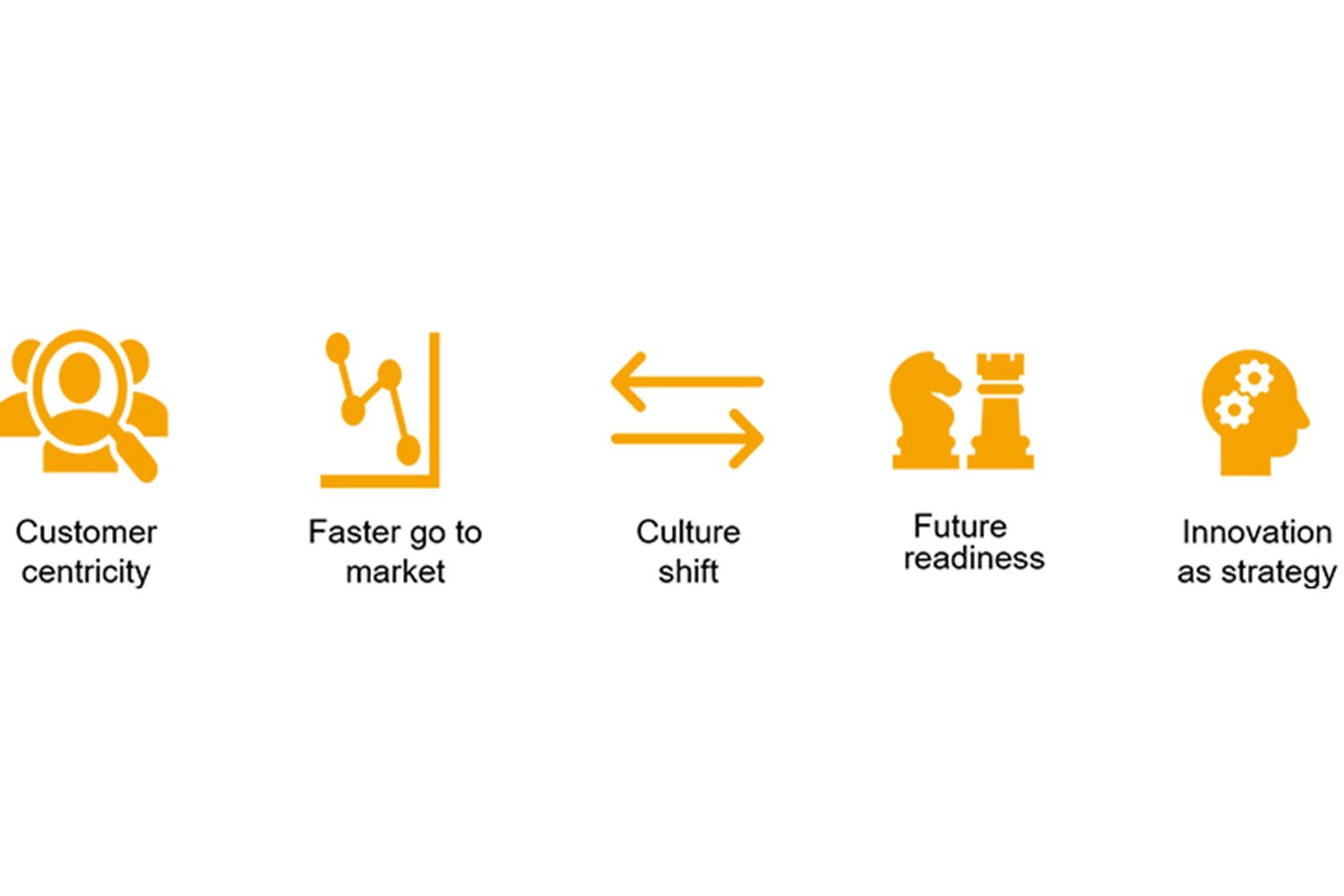 Course contents
Module 1
Introducing design thinking
Understanding design and design thinking
Design mindset
Secret ingredients of Design Thinking
Application stories.
Module 2
Strategy and Capability
Design driven organisation strategy
Design for experience, process, organisation, culture
Convergent, divergent journey
Design thinking vs. others (Agile, Waterfall, Lean etc.)
Module 3
Explore
Identify and dissect design challenge
Design project setup
Identify users and stakeholders
Empathy methods
Insights and frame opportunities
Module 4
Ideate
Generate disruptive ideas
Refine ideas
Decomposition
Ideation rules, methods, and technologies
Down-selection
Visualisation
Module 5
Create
Prototyping methods
Testing with users
Gathering feedback
Products, services & experiences lifecycle
Module 6
Evolve
Business model design
Design economics
Business story telling
Sustain designs
What is in it for you?
After successfully completing the course, participants should be able to:
Apply Design Thinking concept as a way of life
Work in a team to visualise and design a possible new product or service and assess the market, business and technical merits/demerits of the concept
Listen to the customer — empathise to understand hidden/latent needs
Evaluate financial viability of a new product or service
Measure risks involved in design assessments
Learn effectively with instructor-facilitated methods and tools which include case studies, individual and group assignments, spot quizzes, field visits, warm-ups, icebreakers, videos and role plays.
Participants will also be awarded with a certification of completion by KPMG in India. Certificates will be issued within 30 days of successful completion of the course.
Course details Duration
Three days' workshop
Group assignments and capstone project.
Pedagogy
The progress of each individual is monitored by our instructors through multiple components such as case studies, quizzes and class participation.
Minimum requirements to complete the course are as follows:
Participants should have 80% attendance
Finish all individual assignments and capstone project.
For corporate and institution enquiries, contact:
Hussein Pradhan
+91 9869250785
Training can be conducted at any location across the country provided a minimum number of participants are present.