With growing competition, many organisations are trying to explore possibilities to boost their revenue stream and stay ahead of their competitors. Organisations also must deal with dynamic markets, ever changing compliance and regulatory issues. Though clients may have a defined Digital Business Automation (DBA) mechanism which helps ease their complex business processes, many of them are unstructured and lack a proper management system.
KPMG in India's digital business automation practice is aligned to address the depth and breadth of an enterprise across various functional and technical areas leveraging Digital Business Automation (DBA) and Enterprise Content Management (ECM) service offerings.

Key areas where digital business automation practice makes an impact:
Requirement analysis

Process management strategy
Target operating model
RFI, RFP creation

Process automation and enterprise digitisation

Business process modelling, analysis and simulation
Business process analysis
Change management

Process analysis and digitisation

Solution design, process automation
Enterprise digitisation service offerings
Post implementation support
Digital business automation practice offerings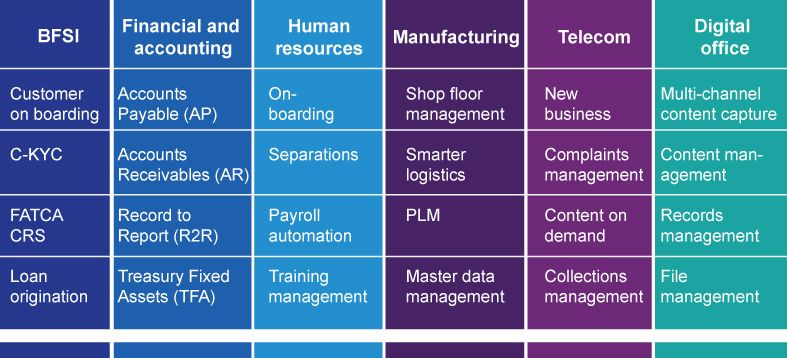 We specialise in process designing, planning and implementation, which can help clients across various industries. Combined with industry standards, frameworks and new technology, we help clients automate processes and establish their centres of excellence.
KPMG in India offers wide range of Digital Business Automation (DBA) services for the banking, financial services and insurance (BFSI) to help overcome the challenges and constraints faced by the industry.
Some of our service offering accelerators for BFSI domain:
Customer onboarding service offerings with CKYC compliance

Provide effective engagement of new customers and initiation of process from client centre. Streamline the onboarding journey of new customers with central KYC registry

Employee onboarding and HR function automation

Automate the process of HR onboarding from offer roll out to Day-1 joining of the employee. Integrate all the HR applications present in siloes and enhance the information interchange among applications

Accounts payable and financial process automation

Ensure standardisation of processes reducing errors and increasing productivity. Multi process initiative from tax, audit, finance and HR departments

Collateral management service offerings

Automated extraction of key information from structured and unstructured collateral and other documentations

Document management system

A unified and automated solution to manage the entire lifecycle of documents from creation to retention.
Potential benefits of digital business automation
Customisable

Analysis of service offering delivery activities with reduced cost and time for implementation

Reduced cost

Complement your IT investments by leveraging the platform for future process automation and workflow requirements

Tailor as per your requirements

The service offerings are preconfigured to a certain level and tailor them further in collaboration with customers

Educate the clients

Demonstrate, showcase the capability and power of the service offerings
KPMG in India key differentiators
Transformative service offerings

KPMG in India provides service offerings that address scalability, productivity and efficiency

People

Certified and quality resources on proposed technology

Process

Established and proven implementation methodology with governance, processes and tools to manage complex transformation programmes across geographies

KPMG in India advantage

Our advantage to support customers in varied fields such as domain expertise, additional technology coverage