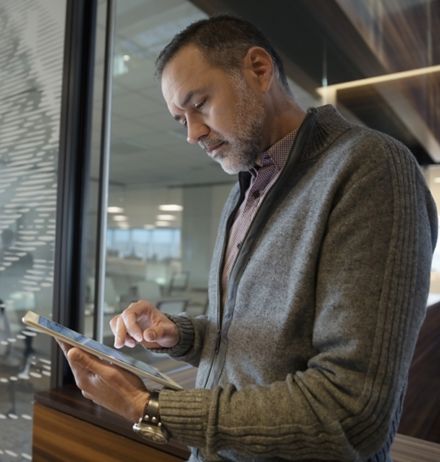 So how do you respond to the disruptive forces shaping the working world?
Not only as an industry, but in terms of individual business functions? Every area of the modern enterprise - from Procurement and Supply Chain to Finance and HR - needs to change. It needs to digitize, break out of its silo, and connect with the rest of the business to deliver results now and into the future.
Our goal is for you to harness these insights and use them to guide your digital transformation strategies, to help give your enterprise the agility, flexibility and reliability it needs to succeed. Most important of all, our insights can help you prepare for the future, because your future is the top priority.
Industry and function insights
The future of your industry
There may be similarities between different industries, but each has its own unique set of challenges to solve. That's why KPMG firms have a strategic vision for the future of each sector. Our insights reveal what this could mean for you.
The future of your function
In today's dynamic and turbulent world, every function of the modern enterprise is being expected to dramatically change the way it operates.
With our insights to guide you, KPMG professionals can help you reshape the role your team plays and the value it can add to your business.
Insights underpin everything
We believe the most successful enterprises of tomorrow will be Connected. Powered. Trusted. And we can show you what this might mean for you, your role, your industry and your business model.
Wherever you are in your organization's digital transformation journey, our insights can help you, conceptually and practically. Then we can work with you to make it happen.
Our insights can help you accelerate your digital transformation journey, giving you the key to strategies that will transform the way your enterprise operates. We can then help you identify and implement the technology that will deliver your vision.
Click on the graphic below to find out more about our solutions:
Future-forward Insights

Read our thought-leading views on disruption, digital transformation and how business leaders should respond.

Find out more

Connected

Rebuild your business around your customers to create a borderless organization, where people, data and technology interact for new levels of productivity and value creation.

View Connected

Powered

Harness the latest technologies, leading business practices and tested solutions for a smarter, faster path to nimble, scalable business functions and the right operating model.

View Powered

Trusted

Embed a balanced approach to risk and regulation into your transformation journey, securing the stakeholder confidence that enables responsible growth, bold innovation and high performance.

View Trusted

Elevated performance

Find out how a value-driven enterprise can build a sustainable future that drives growth in a digital world.

Find out more