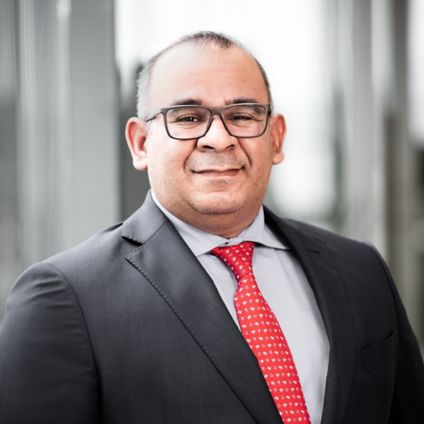 José Felix Magaña
Director – Deal Advisory, M&A Services, Infrastructure Panama Head
KPMG en Panamá
José Félix is a banker with more than 20 years of experience in treasury, capital markets, infrastructure financing, Public-Private Partnerships, Banks, Project Finance and private equity. During his career, He has led teams in charge of structuring and financing infrastructure projects in 11 Latinamerican countries in different sectors, including energy, transportation, logistics and water & sanitation. In the energy sector he was responsible for structuring the financing of more than 25 generation and transmission projects, including AES Colon, the largest LNG power project in Central America. He also Structured Eastern Gas pipeline in the Dominican Republic to provide Barrick's Pueblo Viejo Gold Mine with LNG to power its mining operations, there He also put together the financing package for Montegrande Multipurpose Dam. In capital markets, he led the issuance of more than 100 bonds and structured notes in 23 different currencies in the US, Europe, Asia, and South America, including Costa Rica´s 133 MW Hydro Pirris project-linked structured notes, backed with PPA revenues. Also he has structured customized derivatives for projects such as 55 MW Polaris Hydro Thermal Plant in Nicaragua and 160 MW Hydro CACHI in Costa Rica. José Félix was responsible for overseeing the Infrastructure portfolio management team at CABEI, in that capacity, he directed the restructuring of a several Project finance and corporate assets, including Polaris Geothermal Plant in Nicaragua, Amstel Amon Hotel in Costa Rica, Barro Blanco Hydro powerplant in Panama. He has also advised on the restructuring of Choluteca 2 Solar and Las Lajas Solar PV Project in Honduras. He was also part of the supporting team negotiating the HIPC debt relief for Honduras and Nicaragua. In Sovereign and Sub-Sovereign financing he structured facilities including Panama´s Saneamiento de la Bahia sanitation Program, Argentina's Habitat Social housing Program, Belize's national security program, Argentina's Jujuy Province Education Infrastructure Program and Panama's Biotech Lab for Tropical diseases research. He was also responsible for structuring the financing of the US Dollar tranche for Alto Magdalena toll road 4G Highway in Colombia, Autopistas del Sol, Ruta 27 Concession in Costa Rica, Panama´s Corredor de las Playas Highway. He also Advised the reverse inquiry for San José-Cartago Highway in Costa Rica.
Advisory
Banking
Capital Markets
Energy and Natural Resources
Financial Services
Infrastructure
Private Equity
Retail
Master's Degree in Public Administration, Harvard University, Cambridge, MA.

Master's Degree in Business Economics, INCAE Business School, Costa Rica.