Overview
Design thinking is a human-centered approach seeking to transform the way products, services and experiences are designed to add functional and emotional value. At the heart of this approach lies an empathetic understanding of human behaviour and needs, having the ability and courage to experiment (ideation and prototyping), bringing ideas to life (co-creation) and crafting meaningful stories enabling users to feel those experiences
Design thinking is defined as an analytic and creative process that engage people/organisations in opportunities to experiment, create and prototype models to redesign products/services/experiences for users.
KPMG's in India Design Thinking service enables organisations and individuals to unlock their creative potential through a structured advisory, co-creation and enablement interventions.
The Design Process
Unlock new possibilities through Design Thinking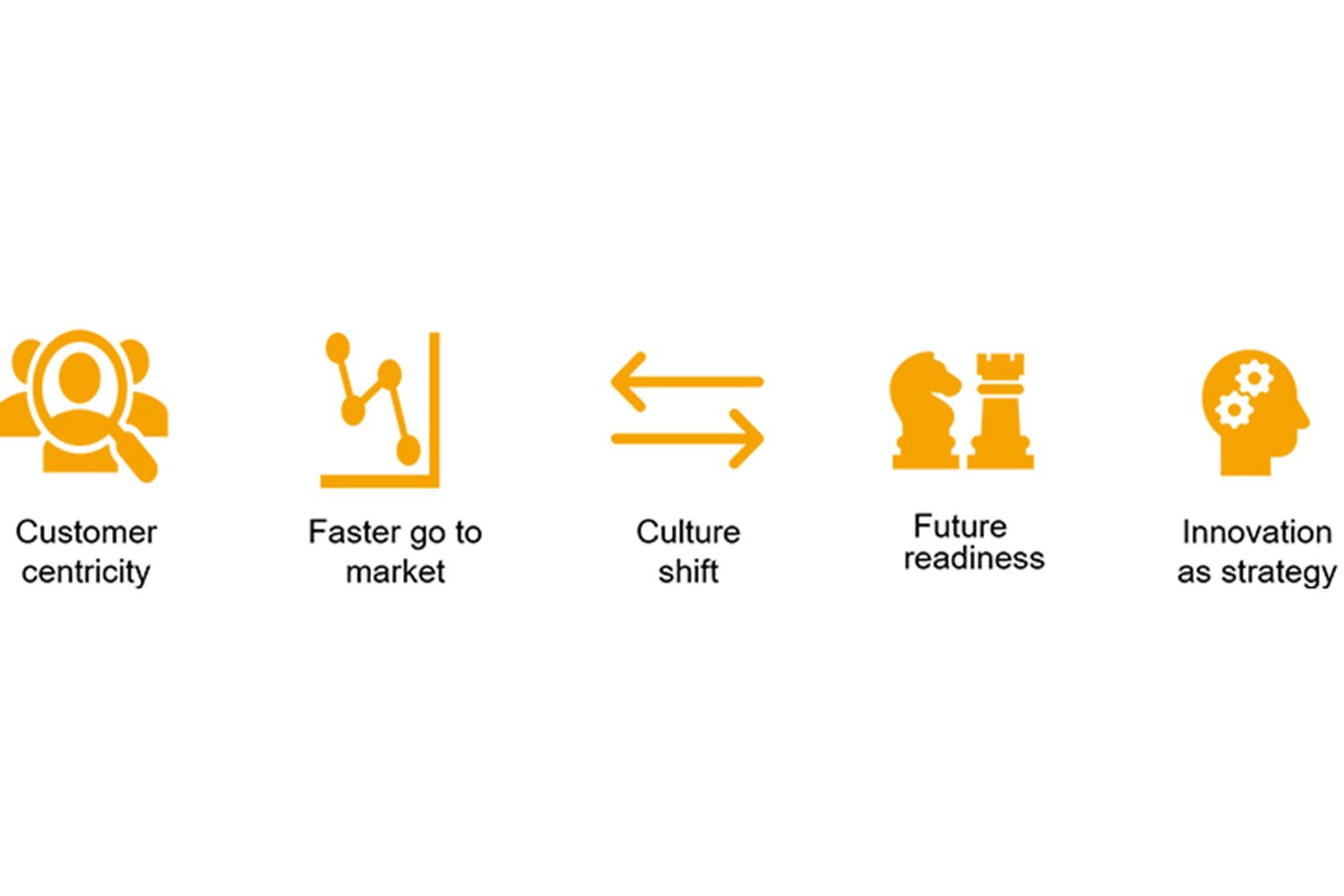 Design thinking service offerings
KPMG in India offers a wide range of service offerings to develop, deploy and drive the adoption of design capabilities. Our gamut of offerings include:-
1. Design thinking enablement:
Want to identify and solve your business challenges?
Looking for mindset, process and cultural transformation in your organisation?
Need help in designing future innovation strategy?
KPMG's Design Thinking enablement services help organisations and individuals to unlock their creative potential through a structured advisory, co-creation and enablement interventions. We build and deploy design thinking capabilities through guided interventions customised to industries, functions and roles in an organisation.
Corporate trainings customised to client's needs
Industry / domain specific design thinking enablement solutions
2. Digital experience design (UI/UX):
Want to improve the digital experience for your customers?
Looking for a trusted advisor to assess / design your digital assets?

Our digital experience design services include designing of digital products and interfaces by keeping principles of human-centred design in mind and focused on enhancing user experience.
3. Product and service design:
Want to get some of the best products and services designed?
Want to design the experiences that your customers value?
KPMG in India's product and service design services support organisations in identifying challenges, designing/co-creating solutions (product, service, experience) and collaborate on design/innovation projects. Our services include:-
New product design / re-design
Packaging design
Concept development
Service design
4. Design research:
Want to get real visibility of user buying and selling trends?
Difficulty dealing with fluctuating demands of users?
How to address rapidly evolving customer needs?
Customer experience research or design research is a form of user research for creating products, services or experiences that respond to human needs. It helps one discover the underlying patterns of user's behaviour and experiences that drive decisions to choose products and services. This approach opens hidden opportunities for businesses to differentiate and innovate over tweaking current designs based on analytics. Our services include:-
Ethnographic research
Empathy in-sighting
Consumer behaviour
5. Design office:
Want to design customer centric innovation culture for your organization?
A central structure embedded into the CEO's office to help not only democratise human centred innovation across the organisation but also cut through silos and promoting collaboration, design office is a secret of embedding design and innovation in the organisation's DNA. Our services include:-
Innovation strategy roadmap
Customer value proposition canvases
Business model design
Potential benefits of Design thinking services
By adopting Design thinking principles, a business can not only identify the latent needs of end users but also develop low cost working prototypes for the needs and test them in real time. Companies have also been able to transform the culture of the organisation to become more innovative, thus managing their top line and bottom line. The following are some of the key potential benefits:
Human and customer centric approach to solve problems
Does not only concentrate on the aesthetics of the product, but the functional and emotional aspect of design
Works on the principle of collaboration (from different aspects of business) and communication rather than isolation. This helps in bringing in multiple competencies and perspectives resulting in better solutions
Defines a framework of 'Inspiration, Ideation and Implementation' for strategic innovation.
Concentrates not only on the product / service but also building the ecosystem on making it implementable and marketable.
KPMG in India's key differentiators
Service offerings
Holistic support on design journey from capability development, deployment and adoption
Proprietary service offering to match varying design needs and maturity of organisations (from 'no design' to 'design as a culture')
Provide design advisory and consulting to improve/transform existing service offering and/or innovate new service offering.
People
Strong collective experience of Subject Matter Expert (SMEs) across product, service, process and experience design
Experienced and energetic team of highly skilled designers from various streams of design. Our facilitators have been continuously getting high feedback scores for their highly engaging delivery.
Domain expertise
Deep understanding of industry and functional domain to contextualise design to specific challenges of the domain.
Client coverage
Delivered interventions for top multinational clientele across automotive, banking financial services and insurance (BFSI), technology, consumer products, technology / IT, education sector, service industry and startups
For enquiries, contact:
Iatsham Jamadar
+91 9611752115