Smart data is the way to boost mining productivity
Smart data is the way to boost mining productivity
The insights from data analysis can have a big impact upon a mine's operational performance.
When it comes to utilizing data, the end of term report for the industry would probably read: "Could do better."
Mining differs from other industries in that key properties of raw materials are highly uncertain in real time, clouding key decisions on when and where to dig. Some of the most important metrics are rarely reported.
The large ERP systems favored by most companies hardly help, often struggling to cope with the three-dimensional aspect of mining.
Investing in insights
A good starting point for data collection and analysis is to home in on the numbers most likely to influence costs. In an open pit operation, for example, truck-shovel costs tend to be the most significant. In gold and base metal mines, crushing and grinding is a large expense.
Mines frequently overstate plant throughput capacity. One solution is probabilistic models combining the reliability of each section of the plant, along with the maintenance plan for the overall plant. This can forecast throughput to within 5 percent.
Another useful metric is the interaction between shovel and truck performance, which can increase truck cycle time and reduce average dig rate. To optimize truck-shovel productivity, truck dispatch databases should provide raw data on process and dispatch activity.
Highlights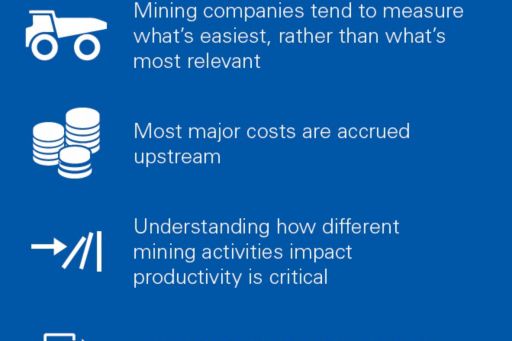 Ensuring data adds value
Mining data analysis is most useful when it can help reduce costs, raise productivity and enhance revenue. This means that people making crucial decisions, such as supervisors and operators, receive data in real-time.
Companies should also identify those indicators with the highest leverage, and ensure that they become an integral part of performance management, and are embedded into business intelligence.
Laying the foundation for effective data utilization
Data quality and stewardship are essential. Mining operators can only make sound, consistent decisions when there is a "single source of the truth." Specific individuals should be accountable for data, to ensure it is well-managed and reliable.
Embracing 'smart data' means identifying activities most closely linked with strong cost, productivity and revenue performance, extracting the relevant data and making it accessible, and measuring staff against achieving key indicators. When these conditions are in place, data can bring real value.
Key questions
Do you make decisions based upon hard facts or intuition/experience?
Can you confidently link productivity with specific activities, in a quantifiable way?
Do you have a consistent, organization-wide approach to data measurement and reporting?
Read other articles in KPMG's Resourceful thinking series, featuring insights into today's pressing mining issues.