Our global climate goals
KPMG announced its global goal to become a net-zero carbon organisation by 2030, with a series of climate actions:
Set a 1.5°C science-based target (SBT) which will focus on achieving a 50% reduction of KPMG's direct and indirect greenhouse gas (GHG) emissions by 2030
Purchase 100% renewable electricity by 2022 in board member countries, and by 2030 for the wider network
Offset any remaining GHG emissions through externally accredited voluntary carbon offsets to mitigate the remainder that cannot be removed from our operations and supply chain
KPMG China's commitments
Achieve net zero in our own operations by 2030 and work with business partners to reduce emissions in our value chain
Source 100% renewable electricity through purchasing renewable energy certificates (RECs) and sourcing renewable energy supplies
Report our climate performance
Drive behavioural change to improve environmental practices in our workplace
Understand our impact on nature and biodiversity, and make positive improvements
Give financial markets and our clients clear and comprehensive information on the impacts of climate change
Decarbonisation
Climate change is a threat to people and businesses, and it remains a significant risk. In light of China's ambitious goal to achieve carbon neutrality by 2060, companies are taking active measures to decarbonise as well as issue their own carbon neutrality goals.
In the transition towards a green economy, KPMG China is committed to decarbonising and reducing our environmental impacts along our value chain through policy change, strategy development and awareness-building programmes.
"To reduce KPMG's carbon footprint and achieve decarbonisation, we must put our effort and resources into increasing our environmental sustainability. By doing so, we can make long-term, practical commitments, engage with our stakeholders and continue to grow in a more sustainable manner."
Ian O'Brien
Chief Operating Officer
KPMG China
Achieve net zero by 2030
At KPMG China, we are committed to achieving net zero in our own operations by 2030, and continue to work with business partners to reduce emissions in our value chain. In 2021, we:
Launched our internal environmental policy to better integrate environmental considerations into our business operations and along our value chain
Began engaging our ESG Advisory team to conduct climate simulation and modelling analysis for different decarbonisation pathways
Purchased our first carbon offsets as a sign of our commitment to decarbonisation
Grew our Procurement team to expand our focus on sustainable procurement.
Report on our climate performance
Globally, KPMG follows the internationally recognised Greenhouse Gas Protocol (GHG Protocol), developed by the World Business Council for Sustainable Development and the World Resources Institute. At KPMG China, we conduct an annual carbon audit to calculate our GHG emissions, essentially covering the carbon footprint created in the conduct of our business. These emissions include our electricity usage, air travel and hotel accommodation, among others.
Greenhouse gas (GHG) emission (tCO2e) in FY2021
Scope 2 emissions
(location-based)
FY21
% change of GHG emissions
(net of RECs)
FY20-21
Scope 2 emissions
(net of RECs)
FY21
% change of GHG emissions
(net of RECs)
FY19-21
RECs means renewable energy certificates.
Our commitment to transparency
To align with the Science Based Targets initiative (SBTi) requirements, we rebased our FY19 performance and adjusted our FY20 and FY21 performance to include additional Scope 3 emissions – purchased goods & services, hotel accommodation and employee commuting, among others. As a result, our GHG emissions (net of RECs) increased to 43,892 tCO2e in FY21.
In FY21, we achieved a reduction of 28.3 percent in carbon emissions from our baseline year of FY19 and a reduction of 8.2 percent compared to FY20. This was driven primarily by reduced business travel during COVID-19, as well as fewer emissions from the purchased goods & services category, particularly fewer large-scale renovation projects.
Setting up our Planet working group
Under the OIP governance structure, we set up the Planet working group comprising representatives from different departments, including Procurement, IT Services, Property and Markets, to drive decarbonisation. This is done through setting interim targets and implementing environmental measures in our business operations and along our supply chain.
Reducing our supply chain emissions
With a dedicated sustainable procurement professional participating in the Planet working group, we will continue to explore ways to integrate sustainability into our procurement process with reference to KPMG's global procurement direction.
In FY22, we plan to engage with our top suppliers in China to support KPMG's global initiative with the CDP (formerly the Carbon Disclosure Project) Supply Chain program, which aims to contribute to KPMG's decarbonisation commitment by understanding and reducing the environmental impact of our supply chain.
Source 100% renewable electricity
To support our global commitment to source 100 percent renewable electricity across the global organisation by 2030, we are proud that KPMG China has achieved this target in FY21.
In FY21, we procured 100 percent renewable electricity through the purchase of renewable energy certificates (RECs) – up from 83 percent in FY20 and 74 percent in FY19.
Renewable electricity percentage
Carbon offsets
On our path to decarbonisation, we have bought accredited voluntary carbon offsets equivalent to 33,380 tCO2e (76% of our total emissions – net of RECs) from externally accredited suppliers. This covers our own operations, common area electricity, business travel and employee commuting.
Although we know this does not mitigate our emissions and is not the solution to the climate crisis, we are proud to invest in initiatives that are working towards solutions in sustainable infrastructure and renewable energy that demonstrate our commitment towards our 2030 climate goals.
Setting an internal carbon price
In FY22, KPMG China supported our Global team's proposal to set an internal carbon price (ICP) that will cover business operations and business travel, in line with KPMG's global decarbonisation strategy.
The ICP will be an internal price on the emissions we generate. Funds collected through the ICP will support the firm's decarbonisation measures, as well as allow us to invest in new technologies or solutions. As we work towards our net-zero targets, the ICP will be one of the tools we use to drive the change that is needed.
"ESG is enjoying its time in the spotlight, and it is exciting to see sustainability becoming an integrated part of decision-making in businesses. I believe the key is helping our people forge a personal connection to environmental issues, such as single-use plastic, food or energy consumption, so they can see how these relate to our firm, communities, and indeed, the planet. By offering colleagues opportunities to join eco activities, listen to experts or see the issues first-hand, we hope to motivate them to be part of the solution."
Stacey Wolpert
Planet pillar lead
Sustainability Manager, Corporate Social Responsibility
KPMG China
Drive behavioural change to improve environmental practices in the workplace
Encouraging waste reduction and promoting circular economy
The circular economy is a concept that promotes greater sustainability by eliminating waste and reusing items, which corresponds with KPMG's decarbonisation commitment. The concept of a circular economy guides the way we manage our waste. While we advocate for waste reduction as the best option, we also encourage our colleagues to recycle their waste and reuse items whenever possible.
Category of recyclables
Paper, metal, plastic, glass
Mainland China: In addition to setting up additional recycling bins in prominent locations in our main offices, we also have TerraCycle boxes for recycling snack packets. We have also removed all plastic bottles from vending machines in our Hong Kong and Shenzhen offices.
Hong Kong: Along with our recycling bins for plastic, metal, glass, paper, drink cartons, polyfoam, e-waste and food waste, we also participate in annual collections for mooncake boxes and red packets.
Clothes, books and toys
We organise regular clothing drives to collect clothes for under-resourced people. We run book and toy collections from time to time to benefit NPOs. Those offices with Green Corners collect items year-round.
Tetra Pak cartons
In Hong Kong, we have supported Vitasoy and SSID/MilMill's beverage carton recycling initiative since 2020, saving 224kg of beverage cartons from the landfill in 2021.

Used laptops
Our laptops are resold or recycled, with several finding new homes in our network of NPOs and schools
To promote a circular economy in our workplaces, we created three Green Corners in 2021. The first, in Hong Kong, has two cabinets made of reclaimed wood, and is a permanent, free circular area in the office. While there are boxes for collecting polyfoam and e-waste for recycling purposes, our colleagues can also donate their unwanted items and pick up anything they need including second-hand books, clothes and toys.
Two new smaller Green Corners have also been opened in our Tianjin and Dongguan offices, and we hope to make this a feature in future office spaces.
Developing a green workplace and fit-out processes
The newly drafted Green Fit-out Guide aims to be used by our Property department and building contractors, with guidance on building, supplier and material selection, as well as construction waste reduction throughout the office relocation and renovation process. The guide was developed based on market best practices and international standards.
When it comes to building selection, we also strive to give priority to green buildings in our office relocation or expansion plan. To date, we occupied 15 LEED-certified buildings and 2 BEAM Plus buildings.
Promoting green event practices
Our Green Events Guidelines provides guidance for our people to reduce the environmental impact of our events. The guidelines provide advice on eliminating single-use plastic, reducing food waste and increasing plant-based options, among others.
Engaging our people through awareness activities and our green interest group
The Green Warriors interest group is a staff-led initiative under our myLife programme. It aims to promote environmental awareness and advocate for a greener workplace. The group organises talks, movie screenings, outings and other activities. Members are encouraged to share ideas and drive change as green champions.
Nature and biodiversity
KPMG is committed to protecting biodiversity by striving to gain a better understanding of our impact on nature and improving our focus on biodiversity. Biodiversity, which refers to the variety of all living things, has five main threats according to WWF: changes in land and sea use, species overexploitation, invasive species and disease, pollution, and climate change.
Throughout the years, we have worked with different NPOs on nature conservation projects focused on the fresh water, wetland and ocean ecosystems. We aim to continue building awareness of our personal and professional impact on the natural world, and encouraging our people to empower change, by engaging in projects and activities that make a positive impact on the environment.
In 2021, we further strengthened our collaborative partnership with WWF to tackle climate issues and protect our environment. Funded by the KPMG Foundation, we are supporting a pilot programme on ocean conservation.
In addition, KPMG China has been a Silver Corporate Member of WWF- Hong Kong since 2014 and participates in different awareness-building and volunteering activities, such as wetland clean-ups and bird-watching.
Climate-resilient ocean conservation programme in Guangdong-Hong Kong-Macao Greater Bay Area (GBA)
This is the first ocean bankable nature solution (BNS) in the WWF global network. It involves sustainable finance elements and aims to attract private investment to scale up projects focused on climate resilience and sustainability.
This programme focuses on reducing further negative impacts on marine ecosystems caused by destructive fishing, and aims to foster sustainable practices and consumption behaviours in the GBA.
Conservation International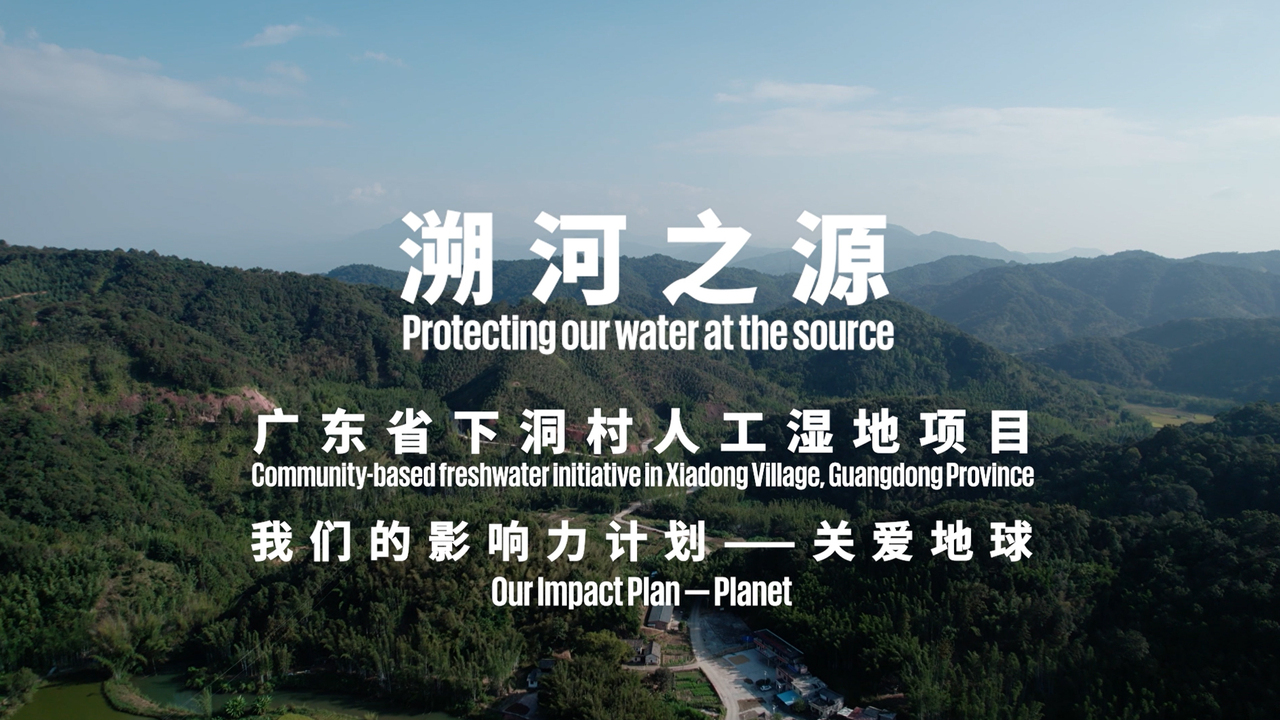 In 2020, we collaborated with Conservation International to initiate a community-based freshwater initiative to protect water resources in the Dongjiang Basin in Guangdong province, a major water source for the region and Hong Kong. The project included the construction of a small-scale wetland to treat domestic sewage, and the training of local villagers to maintain the wetland.
The artificial wetland in Xiadong village, which was officially opened on 22 April 2021 (Earth Day), helps to purify water before it flows into the Dongjiang Basin, and has introduced employment opportunities for villagers to run eco-tours. We aim to extend this project to another village in China in 2022.
Shenzhen Mangrove Wetlands Conservation Foundation
KPMG China also launched a two-year initiative with Shenzhen Mangrove Wetlands Conservation Foundation (MCF) in July 2020 in Shenzhen Bay to monitor and manage the ecosystem, improve the existing habitat for wetland species, and promote environmental awareness to our colleagues and the public.
This initiative has created approximately 7,000m2 of habitat for migratory birds and there are ongoing conservation activities, including removing invasive plants. In addition, we will publish a joint report on natural succession with MCF, and work with people from all walks of life to better understand plants and nature.
"Humans and nature coexist in a virtuous cycle. It is important that we live together in harmony and cherish everything nature has to offer. KPMG firmly believes that we should fulfil our responsibilities not only to our clients, but also to society."
Wilson Pang
Partner, KPMG China
Board member, KPMG Foundation
Climate risk
Give financial markets and our clients clear and comprehensive information on the impacts of climate change
At KPMG China, we support our clients to deliver growth with purpose and help them work towards achieving the SDGs.
In 2021, KPMG worked with banking clients to conduct climate risk stress tests based on requirements from local regulators. Due to the distinct nature of climate risk, traditional stress testing approaches adopted in the banking sector are not sufficient to measure the climate-related impact. KPMG successfully developed new stress testing approaches, which included both physical risk and transition risk associated with adopting ESG strategies, as well as climate risk related to clients' vulnerable exposures.
We advise our clients on ESG governance, strategies, risk management and reporting to help achieve their vision for sustainability and ESG. For more details, please visit the Prosperity section.