Article Posted date
01 September 2020
Chinese Australian entrepreneurs utilise their knowledge of both China and Australia to identify market opportunities. This cross border knowledge became a key reason for their success. These entrepreneurs believe they've benefited from China's growing economic strength and spending power, which they coupled with their knowledge about Australia to identify new opportunities in both countries. The quality of the products and services they offer is another significant factor that contributes to the success of their business. Forming and executing business strategies with knowledge and hard work also played a crucial role.
Key findings:
Integrated in both Australian and Chinese business networks.
Export Australian-made products into China and uncovered market opportunities in Australia's Chinese community.
Australia's Chinese business community networks are key to growth and ongoing operations.
Transfer technologies from China for local innovation in Australia.
All businesses examined are primarily integrated in Australian stakeholder networks and supply chains and two thirds (66 percent) of the interviewed entrepreneurs deal mainly with Australian clients. Of the interviewed enterprises, 19 percent deal with clients from China and 14 percent have a client base beyond Australia and China.
The same proportions are reflected when looking at what suppliers these businesses use. Two thirds (65 percent) of the companies have business partners and suppliers in Australia. One quarter (25 percent) use suppliers from both Australia and China. Nine percent rely on suppliers from China, while one percent of businesses find suppliers in other countries.
Selling Australian-made products into China
When asked about the changing dynamics of their business operations in Australia and China over time, the entrepreneurs made a distinct transition from drawing on Chinese resources to build their local position to selling Australian-made products to China.
When first starting their businesses, one in three (32 percent) Chinese Australian entrepreneurs relied on Chinese business partners for transactions, and one in five (22 percent) for funding. Their sourcing from China (14 percent) and export to China (15 percent) were balanced (Figure 1).
Figure 1. Connections with China, N=100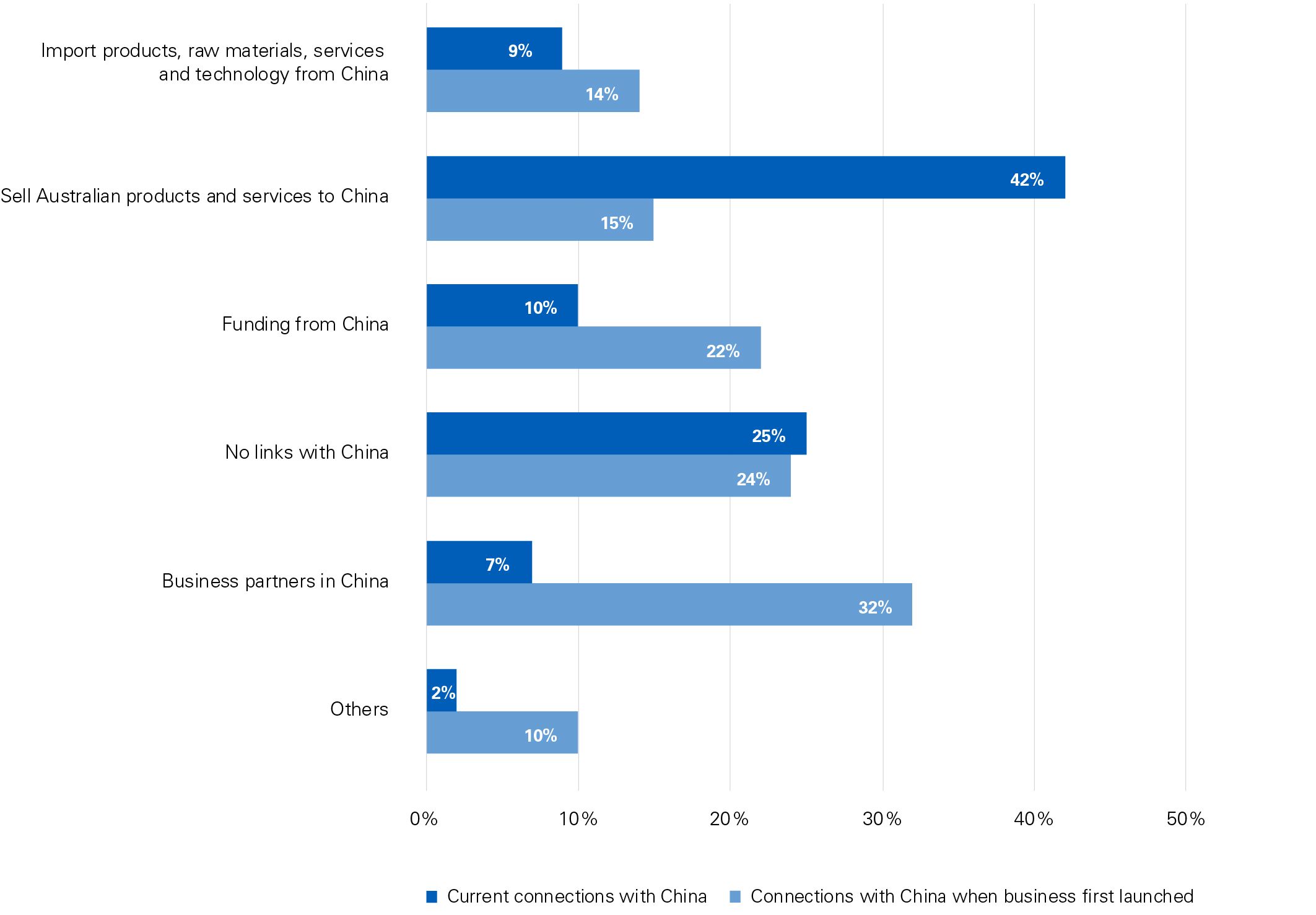 Less reliance on Chinese partners
On average, after two decades of operation in Australia, these businesses established themselves as bridge builders between Australia and China. Their overall reliance on Chinese partners decreased, dropping from 32 percent reliance to seven percent, and so did their reliance on funding from China, down to 10 percent from 22 percent. The near even balance of import from, and export to, China has now shifted to a five to one ratio in favour of exporting to China (Figure 1).
Interestingly, their businesses shift relies on their strong ties with Chinese suppliers and consumers. Overall, three quarters (75 percent) of the companies interviewed claimed their business remained closely connected with the Chinese market.
Local Chinese ethnic networks
For many newly arrived Chinese Australian entrepreneurs, a reliance on local Chinese ethnic networks was important. This was true for established enterprises also. Three quarters (75 percent) of respondents stated they collaborated with companies with a Chinese background in Australia. These collaborations included support in gaining local market access and supply of products, services and capital.
We found that one in three Chinese Australian entrepreneurs use ethnic business networks to access clients, markets and distribution channels. One in four of these businesses turn to ethnic business networks to source products, services and technology (Figure 2).
Figure 2. Connections with other Chinese businesses in Australia, N=100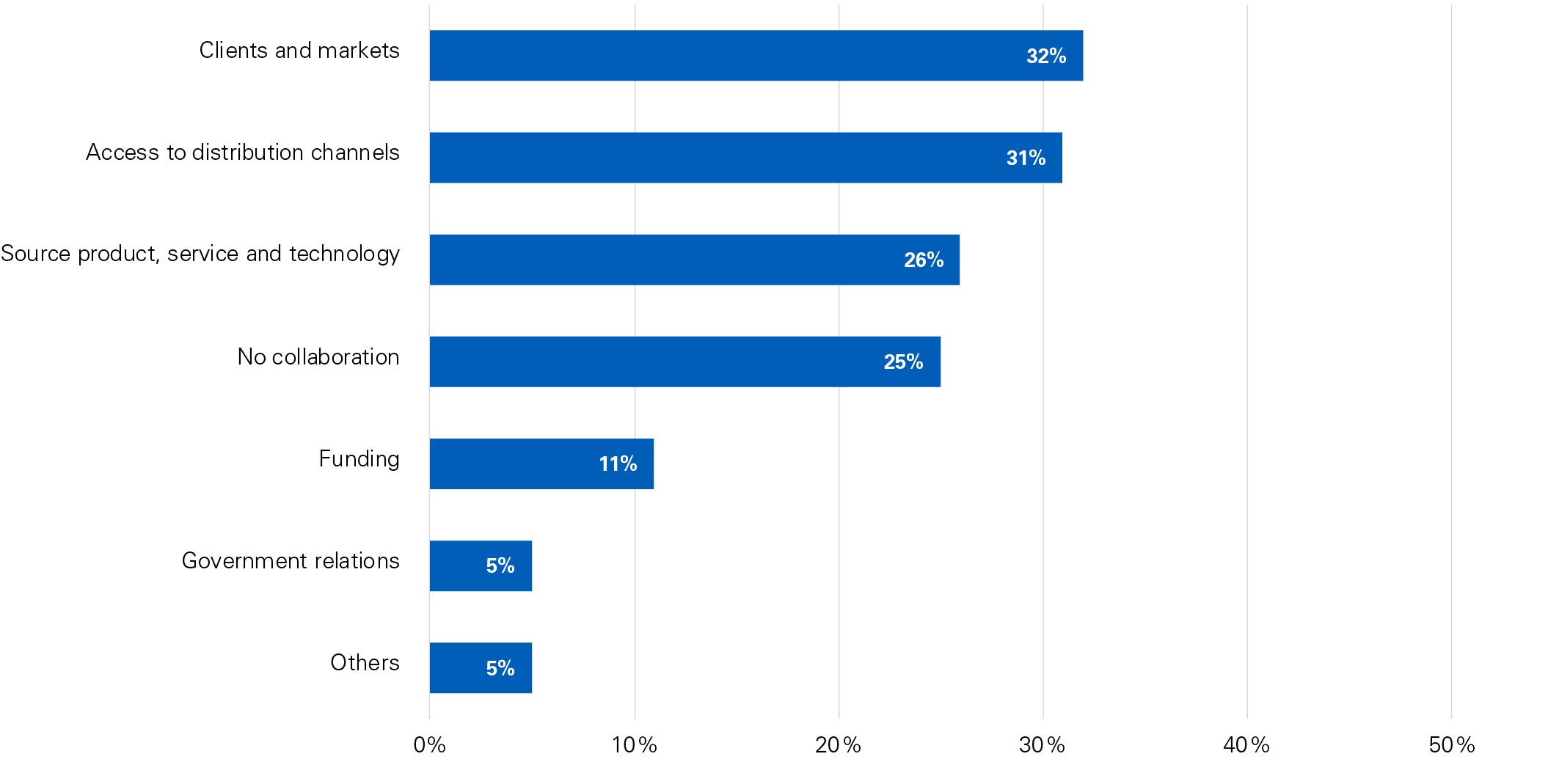 These ethnic networks help Chinese Australian entrepreneurs to overcome some of the difficulties that many Australian small and medium enterprises face in getting established as discovered by the Australian Small Business and Family Enterprise Ombudsman's Small Business Counts report. Some of the challenges include reducing information cost, financing risks and identifying business opportunities, and talent for employment.
Types of innovation
Among our respondents, 80 percent were engaged in some form of innovation in their business. The different innovations being looked at included bringing new products and services to the market, business model innovation, changes to management and operations and technology upgrades. We also discovered different approaches to innovation that were specific to Chinese Australian businesses.
A number of the businesses interviewed were creating new products specifically for the ethnic Chinese market in Australia. For example, wealth management firms had developed products specifically tailored to Australia-based Chinese clients. Beyond the obvious service delivery by bi-lingual teams and language support, their offering included flexible financial services modelled on Chinese services, and managed with similar compliance and risk control procedures.
We found that 14 percent of businesses surveyed brought innovative technologies from China to their Australian operations. One business we spoke to was a glass manufacturing company that imported equipment from China to produce high-tech glass products which previously had to be imported. Other businesses had installed IoT (Internet of Things) and Artificial Intelligence (AI) solutions that are widely used in China's warehouse and logistics sector, but were not available in Australia.
This is chapter three of our five chapter report in the new generation of Chinese Australian owned businesses in Australia.
Download the full report (PDF, 2.6MB)