Article Posted date
01 September 2020
The COVID-19 pandemic has had vast economic impacts on businesses around the world, for these entrepreneurs, some felt the immediate effects, and some were able to draw on their previous experiences to pivot and succeed.
Before the COVID-19 pandemic, Chinese Australian entrepreneurs were optimistic about their businesses, with growth and expansion plans. The majority (90 percent) had plans to grow, mainly through introducing new products and services, and expanding into new markets. Many hoped to attract equity investors (72 percent) and wish to invest into other businesses (67 percent).
These entrepreneurs had ambitious plans. One mentioned that their aim was to help an Australian wine brand to become a world-renowned brand. Just under half had plans to restructure their business and 43 percent were open to the idea of an IPO in Australia, or a stock exchange in another country.

Post COVID-19
In late April, we spoke to 56 of our original 100 interviewees and asked five questions to understand the impacts of COVID-19 to their business.
Of the 56 interviewees, 86 percent claimed that COVID-19 had a negative impact on their business. Those of the 14 percent who claimed to be unaffected at that time were mainly in healthcare manufacturing, industrial manufacturing, construction and professional services industries. However, some of these businesses expressed that they were concerned about future economic trends.
About half (54 percent) of the companies' turnover from January to March 2020 fell by less than 30 percent compared to the same period last year. For approximately one-third (27 percent) it has declined by 30-50 percent. More than 14 percent of the companies have been hit particularly hard, with revenues falling by more than 50 percent. Most of these companies are in the restaurant, hotel and education sectors (Figure 1).
Despite the downturn, 5 percent of the interviewed companies reported an increase compared to the same period last year. Some are looking to exceed growth achieved during the past year and some are still growing, although slower, due to COVID-19. There are a few companies that have found new opportunities during the pandemic. For example, one manufacturer repurposed its production lines to create hand sanitiser and disinfectant. This quick change in strategy boosted the previously underperforming business. The owner acknowledged his business acumen to his previous experience with SARS in 2003.
Figure 1. Turnover compared to the same period last year (January to March 2020 compared to January to March 2019), N=56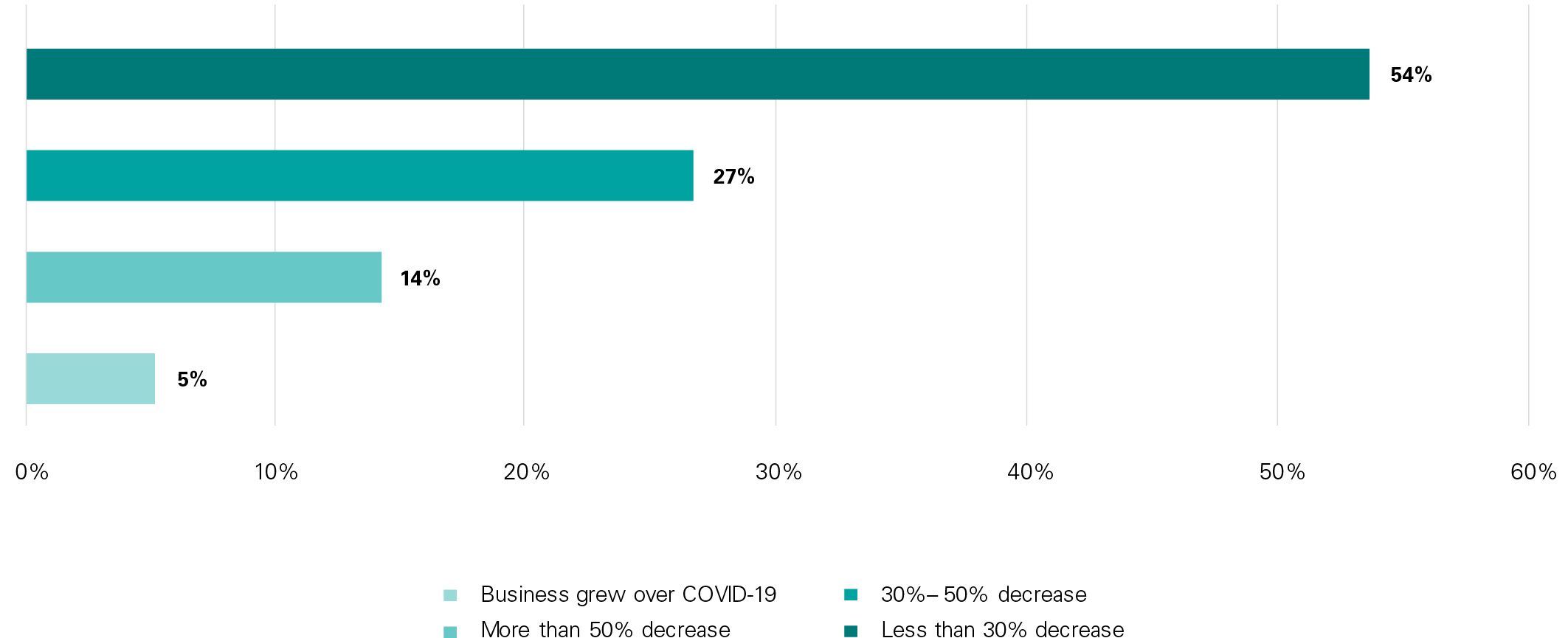 Companies are trying to retain their employees with 57 percent claiming they have not laid off any staff, 25 percent of them have cut working hours and salaries to preserve jobs. But there have been some layoffs, with 13 percent cutting staff, another 5 percent of companies are still recruiting during this period. One interviewee in the renewable energy sector believes that this presents an opportunity to acquire talent in the market.
Post COVID-19, 55 percent of respondents believe it will take around one to two years for economic activity to return to previous levels, about a third of the respondents are more optimistic believing that economic activity will resume in six months after the epidemic.
As for the impacts on immigration policy, geopolitics and global trade, 13 percent believe that it will take three to five years, or even longer, to return to the level before the outbreak.
Of the various stimulus packages issued by the federal and state governments, 62 percent of the respondents said they are applying but 36 percent of the interviewees did not apply because they believed they weren't qualified.
This is the final chapter of our report in the new generation of Chinese Australian owned businesses in Australia.
Download the full report (2.6MB).