Article Posted date
01 September 2020
Many of our Chinese Australian entrepreneurs were tertiary educated in Australia and started their businesses at a relatively young age.
Key findings:
Educated at Australian tertiary institutions.
Started companies at a young age.
Originate from and maintain links with prosperous Chinese provinces.
Background and education
Our selection of Chinese Australian entrepreneurs are highly educated and professionally trained. Three quarters (75 percent) of the founders have had some form of tertiary education in Australia.

When we considered the original reason that these entrepreneurs first migrated to Australia, 71 percent came to study (Figure 1).

Over half (59 percent) of all respondents had previous employment experience in Australia before they started their own business. Before arriving in Australia, 51 percent had no work experience in China. An Australian degree and previous work experience gave these Chinese Australian entrepreneurs the confidence to seek new business opportunities in Australia.
This experience with the Australian education sector played an important role in preparing them for building a high growth business. Out of our interviewed enterprises, 68 percent qualify as high growth. High-growth is defined as an increase in turnover of 20 percent or more in average annualised terms, over a five-year period.
Figure 1. Why high growth entrepreneurs first migrated to Australia, N=100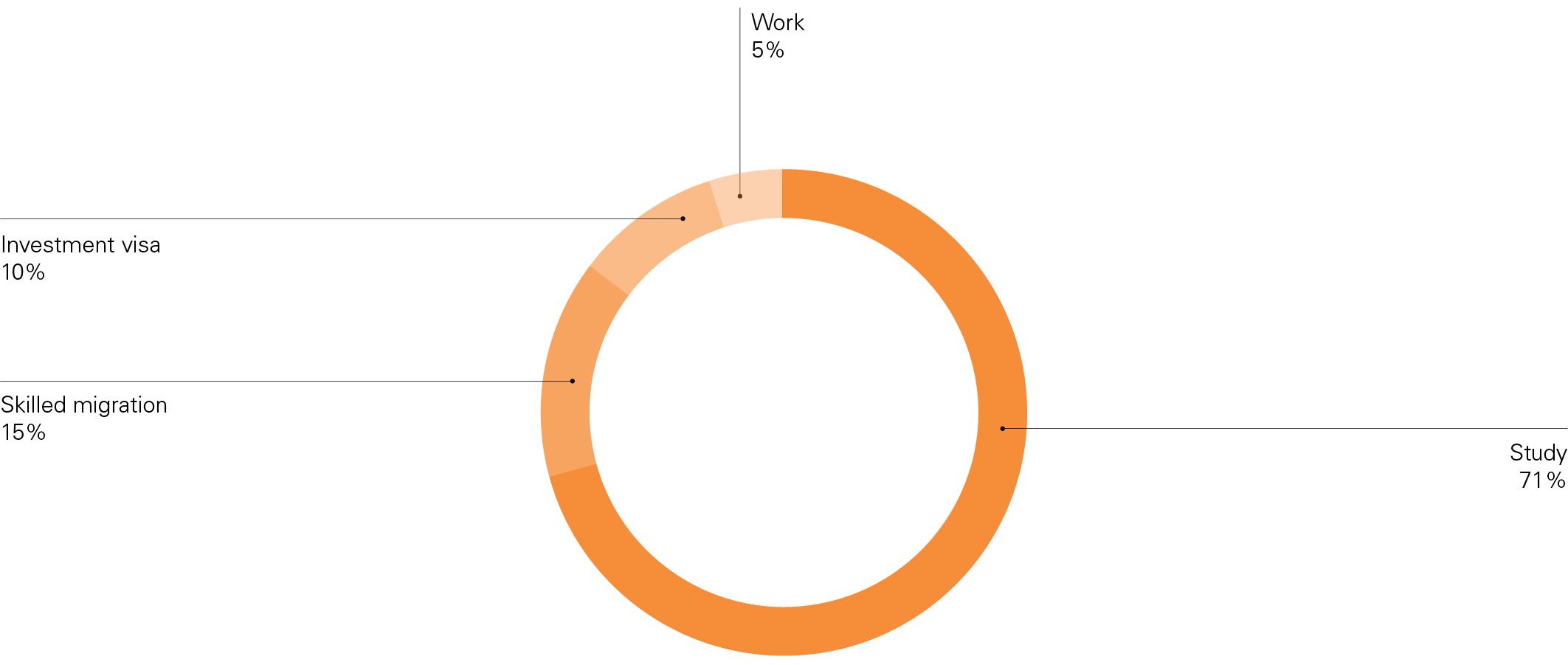 Started young
Our group of Chinese Australian entrepreneurs started their businesses when they were relatively young. The average age of those we interviewed was 39. Of this group, 45 percent are in their 20s and 30s, and 26 percent are in their 40s (Figure 2).
Figure 2. Age of Chinese Australian entrepreneurs, N=100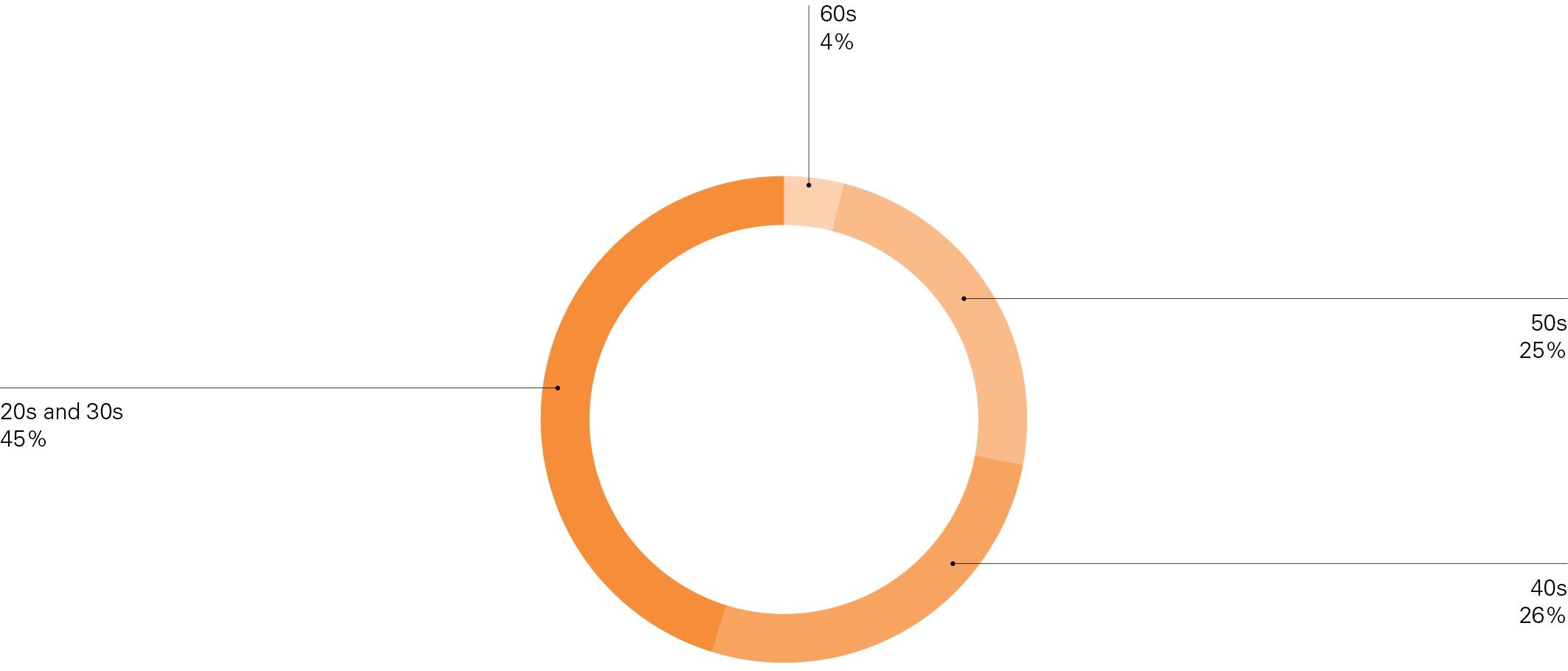 The entrepreneurs grew up in China during a time when the government was promoting rapid economic development and people were encouraged to start their own businesses. Many of them witnessed significant economic growth in China and have learnt to seek business opportunities overseas.
For our 68 high growth enterprises, the owners started their business at the average age of 27. The high proportion of young Chinese Australian entrepreneurs driving high-growth companies in Australia reflects the propensity of young immigrants from China to start ventures, rather than pursuing corporate careers (Figure 3).
Figure 3. Age of high growth enterprise founders at start up, N=100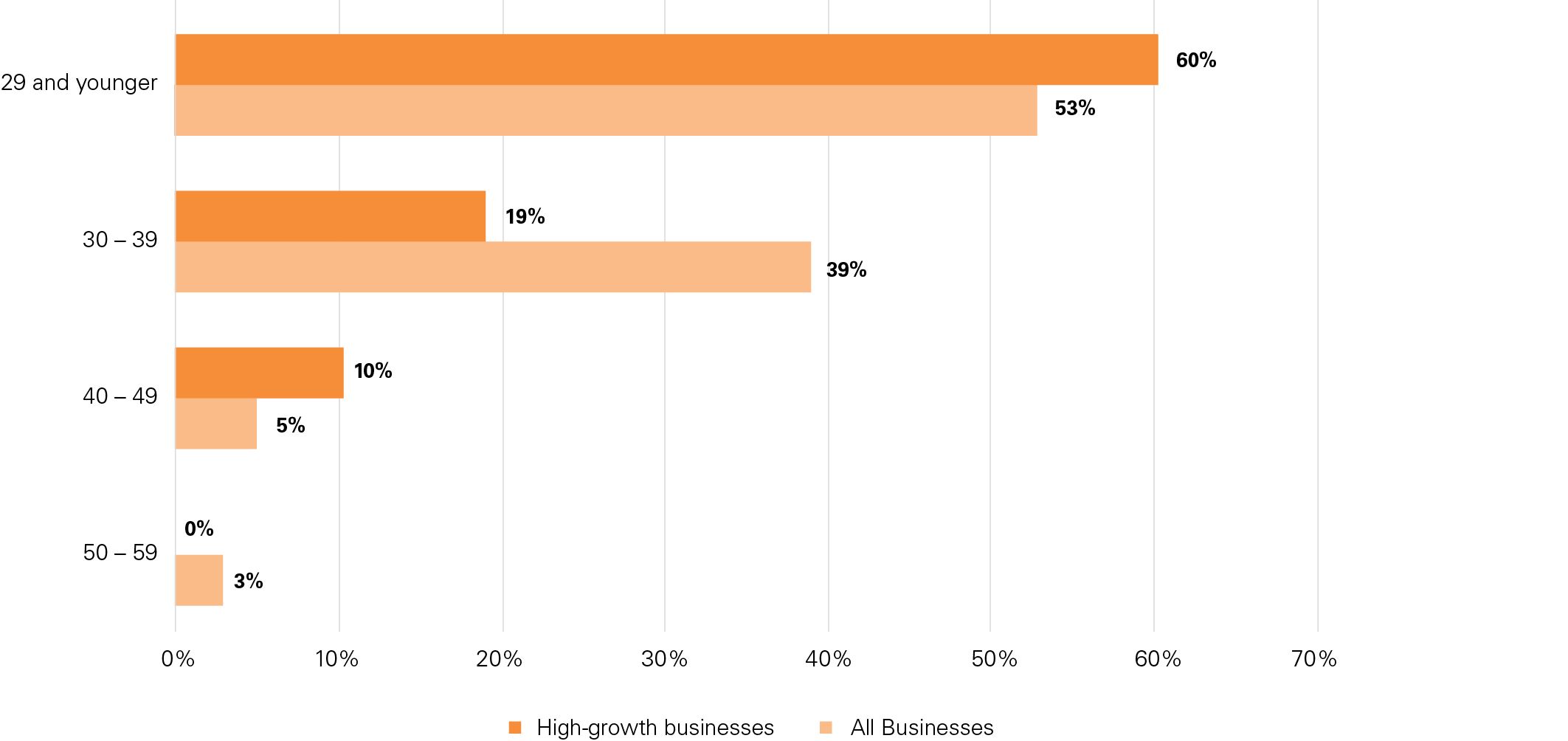 Linked with prosperous provinces
Over two thirds (67 percent) of the respondents originated from China's eastern seaboard provinces from Shandong to the Lower Yangtze and South-East coastal region, including Shanghai municipality and the provinces of Jiangsu, Fujian and Guangdong. The largest proportion (13 percent) come from Fujian, followed by nine percent each from Shandong and Jiangsu. These regions became the most prosperous parts of China since economic reforms started. Families in these regions could afford to send their children to live and study overseas sooner than those in other parts of China. Entrepreneurs from these regions tend to maintain business connections in China.
This is chapter one of our five chapter report in the new generation of Chinese Australian owned businesses in Australia.
Download the full report (PDF, 2.6MB)