Now, more than ever, an up-to-date and professional approach to corporate environmental, social and governance (ESG) issues is a non-negotiable business necessity. The bottom line is that your ESG or 'non-financial' performance is quickly becoming as important as your financial performance. But how can you tell whether your organization is in good shape when it comes to ESG?
A good first step is to take the KPMG ESG Health Check. This comprehensive assessment process is designed by KPMG experts to examine the essential elements of your corporate ESG activities. It looks at the operational fundamentals you need in place to effectively manage your company's day-to-day ESG performance, as well as the transformational factors that can help you protect and create value by building ESG into your business strategy.
The KPMG ESG Health Check will highlight your ESG strengths and weaknesses, identify gaps to be addressed, and flag ESG-related risks to be managed and opportunities to be developed. To get an initial overview of your organization's state of ESG health, complete our KPMG ESG Health Check self-scan.
What the KPMG ESG Health Check covers
When KPMG conducts an ESG Health Check on your organization, our professionals will assess your current approach to the following ESG operational fundamentals and transformational factors. KPMG can tailor the ESG Health Check to meet the needs of any company in any industry; whether you are in the early stages of your ESG journey or have a mature ESG strategy that needs to be reviewed and refreshed.

ESG goals and ambition
ESG stakeholders
ESG regulatory preparedness
ESG performance targets
ESG benchmarking
ESG priorities (materiality)
ESG policies
ESG reporting
ESG governance
ESG risk management
ESG opportunities
Net zero pathways
ESG and the supply chain
ESG and corporate finance
ESG and IT
ESG in company culture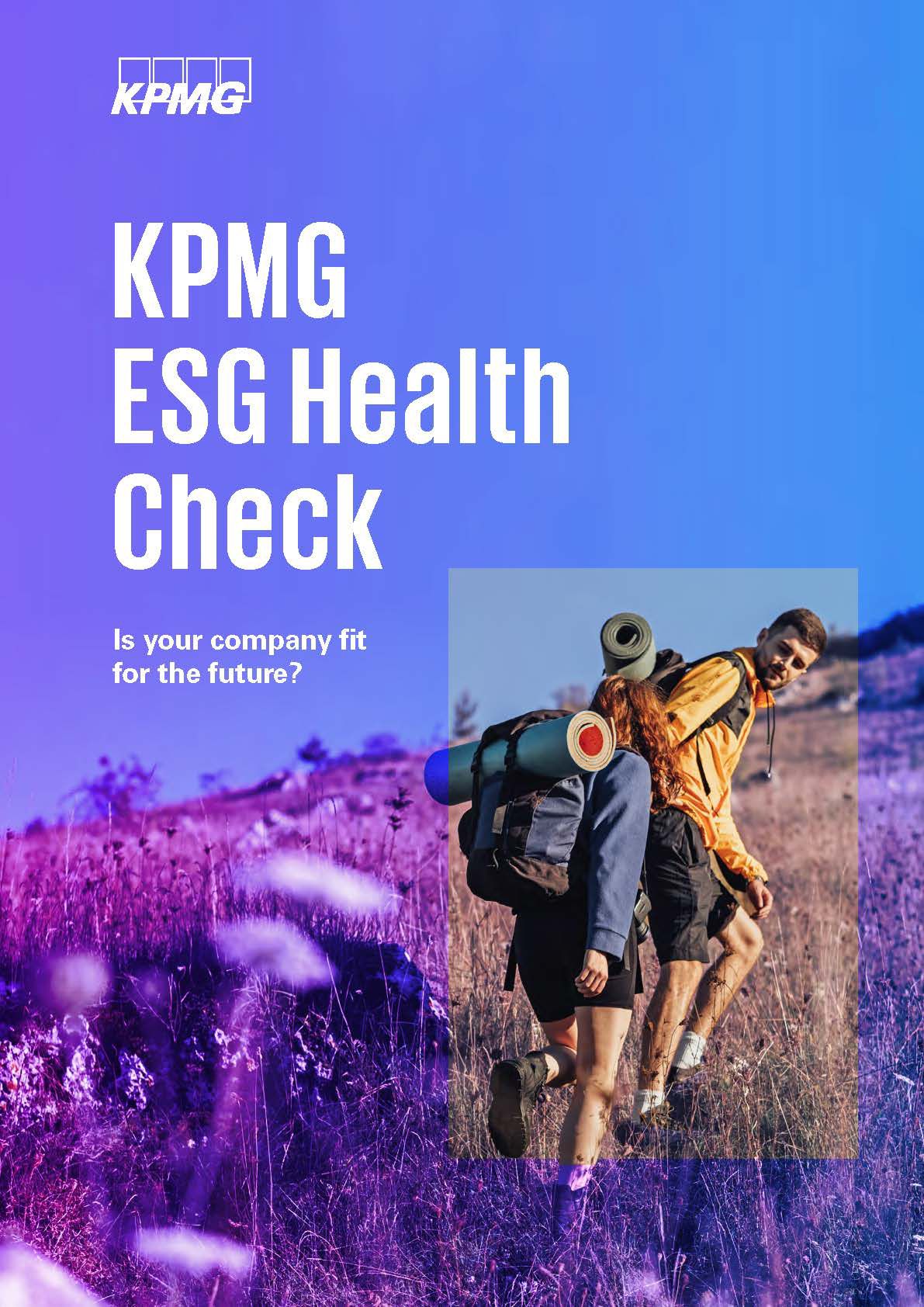 More information on the KPMG ESG Health Check?
Download the brochure for more information on the KPMG ESG Health Check or get in touch with one of our ESG-experts listed below.
Download brochure →