What is changing today: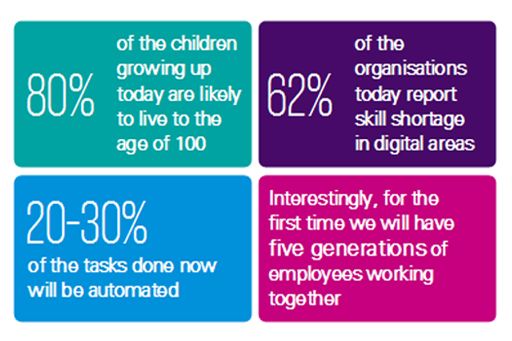 These astounding facts, as gathered from KPMG in India research, call for a revisit to of employee profiles and skillsets.
A few key considerations in this context could be:
What kind of employees do we currently have?
What are their existing competencies?
How can they build new and relevant competencies in a changing digital landscape?
With global demographic shifts and frictionless access to technology, organisations, today, need to make conscious changes to the talent and acquire distinct skillsets. To this end, automation technologies could play a huge role in digitising a sizeable segment of the labour market, and then move them into enhanced roles. Additionally, these technologies could lead to a dramatic turnaround when it comes to peoples' roles and responsibilities, as well a change in skillsets they possess.
Organisations are recognising the technological shifts that are currently disrupting the business landscape, and are, therefore, finding novel ways to address the upcoming trends that are emerging in the services industry. Some of the key trends that we are currently witnessing include changing customer preferences, disruption, changes in business models, learnability and technology proliferation.
Therefore, businesses need to work to identify internal talent and external associations, so as to help ensure that knowledge is retained or built at the pace of an organisation's strategy.
Reshaping skills and sparking a new learning revolution is the way forward while responding to change drivers in this evolving landscape. New technologies may proliferate in the future to provide a boost to humans in some cases, and in some, replace humans. India, therefore, has a distinct opportunity in the sense that we have a bright young generation that could be prepared to be a part of a digital organisation, so as to create a talent and capability hub for the world. All of this can only happen if the present stalwarts make way for the future ones. A critical contribution would be to repaint and reimagine the canvas and not make some minor adjustments to the wall of the future as it stands, since the wall may itself be the wrong construct for a future model, and renovating it may not make an organisation future proof.
With every organisation trying to find the 'the ideal employee', some of the key attributes that need to be considered by recruitment professionals and existing leadership include digital dexterity, innovation mindset, learnability quotient, mindfulness and appreciation for diversity and training.
Below are some of the key attributes that need to be considered in this context:
Digital dexterity: This means possessing the ability and desire to exploit existing and emerging technologies for better business outcomes
Innovation mindset: An attitude of searching for and delivering better outcomes everyday which then has a profound impact on performance to help create a 'pro-innovation' culture.
Learnability: This is a critical success factor for the organisation
Mindfulness and appreciation: Another crucial aspect that is important to uphold for maintaining diversity and training in inclusive behaviours.
What can get you there:
KPMG in India proposes a digital dexterity assessment employs an integrated approach that ascertains the future skills needed to support an organisation's digital ambition. The concept of digital dexterity is being acknowledged and adopted by organisations that are looking to transform themselves at a competitive pace.
Learnability is critical for everyone in an organisation from a CxO to an associate. That said, we have to consider the below points:
Are you complacent in your work life time that you do not need to learn anything? If yes, then new technologies would be seen as threats and not opportunities.
Do you have the right people at the right places to deliver? If we are to look at this we may say that it is a great idea, but what if there is no talent?
How do you get started now
It would be sensible to attract a knowledge hungry workforce that is open to external influences, and is able to 'lead the enterprise to extraordinary sustainable successes'. The emerging picture warrants that everyone understands technology, its end objective, and the impact of an action in a global enterprise.
Assess your workforce digital dexterity: The impact of digital interventions on current roles/skills needs to be assessed
Assess the impact of these technologies on your organisation and what skills you would need in the future: Results from the assessment must be mapped to the workforce for identified processes and functions
Establish and deliver future skills learning: Customised learning plans are likely to enable the organisation to respond, adapt and maintain the right talent.