Headwinds in the consumer and retail sector
Since February 2019, Hong Kong has been experiencing a decrease in retail sales volume compared to 2018*.
The intensifying trade war and looming global economic recession are putting pressure on the industry in terms of both sales and sourcing.
In a recent KPMG survey (Figure 1), 79 percent of retailers in Hong Kong affirmed that high property rent was the biggest challenge the industry faces, followed by talent shortage and high staff turnover.
Leaders tasked with steering through this turbulent time see industry-wide collaboration as key. They need visibility, solutions, and optimal structure. This article outlines where we have deployed our expertise in helping management teams and boards address issues proactively.
* Report on Monthly Survey of Retail Sales (June 2019), Census and Statistics Department
Main challenges facing Hong Kong's retail industry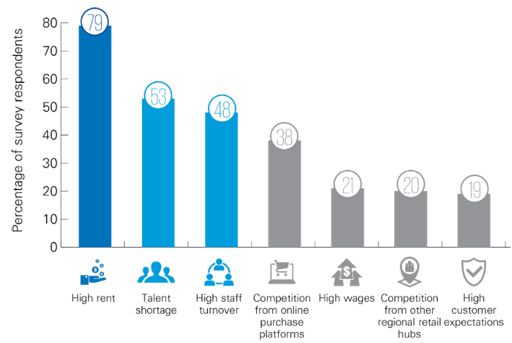 Source: KPMG/HKRMA Retail Labour Survey
Business health check
We identified three main headwinds for retailers in Hong Kong in the short, medium and long term. Now is the time to proactively tackle those challenges in order to stay afloat.
1. Structural and operational challenge
Challenges: Costs of goods sold, real estate rent, labourcosts, falling sales– all affect one's cash position.

This is likely to be the most pressing short-term challenge, and action is required now.

Interventions: Review operational efficiency and cash utilisation in the following areas: store operations, buying, merchandising, supply chain and logistics, back office and overheads to identify savings and improvements in the short and medium term.
2. Global slowing/recession and trade war
| | |
| --- | --- |
| Challenges: Besides the trade war, with the recent decrease in the number of tourists, retail sales are significantly affected due to its linkage with tourism. Local consumption has also declined, and discretionary spending will be affected the most. | Interventions: Map out risk and business scenarios and the impact on business; develop a contingency plan to survive in the short term; prepare restructuring and repositioning; digitise; communicate business decisions to stakeholders. |
3. Strategic and competitive challenge
| | |
| --- | --- |
| Challenges: Consumers are getting more demanding opting for a more individualistic lifestyle. This is a longer term challenge for Hong Kong consumer and retail businesses, and indicates the need for local businesses to get ready for a stronger competitive landscape. | Interventions: Strategic health check on long term viability of the business model; brand repositioning; assortment refresh; channel, format innovation; widened geographic spread of portfolio, e.g. GBA, ASEAN countries; brands/ business collaboration to leverage one another's platform. |
Deeper dives
Our Retail Advisory Team can help you