KPMG Executive Briefing
11 June 2019, 1:30PM - 6:00PM, ICT Bangkok, Thailand
In the age of digital platforms that cater to users' needs and lifestyle, brands and businesses now have access to in-depth customer insights at a level never seen before, thanks to the enormous amount of data collected through each customer touchpoint. This allows for endless opportunities to innovate and create ways to provide a unique consumer experience. It is the time for businesses to be quick, decisive and accurate in their marketing and digital strategy to excel above their competitors.
"Choose, Lace and Replace your running shoes based on how you run;
Your digital transformation strategy based on how you know your customer's digital experience."

With this huge opportunity also comes a challenge for businesses to be ahead of this fast-paced environment – or risk getting left behind! Choosing the right digital tools, laying a solid digital strategy while struggling to meet business goals are all daunting decisions that companies need to face.

KPMG explores how businesses can successfully go digital and grow their business. In this briefing, topics that will be discussed include:
Understanding digital experience and the customer journey, both online and offline
Leveraging third party data from marketing platforms
Social media and digital experience trends that are unique to Thailand
Trends, benefits and challenges in a business's digital transformation journey and choosing the right strategy
Panel discussion with key experts from Microsoft and real customer experiences
Speakers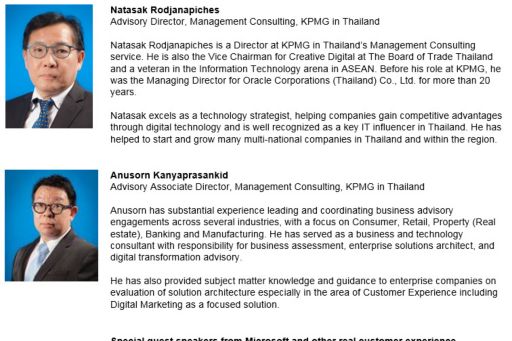 Date: 11 June 2019 Time: 13.30 - 18.00
Location: KPMG Lounge, M Floor, Empire Tower
13.30 – 14.00 Registration and refreshments
14.00 – 14.10 Welcome speech and introduction
14.10 – 15.00 Market trends and digital solutions landscape
15.00 – 15.30 Digital transformation journey and key challenges
15.30 – 16.00 Coffee break & networking
16.00 – 16.50 Panel discussion
16.50 – 17.00 Wrap up and Q&A session
17.00 – 18.00 Open discussion and networking
Language

Thai

Who should attend

Chief Marketing Officer/ Chief Operating Officer and other C-level officers

Venue

KPMG Executive Lounge, M Floor, Empire Tower

1 South Sathorn Road, Bangkok 10210 Map

Registration

Seating is limited and early registration is recommended.

Please register before 11 June 2019.
*If you cannot join the event, please feel free to forward to those suitable to join.

Contacts

For more information about the event, please contact: