KPMG Executive Briefing
4 June 2019, 8:30AM - 11:00AM, ICT Bangkok, Thailand
Consumer behavior is changing at an ever-increasing rate – faster than a blink or click. Companies that can be ahead of their competition and prepare to serve their future consumers will have a competitive advantage. Catering to, and ideally staying ahead of consumer behavior and preferences is a priority agenda if companies wish to thrive, rather than survive or decline in the future. Traditional corporate models are being tested. Companies are being forced to take an outside-in view of their consumers and put creating a positive, and repeat, consumer experience at the center of management strategies and decisions. Tech savvy, hyper connected consumers are forcing corporates to transform, invest and adapt.
Some of the questions we'll look to discuss at the event:
What are the implications of the future consumer on your organization, management decisions and investments?
Who is your future consumer, how can you understand them and tap into their buying potential and are they focused purely on the big brands?
Should we be focused on these future millennial consumers or do we need to look at a more diverse range of demographics?
Data & Analytics and AI – what are the corporate opportunities and risks linked to greater data dependency?
What are the trends in Thailand and Asia, and what are the characteristics of companies that are thriving?
We look forward to welcoming you to this event to hear KPMG specialists share their knowledge and hear views during the panel discussion from companies in Thailand who are implementing initiatives to serve the future consumer.

Speakers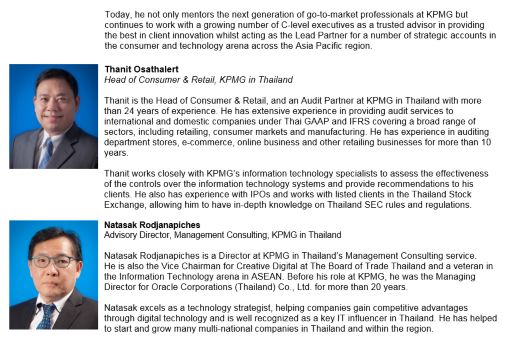 Tuesday, 4 June 2019
08:30 - 09:00

Registration and refreshments

09.00 - 09:05

Opening

09.05 - 09:30

09:30 - 09:45

09:45 - 10:30

Preparing to Serve the Future Consumer by Anson Bailey

Aligning your digital strategy to the future consumer by

Khun Natasak Rodjanapiches

Panel discussion

10:30 – 11:00

Networking
Language

English

Who should attend

Chief Executive Officer/Chief Information Officer and other C-level officers

Contacts

If you have any queries on registration, please contact:

Kan Boonlua at +66 2 677 2583 or email kan1@kpmg.co.th

Venue

KPMG Boardroom and KPMG Executive Lounge, 48th Floor, Empire Tower

1 South Sathorn Road, Bangkok 10210