And key considerations during the deal cycle
6 June 2018, 8:30AM - 11:00AM, ICT Bangkok, Thailand
KPMG is pleased to invite you to our executive briefing on the Outbound M&A Landscape and key considerations during the deal cycle.

With the recent acceleration in outbound M&A activity by Thai corporations expected to continue, it is more important than ever to understand the potential risks, obstacles and challenges along the way. Hidden risks can take many forms, including financial, tax, legal, political and environmental, and businesses must also have a plan for how to efficiently integrate and manage their acquisitions post-deal.

It is therefore important for Thai multinational companies to keep up with the pace of change so that they can stay ahead of the curve in this dynamic environment.

As such, this executive briefing will include these topics:
Global M&A trends
Target hotspot locations and industry sectors
How Thai outbound dynamics compare with neighboring countries
A discussion panel of experts to share experience of challenges and best practice throughout the Pre-deal, During the deal, and Post deal-stages
Speakers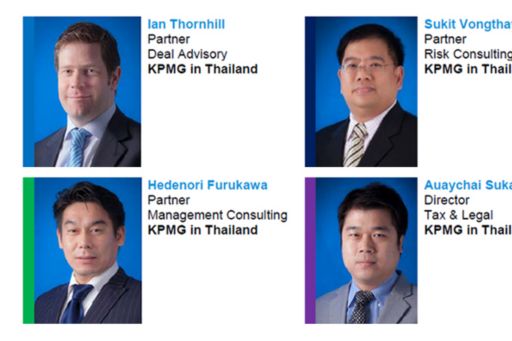 Date: 6 June 2018 Time: 08:30am – 11:00am
Location: KPMG Executive Lounge, Empire Tower, Sathorn
08:30 Registration and light breakfast
09:00 Session starts
10.45 Q&A
11:00 Session ends
Language: English
Who should attend: C-Levels, Management for outbound investment.
Registration: Click here
Seats are limited to two per company. For more information, please contact;
Khun Pannipa Tel: +66 2677 2685 pannipar@kpmg.co.th
Khun Suphapatch Tel: +66 2677 2787 suphapatch@kpmg.co.th
Venue: KPMG Executive Lounge, M Floor, Empire Tower, 1 South Sathorn Road, Bangkok (Map)