Key takeaways from China and other infrastructure trends
23 May 2018, 1:00PM - 2:45PM, ICT Bangkok, Thailand
China is one of the world's leaders in infrastructure development, with significant domestic inventment in recent times and large-scale projects like the Belt and Road initiative aiming to link itself with 70 countries. As the Thai government embarks on massive projects such as the Eastern Economic Corridor (EEC) and high-speed rail, KPMG would like to invite you to explore lessons learned from China and consider other global infrastructure trends and how they may apply to Thailand.
We have the pleasure of inviting you to KPMG's Executive Briefing on The Future of Infrastructure in Thailand: Key takeaways from China and other infrastructure trends. In this briefing, we will discuss:
Global and Thailand infrastructure trends/development in 2018
Infrastructure projects in Thailand under EEC
Belt and Road initiative development model to Thailand
Best practices and case studies from Asia Pacific and China
Our key speaker, Julian Vella, will speak on trends and significant opportunities in the industry, drawing on his experience of advising on infrastructure projects across the region. He will also provide his views on regional issues, learning from the best practices and case studies from China and other regional infrastructure developments, and how they can be adapted to Thailand.
Speakers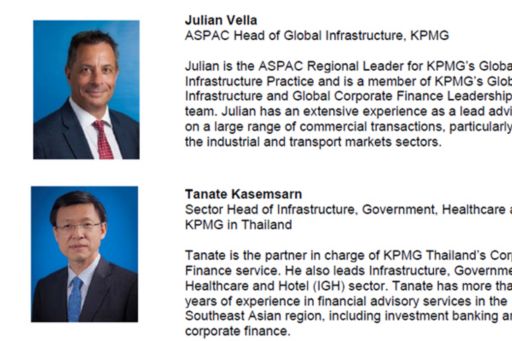 Date: 23 May 2018 Time: 13:00 – 14:40
Location: KPMG Lounge, M Floor, Empire Tower
13:00 – 13:30 Registration and refreshment
13:30 – 13:35 Opening
13:35 – 14:20 The Future of Infrastructure in Thailand: Key takeaways from China and other infrastructure trends
14:20 – 14:35 Q&A
14:35 – 14:40 Closing
Language: English
Who should attend: CEO, CFO, heads of infrastructure projects
Registration: Click here
Seats are limited to two per company. For more information, please contact;
Venue: KPMG Lounge, M Floor, Empire Tower Map