Are you ready for the 3rd KPMG Charity Market?
KPMG in Thailand will be organizing the '3rd Charity Market' at G floor, Empire Tower
on 1-3 April 2019, 9.00-18.00.
We love to invite you to come and shop a variety of products at KPMG Charity Market. You will not only get fantastic products, but you will be helping those in need as all income will go directly to the foundations and social enterprises that join our event.
This year, we have gathered 6 foundations and 7 social enterprises from different areas to join and sell their wonderful products in order to support their causes.
You will get what you want as well as support the society in Thailand!
In addition, there will be other activities awaiting you during these 3 days:
| | |
| --- | --- |
| 1 April | Workshop 'Lawa Earrings' by Doister |
| 2 April | Free portrait by Primiita (spend THB 2,000, get 1 free portrait) *Limited seating |
| 3 April | All day massage by Foundation for the Employment of the Blind (THB100/15 mins) |
The more you SHOP, the more you WIN!
For every THB500 spent at Charity Market, you will get 1 lucky draw coupon for a chance to win more than 50 special prizes from KPMG.
Organizations & Products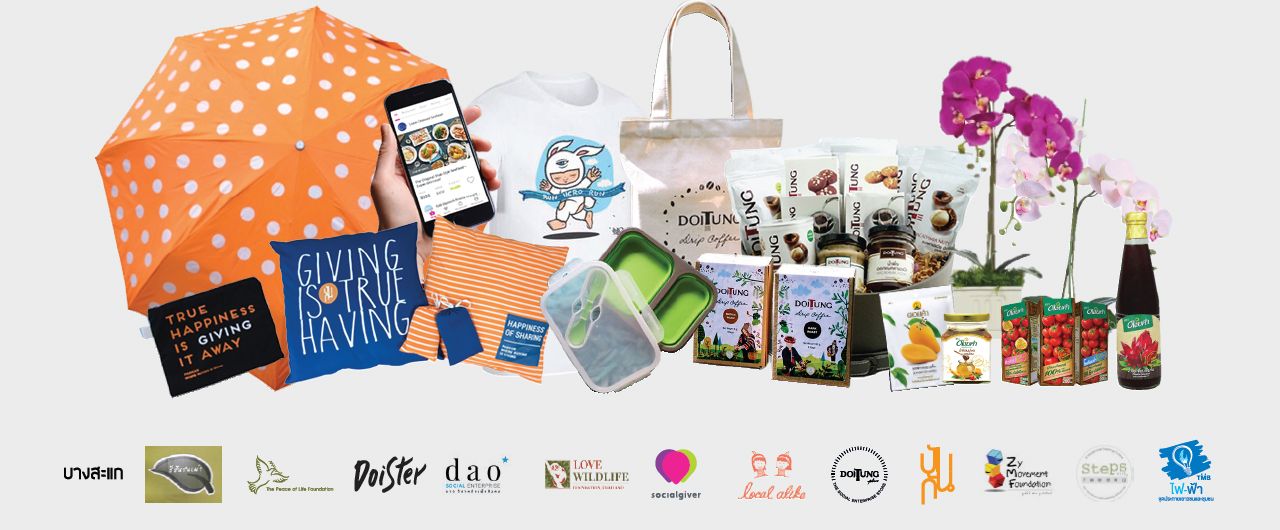 Socialgiver

Gif Voucher โรงแรมร้านอาหารบริการอื่นๆ

โครงการร้านปันกัน
โดยมูลนิธิยุวพัฒน์

สินค้าทั้งหมดจะมอบเป็นทุนการศึกษาแก่เด็กๆ

ไฟ-ฟ้า โดย มูลนิธิ TMB

ลิ้มลองคุ้กกี้แสนอร่อย ที่เกิดจากการรวมตัวของชาวบ้าน ผลิตและจำหน่ายด้วยความตั้งใจ

Doi Tung Plus

ผลิตภัณฑ์ท้องถิ่นคุณภาพระดับพรีเมี่ยม

บางสะแก

ผลิตภัณฑ์ท้องถิ่น

Steps with Theera

ขนมและของที่ระลึก

Zy Movement Foundation

เสื้อ หนังสือ บราวนี่ คุ้กกี้

Local Alike

แพคเกจทัวร์

Doister

ผลิตภัณฑ์ที่เป็นเอกลักษณ์ของชาวดอย

Lek Silver

เครื่องประดับเงินเก๋ๆ จาก ชนเผ่าปกากะญอ

Dao Social Enterprise

กระเป๋า ของใช้ และของขวัญ

Love Wildlife Foundation

สินค้าเป็นมิตรกับสิ่งแวดล้อม

The Peace of Life Foundation

เปลี่ยนเสื้อยืด เป็นเสื้อเกราะ ทหารชายแดนภาคใต้