KPMG Webinar - MFRS Updates 2023
We are delighted to extend an invitation for you to join us in the KPMG webinar titled "MFRS Updates 2023".

This year's webinar is designed to provide participants with updates on the recent changes in accounting standards issued by the Malaysian Accounting Standards Board ("MASB") and the International Accounting Standards Board ("IASB").
Who should attend:
Directors

Audit Committee Members
Senior Management
CFOs / Finance Managers / Finance Executives
Regulators
Academicians
Speakers:
Chong Chen Kian, Partner - DPP (Department of Professional Practice)
Oh Sye Yi, Executive Director - DPP (Department of Professional Practice)
Agenda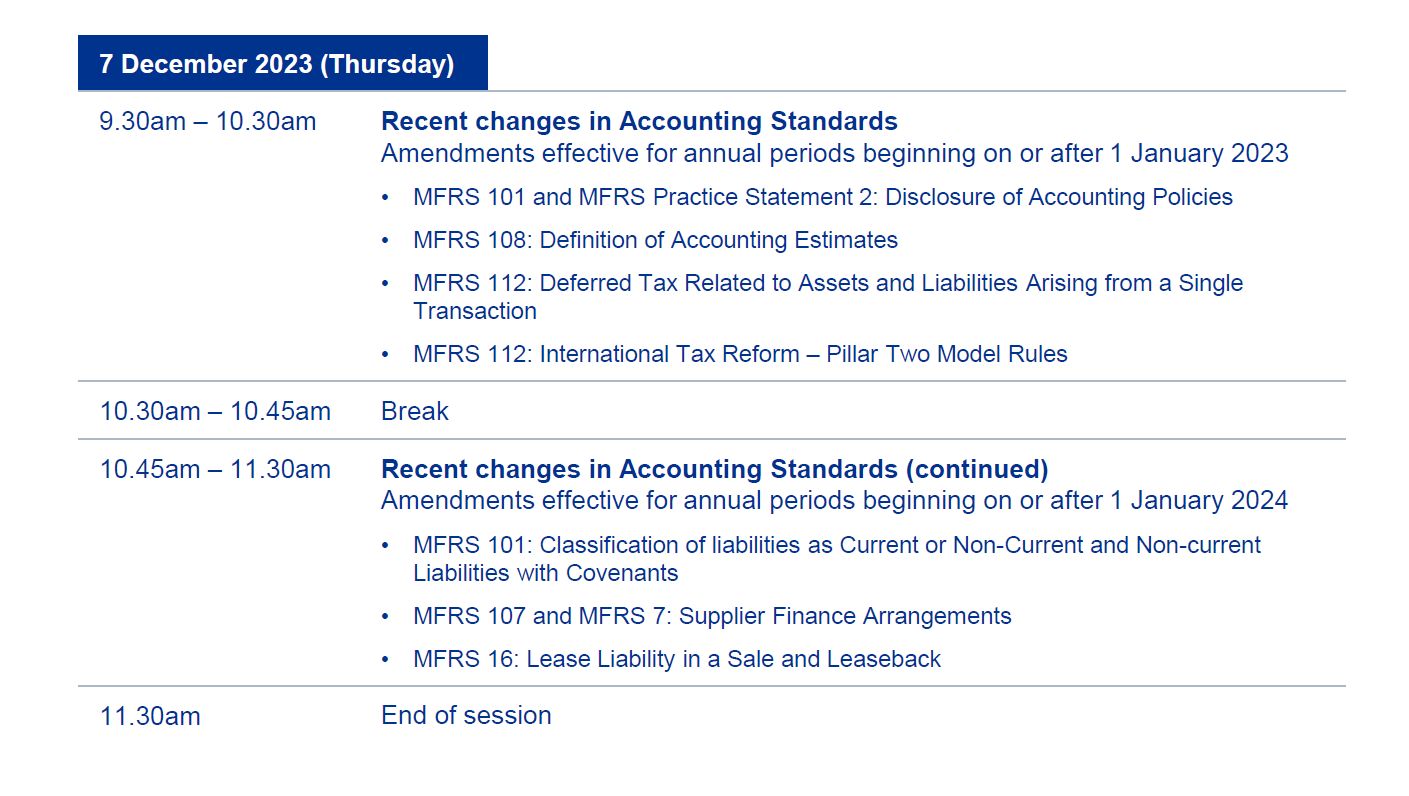 2 CPE hours will be awarded for this event.
Date & Time
7 December 2023 (Thursday)
9.30am – 11.30am

Platform:
Webex Events

Fee:
Complimentary

For queries about this webinar, please contact

NOTE
Registration: Closed due to limited capacity.

All delegates must register with their respective email address in order to access / attend the webinar. Entry into the webinar is unique to the registered delegate's email address and is non-transferable. If you are registering on someone else's behalf, please ensure to insert the delegate's email instead of your own.


For event queries, please email to kpmgconferencesseminars@kpmg.com.my
NOTE
KPMG's webinar series are conducted online; hence, you will need to have stable internet access in order to participate. While you may view the webinar using a mobile device, it is recommended to participate using a laptop/PC for optimal experience.
This event is organized by KPMG PLT