The energy crisis of the early twenties caused difficult moments but proved to be the tipping point towards a safer market model that better protects consumers from volatility", says Belgian Prime Minister, Alexander De Croo.
As we enter the fourth decade of this century, I am happy to say that that we have succeeded in addressing the energy, security, and climate challenges of the early twenties. The combination of rising energy prices and a war on European soil gave us a solid wake-up call at the time. We realized that we depended on Russia for our energy and on the United States for our security. Thanks to that challenging context, the insight dawned that we could make a 20-year leap forward if we succeeded in fundamentally reshaping the Belgian energy landscape.
I am proud that we were able to deliver that fundamental change without turning our backs on the world. It proved possible to diversify our energy mix without sacrificing openness to the world. We have developed our own renewable energy and have deliberately chosen to over-invest in our national potential to continue to play our role as energy hub.
Alexander De Croo
Belgian Government Prime Minister
A very visible exponent of this transition is our offshore wind capacity in the North Sea, which has grown to 8 GW. But the hydrogen import has become at least as important. Thanks to the harbor of Zeebrugge, we were able to grow into a hydrogen hub. The challenge was not a minor one. That step proved to be an absolute must to keep the energy-intensive industry in our country. We realized in time that we would prefer to become climate neutral by 2050 while maintaining this industry.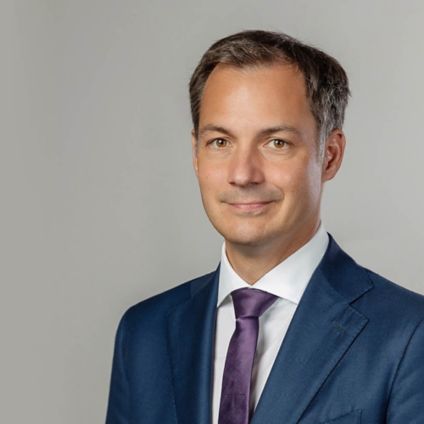 Nuclear power
Providing our own energy also means nuclear power, where we have chosen to extend some of our nuclear reactors further into this fourth decade. It was certainly not an easy debate in which we let the national decision on capacity depend on the risk we wished to take, but also on weaknesses in the countries surrounding us.
At the same time, Belgium also managed to win a seat at the table in the evolution of the small modular reactors (SMRs) that are announced for 2045. The belief in new reactors with the old technology has disappeared and cooperation between European member states proved to be a must. The investment was so large that no private player could bear it without government support. Moreover, the trump cards were complementary. Countries like France and The Netherlands developed their political discourse faster, but a country like Belgium was ahead in terms of know-how.
Next to wind, hydrogen, and nuclear power, gas also continued to play an important role, although it has become clear that this is mainly in combination with carbon capture and storage (CCS) and with the ambition to build a pipeline to Norway for CO2 transport. Last, but not least, we have been able to realize most of our ambitions so far by dealing better with demand management. The run-up to it took many years, but now that everyone has a digital meter, we fully realize what potential was hidden in this demand management.
A more engaged government
n recent years, energy has evolved into a security domain. Even today, in 2030, we see that Russia remains a destabilizing factor. From that security dimension, we have moved to a market model with more involved governments. It was necessary to intervene to avoid one market destroying the other. The free market does not work enough in this domain, which is precisely why an evolution was needed towards strong European regulators who look above national interests. Only in this way could we grow towards systems that take the volatility out of the market and ensure controlled profitability.
The 2008 financial crisis had previously taught us that it is not easy to develop unified European policies. During the energy crisis, it gave us the insight that it is better to move forward with those countries that are willing to do so. We could not afford to wait too long, and it made little sense to come up with a European model that would then take ten years to take effect. Moreover, it was interesting to observe how, in parallel, a political system developed that was more economically educated. That opened the door to better integration with the industrial players who were willing to step into energy.
Will the energy transition from the third decade allow us to better protect consumers in the fourth decade? The choices made in the twenties led to the fact that after the given support, energy prices could drop again. Incidentally, these important choices are not just made by the government. Consumers themselves also made important steps and learned to deal with new technology and higher investments. As a government, we were able to encourage energy suppliers to provide better guidance and help develop the financial models so that sustainable solutions became accessible to all. We often say that Belgians are born with a brick in their stomach. Meanwhile, the same reflex for heat pumps is quietly visible. In retrospect, the energy crisis in the first half of the twenties was the right time to bring consumers into the transition while offering them a better market protection.
About the interviewee
Since 1 October 2020, Open VLD politician Alexander De Croo has been Prime Minister of Belgium. He leads a coalition of Liberals, Socialists, Ecologists, and Christian Democrats. The son of former minister Herman De Croo, he was active as a consultant and entrepreneur after obtaining his MBA. In 2009, he made the switch to politics and became party chairman of Open VLD. Four years later, in 2013, he made his first appearance in the federal government as deputy prime minister and minister of pensions in the Di Rupo government. In subsequent governments - Michel I, Michel II and Wilmès II - he was also present as a minister, before assuming the premiership himself in the so-called Vivaldi coalition.
Voices on 2030: The new reality for Energy
Discover more perspectives from Voices representing the energy industry.
Download full report ⤓