I started working in insurance for Allianz in 2007. What fascinated me there was how insurers thought about distribution. The traditional approach focused exclusively on multichannel distribution, i.e. combining brokers with banks, agents and other direct channels – all with a local approach. No one was looking at new distribution opportunities through disruptive players and embedded insurance. Today, however, we're seeing the dream of embedded insurance come true – a dream that Qover has been pursuing since 2016.
Today, in 2030, we're moving towards a world with a kind of global safety net, where you're insured no matter what happens to you. This is because insurance is embedded in everything you buy and use.
Let me give you an example. In the late 2010s, food delivery platforms were very popular. But the independent bicycle couriers who delivered that food had to be insured against a high amount of risk, and therefore paid a very high premium for it. So platforms began asking themselves: what if we embed the insurance into the price of using our platform, so that couriers are covered for everything from the moment they log into our app?
One of those platforms, Deliveroo, connected with us to do just that – which had two fundamental advantages. First, the responsibility to understand complex insurance no longer lay with the couriers, but with a company that had the expertise to do so. And at the same time, the risk would be spread more widely, making insurance cheaper to buy – even more so if insurance policies became truly pan-European (but more on that later).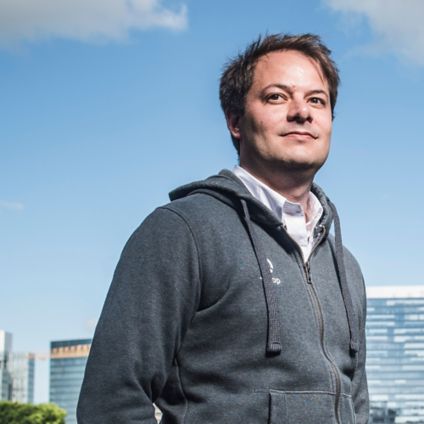 The way to go
At that time , the future of insurance appeared to be embedded. Now, step by step, we're seeing that world take shape. Look at how mobility is changing, for example. We're moving towards a society where you do not simply buy a car, but instead you use a mobility solution like a self-driving electric car at a price where you are fully insured no matter what happens.
A second example is Revolut. In 2020, Qover launched an insurance policy with the neobank in 32 countries that covered most of their client's purchases for one year in the event of theft or material damage.
A new economy of companies emerged, which provided the right momentum to make embedded insurance a reality. One reason is that, instead of selling products, these companies offered services as a fixed subscription, into which you could easily integrate an insurance policy. But another reason was the desire for scale.
Pan-European, from day one
New economy companies, like Apple and Uber, offered their products all over Europe with the same user experience. So if they wanted to offer an embedded insurance policy, it had to be available anywhere in Europe – something that traditional insurance companies were slow to offer in 2022.
At the time, legacy players built 32 local insurance factories to serve 32 countries. But if insurance is intangible, why can't we simply have one insurance factory for those 32 countries?
European regulations allow insurance companies to do business in any EU member state without being physically located there – something we take full advantage of at Qover in order to facilitate insurance that is truly pan-European.
Embedded insurance orchestration
What we offer is embedded insurance orchestration. We offer a platform for this, where companies can compile their own embedded insurance policies. The secret? Open APIs in the cloud. We then facilitate the required policies with insurers. In doing so, we work with companies that understand that pan-European insurance is the future. We also provide operational support, such as managing claims and providing customer care.
Thanks to this embedded insurance orchestration, Qover has experienced strong growth. At first, we focused on insurance that was mature enough to be embedded across Europe, such as policies for mobility and the green economy. Later, we added things like travel insurance. Then, we pivoted towards a fully B2B strategy – securing partnerships with Revolut, Deliveroo and other fast-growing digital companies – while also partnering with traditional insurers to help them do business according to our new tech-forward vision.
We dream of a future where embedded insurance fully covers every risk for everyone
Maximizing the loss ratio
In 2030, we dream of a future where embedded insurance fully covers every risk for everyone: with fully automated claims handling, via a connected vehicle that automatically sends data to the insurer for example; paid for by pan-European or global risk sharing, where everyone bears some of the risk and pays the same limited premium for it; with customized insurance, tailored to a large group with similar needs – a persona rather than a person.
In this future, it will also be possible for insurers to maximize the loss ratio. If everything is insured, embedded, automated and connected, your expense ratio will be virtually zero. As an insurance company, the better your loss ratio is, the more added value you can offer your end users - i.e. optimal service throughout Europe.
About the interviewee
Quentin Colmant is the CEO of Qover, which he co-founded with Jean-Charles Velge in 2016. In less than five years, the InsurTech startup raised €35 million. Qover builds its own embedded insurance products using open APIs to help fast-growing digital companies – hacking insurance to make it simpler, smarter and more accessible. The scaleup is active in 32 European countries and counts on renowned partners like Deliveroo, Revolut, Wolt, Glovo, Cowboy and more.
30 Voices on 2030: The new reality for financial services
Discover more perspectives from 30 Voices representing the multi-faceted financial services industry.
Download full report ⤓