Because just about everything happens digitally, the financial world looks different in 2030, but fundamentally the structures have stayed the same. Daily banking is a commodity, which forces banks to focus mainly on additional services.
What is a commodity and invisible? The answer is the Uber experience. Anno 2030 payments happen silently. You buy a product in the store and walk out with it. And meanwhile, the payment is seamlessly done. And yes, there are still rare cases where you have to make a payment, but that is invariably with your cell phone. Your bank card? You only take it abroad as a fallback if something goes wrong with your cell phone connection.
There are now countless ways to make this invisible payment. Through your bank app, through the app Payconiq by Bancontact, but more and more people also use the app of their retailer for this purpose. It's handy of course because it is directly linked to the retailer's loyalty program.
Nathalie Vandepeute
CEO Bancontact Payconiq Company
The number of merchants accepting Payconiq as a means of payment is quite high. This is, of course, due to the acceleration we experienced in 2022. At the time, Minister Van Peteghem obliged merchants and the liberal professions to offer a digital payment method to their customers. Before then, about 20% of merchants and liberal professionals were connected. Now it is 80%.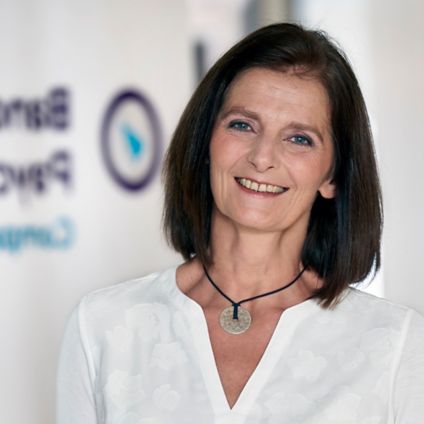 Digital identity
The fact that payments have become invisible has of course also to do with the digital identity we all have nowadays. Itsme is still the standard in Belgium for linking payments to that digital identity. It has even become a European player.
The technology has also evolved significantly in recent years. No more codes and passwords. Face recognition and voice recognition ensure that payments are even faster and easier. Fingerprints? They are so outdated.
Crypto and Meta-currency never broke through
In addition to one's digital identity, there is also the digital euro. It too has helped greatly in making payments a commodity. Many applications – Including Payconiq by Bancontact – use it. The role of the banks is crucial here: they provide the link with the customers and their identification. Banks ensure that there is trust in the digital euro.
In 2022, we probably never imagined that payments would be so standardized and run through traditional payment schemes. We expected cryptocurrencies to cause disruption, not to mention Meta's own currency. Their failure to break through has to do with the all-important element in banking: trust. Consumers did not trust them. Meta and other Bitcoins quickly realized that there was no point then.
More collaboration
The fact that digital payments are still quite standardized and regulated does, however, not mean that fraud has disappeared. On the contrary, it is the big challenge for all financial players.
But this also has a positive side. It compels the local players to cooperate. They are rolling out more and more joint initiatives to combat or at least reduce fraud. They are also working together on KYC (know your customer). It simply became too complicated to set up sound processes for identifying customers, their activities and the risks involved.
Large banks highly evolved
This also means that the current ecosystem of banks and insurers is still there. The niche banks are struggling because for too long they focused on daily banking, which is now a commodity, and they have to comply with heavy regulator requirements. The big banks are still there, but they have evolved rapidly. Their distribution offerings are a lot more sophisticated. Subscriptions for new products, including mortgage loans, are completely digital. Advice has become a more important pillar, whether in the bank branch, digitally or in the customer's home. Making advice a paying service was a particularly important decision.
The big banks have also acquired a number of fintechs to get those skills in-house. Fortunately, they have been smart enough to give them a lot of independence.
SCT-based interoperable model
Steps have also been taken at the European level. Unfortunately, we have not yet arrived at a single European payment solution, but we do now have an interoperable model based on SCT (Single Credit Transfer). As a result, you can now also scan a QR code and pay in, say, Norway. Thanks to this model, the importance of non-European players in the payment area in Europe has been reduced.
Finally, there is the aspect of regulation, much of which comes from Europe. There have been strides in this area as well, especially with the regulator getting more people from the field involved in regulation. The fact that PSD2 was pretty much a stillbirth, because too much of the directive was negotiated in back rooms, has opened people's eyes. Meanwhile, we are on PSD3, which is already better thought out. Soon, PSD4 will enter into force. I wonder if that will be the step towards a real European payment ecosystem.
About the interviewee
For more than four years, Nathalie Vandepeute has been CEO of the Bancontact Payconiq Company, the company behind the brands Bancontact and Payconiqin Belgium. This provider of electronic and mobile payment services is market leader in Belgium. For Vandepeute, the financial world is far from unfamiliar territory. She has some 25 years of experience in the sector, with long experience at ING in many different roles and more than five years at BNP Paribas Fortis as Director Individuals and Daily Banking - Marketing Clients and Products.
30 Voices on 2030: The new reality for financial services
Discover more perspectives from 30 Voices representing the multi-faceted financial services industry.
Download full report ⤓