The world of 2030 will be a complex environment, says Lieve Mostrey, CEO of the Euroclear Group. Those who want to survive in it must find their way among different, conflicting currents, master technology, and be able to meet the expectations of their workforce.
Whoever wants to have a role in the financial landscape of 2030 must focus as much as possible on the end customers, the issuers who need money and the investors who want to allocate their capital according to certain objectives. A lot of intermediary structures are active in that process, but those end customers are the most important factors in the value chain. That does not mean that the intermediaries have no role at all, but if they are not focused on added value, they will disappear. For us, this means providing more direct services to investors and issuers, within boundaries, of course.
Of the technologies that have the potential to play a role in our industry, blockchain and smart contracts are the most important, although we are still not one hundred percent exploiting their full potential. Blockchain is promising, especially in terms of efficiency and transparency, for example, but at the same time we can obtain the same advantages both on a distributed ledger and a common ledger. The latter might be just a bit more expensive or less efficient, but it also works. There also remain major challenges around blockchain, for example in terms of scalability, liquidity, and certainly fragmentation. How does an entire ecosystem with lots of different parties - all operating at their own speed and with their own investment cycles - make the transition? Preferably all at once, via a big bang, to exclude first-mover disadvantage. In a system like this, you don't want to stand alone, shouting in the desert. I am convinced that there is also a role for Euroclear in this environment as a sort of link or bridge between existing and new systems, as well as becoming facilitators of change for our customers.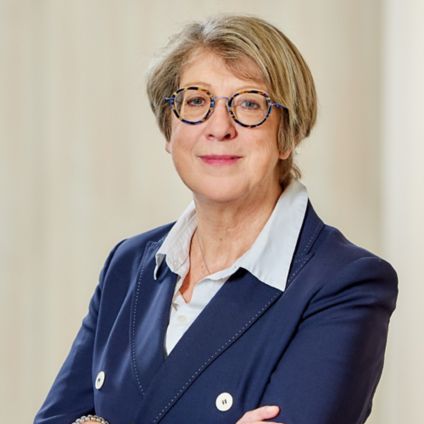 Weapons
In the coming years, we have also yet to see a major deglobalization of financial and economic flows. Reality ensures that this remains a global operation. On the other hand, there is also the undeniable emergence of a geopolitical countercurrent that allows financing to be used as a weapon or a sanction measure. Where there used to be one current, there are now two currents and in opposite directions.
The urge for strategic autonomy and folding back on oneself, means de facto building more walls. Often this is also the result of overly rudimentary thinking patterns. "Good" or "bad" are usually too simple terms to exclude investments in certain countries or regimes. I also don't think that isolating or ignoring certain countries is always the best approach, working with them is sometimes a much better way to push them in the right direction.
Another technological innovation that has become a reality is the digital Euro. Although that was a multi-stage rocket, which - certainly in the beginning - still relied heavily on existing infrastructure. Also: most people have now realized of the danger of cryptocurrencies without underlaying assets. A lot of them have disappeared.
Theoretical and formalistic
When it comes to regulation, I still see the theoretical, formalistic, bottom-up approach in Europe. This has also to do with culture and vision. Take for instance the ambition to become a capital markets union like the United States. We put so much effort into harmonizing the different markets, down to the smallest detail, but we fail to see that we lack the culture to really make this idea work. The big stumbling blocks are well known: taxation, corporate law, and insolvency law. Yet, each country must invest separately in very theoretical matters that don't change anything in practice.
In ESG we are making the same mistakes, with very rules-based legislation and a very formalistic thinking framework. This is not to say that we don't think ESG is important, on the contrary. To remain attractive to the market, we must be engaged in this. There is also a technological angle to this, by having the most transparent data possible, for example. That is one of the reasons why we have taken a majority stake in certain fintechs that facilitate the transition to a green economy; they are complementary to our business. Mind you, we don't give ESG ratings ourselves, in the same way we don't give our own credit ratings. We want to make a platform and tools available to the issuers, but that is as far as it goes.
Gold-plating
Finally, we need to talk about people and talent. A large percentage of our staff have an IT background, it has been that way for years. So, we need to bring IT talent into our offices before they are picked up by start-ups or fintechs. The fact that we are a growing and international company helps. Knowing Dutch or French is not a basic requirement to work for Euroclear. Moreover, we provide absolute flexibility in how, where, and when you do your work.
One disadvantage we must fight against is Belgian gold-plating, for example around bankers' salaries. Our strict laws for expats and social security for foreigners are also a handicap. Governments should not forget that a company like ours can move abroad quite easily. Belgium must therefore continue to prove itself as a good alternative. As far as the corporate tax is concerned, this is already happening. But regarding wage indexation, high taxes, and the rigid labor market…not so much.
Good or bad are usually too simple terms to exclude investment in certain countries or regimes.
About the interviewee
Lieve Mostrey received her degree in Civil Engineering from KULeuven and began her career in the IT department of the then Generale Bank. In between, she also obtained her postgraduate degree in Economics at the VUB. In 1997, she moved to the Operations department at Generale Bank. In 2006, she became Country Manager of Fortis Bank Belgium, and two years later COO. In October 2010, Mostrey was appointed Executive Director and Chief Technology and Services Officer of the Euroclear group and as an Executive Director of the Board. In January 2017 she became CEO.
30 Voices on 2030: The new reality for financial services
Discover more perspectives from 30 Voices representing the multi-faceted financial services industry.
Download full report ⤓