Long ago, in 1994, Bill Gates of you-know-what-other-company said "Banking is necessary, but banks are not". That is largely true today in 2030, at least as far as physical bank branches are concerned. Banks today are completely digital. And more than ever completely focused on the customer experience with great service. But banks can't deliver that alone. How does Google help them today, in 2030? We asked Ine Cops.
First, let me explain the role banks play today, anno 2030. Banks are amongst other service providers, part of an ecosystem, that address customer's needs or pain points. This can be as a trusted orchestrator working with other companies and organizations - inside and outside the financial sector - or as an invisible contributor to a value chain. For example, let's look at the way people buy houses in 2030. You first want to know how much you can borrow, so you start searching for mortgages online and click on an ad from a bank. You create a profile and provide the chosen bank with access to your other financial institutions. The bank consolidates all data and, based on your financial situation, pre-approves a mortgage, recommends houses and offers virtual tours. Applying and signing for the mortgage is done completely digital and super-fast, without any fuss.
Ine Cops
Enterprise Account Executive Google Belgium
Today, banks are digital, continuously reimagining and packaging compelling propositions to give their customers the best experience, no matter how high the expectations are. Banks that do not put customer experience at the center of their strategy will not survive. But you don't necessarily have to be a big bank to do that, niche banks can also survive today. And the bank advisor is here to stay to deal with complex questions alongside a human-like digital assistant that handles most of the standard topics.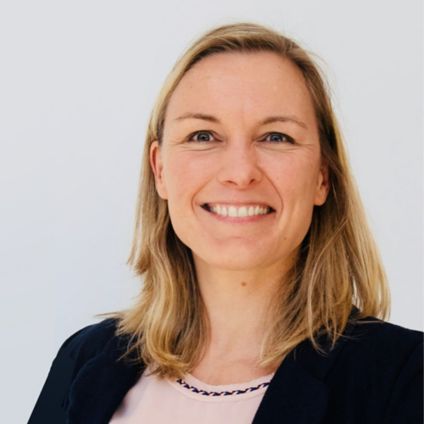 Collaboration is key
To be able to embrace emerging technology and remain flexible to adopt evolving business models, banks collaborate increasingly with fintechs. Fintechs help develop innovative solutions that allow banks to quickly assume their role in the ecosystem, despite their legacy IT. And that brings me to our role as Google.
Google's role in 2030
Google has a unique place to play in this story. We have nine products with over one billion users each - and deeply understand how to make products that seamlessly integrate into customers' lives.
Our role in the industry is to support financial services providers to enhance their services using our AI and machine learning capabilities and solutions to create better experiences for their customers.
We offer capabilities to easily build your own models or you can use our pre-trained models. For example, our Contact Center AI solution improves customer service with AI that understands, interacts and talks, already in use by banks in 2022. Our Document AI, which interprets documents such as paychecks, can quickly grant mortgages.
We enable banks to take on their new role, with the right technology.
And what about our data?
Let me make it clear: "Google will never sell any personal information it collects from end users to third parties," CEO Sundar Pichai said. Enterprise customers of Google Cloud, such as banks, own their data. This data can be enriched with Google Trends
(for example: what are the most popular retail items people searched for across this area?) and other public data sets available in Google Cloud.
Consumers today, in 2030, are more in control about what happens to their personal data in Web3, which runs on blockchain networks. Alphabet, Google's parent company, has already invested tremendously in Web3 companies. Google Cloud aims to become the Web3 development platform of choice. In the next couple of years, we want to achieve more standardization in blockchain applications, and thus increase trust in them.
Moreover, consumers today have a really well-defined European digital identity. Banks could play a complementary role by providing additional identification services through their own tools and data, compliant with all legal and regulatory standards.
The role of the financial regulator has only become more important, especially to monitor data privacy, cyber security and enforce Environmental, Social, and Governance (ESG) provisions. Also vis-à-vis fintechs, if they scale up. Google helps companies to analyze data and report to the regulator in real time. In 2030, regulation is more outcome-based. In other words, it's focused on the results, rather than having to go through all the requirements, thanks to more readily available data and AI.
Google helps banks flourish
And then you might be left with that one question. Does Google itself want to become a bank in the next few years? Google has no interest in becoming a bank but we think we can help banks with their transformation. Let other banks flourish? Absolutely! With the very best customer experience? Bring it on!
About the interviewee
Ine Cops joined Google Cloud in October 2020 as Client Executive in Financial Services in Belgium. She is responsible for driving Google's technology agenda and innovation culture enabling financial services customers to accelerate their digital ambitions. Before Google, Ine spent seven years at IBM in several Technology Sales roles helping Financial Services customers innovate and get insights from their data. Ine started her career as a Business Consultant at Accenture managing strategic projects in different industries.
30 Voices on 2030: The new reality for financial services
Discover more perspectives from 30 Voices representing the multi-faceted financial services industry.
Download full report ⤓