Wastewater removal
Wastewater removal
Governments spend billions of dollars on wastewater collection around the world. Yet, every year, more than 3.4 million people die as a result of water-related diseases.
Governments spend billions of dollars on wastewater collection around the world. Yet, every year, more than 3.4 million people die as a result of water-related diseases. No wonder city leaders are particularly concerned about the efficiency and effectiveness of their wastewater collection and treatment services.
Defining the service
Wastewater removal services include the design, construction, maintenance, repair and operation of wastewater collection and treatment systems. This may include industrial, commercial and residential wastewater removal, as well as the disposal of bio-solids, backflow prevention and sewer systems.
Topline findings
The average city spends US$1.21 and receives US$0.94 per cubic meter of wastewater collected and treated.
Cities report spending anywhere from US$0.05 to US$5.97 per cubic meter of water.
Only one city reported 100 percent coverage for wastewater removal services.
Benchmarking analysis
Efficiency
Total cost per cubic meter of wastewater collected and treated. This measure reflects the combined operating and capital costs for wastewater removal, divided by the total reported number of cubic meters of wastewater removed.
Total cost per km of wastewater network. This measure reflects the combined operating and capital cost for wastewater collection and treatment divided by the total number of kilometers of network.
Points to consider:
Total cost per cubic meter of wastewater collected and treated
Perhaps the most consistent of all of the indicators in this study relates to the wastewater removal service where the cost per cubic meter ranges from US$0.37 to US$2.92/cu. M. The adjusted mean is calculated at US$1.20/cu. M. Cities below the mean may be spending too little on the reconstruction and replacement plans, while cities greater than the mean are taking care to make those investments but incurring higher costs.
Revenue information was also collected for this benchmarking exercise. While not provided in this graph, the adjusted mean calculation for revenue is calculated at US$0.94/cu. m. The difference between cost and revenue equates to US$0.26/ cu. m. that must be picked up by general revenue sources within the city. One city in Europe actually generates more revenue than its costs and may be an excellent candidate for further study.
Additional factors that may influence cost may include:
Higher than average energy costs in the city where the cost of pumping wastewater is a large component of a city's cost;
Similar to Drinking Water Supply, the terrain of a city can have a huge impact on cost. particularly if the city needs to compensate by more pumping that gravitational forces;
Wastewater removal can be more neglected than other underground infrastructure-based services when it comes time for capital investments, simply because it is not glamorous. Greater effort is required by wastewater service providers to convince elected officials of the risks associated with not making appropriate investments, especially investments that may span more than the term of an elected official.
Aging infrastructure may result in a higher than normal cost for repair or reactive maintenance, not to mention the capital costs to replace or reconstruct the network; and
The amount of wastewater production can also be reduced by cities that are seeking reuse of wastewater, such as the growing trend to reuse gray water for non-consumptive purposes.
Cost per km of wastewater network (000 US$)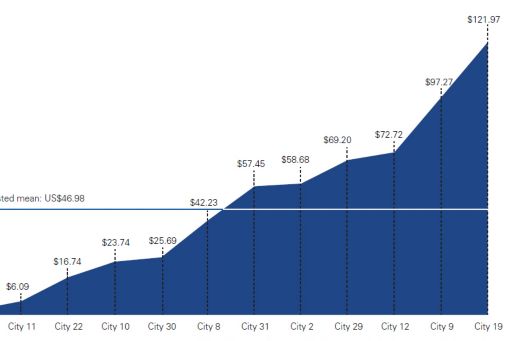 Total cost per km of wastewater network.
To demonstrate how certain services may have two important cost efficiency indicators, we also requested the cost per kilometer of wastewater network. Although different from the customer oriented "cost per cubic meter of wastewater removed", this cost indicator focuses on the extent to which a city needs to draw wastewater from across its domain.
The adjusted mean of US$47,000/km is useful should the department accountable for this service wish to predict future costs based on the expansion of their network, although a good portion of the cost of delivering this service would be attributed to the treatment plants and not the network. In future, separating the cost of collection from treatment would overcome this challenge and again provide a useful tool to gauge future costs.
One might ask why the cost per kilometer ranges from US$2,000 – $122,000. Factors may include the degree to which a city is reconstructing or replacing its assets according to full lifecycle costs, or not. Clearly those cities on the low end of the range may be foregoing the costs, but this will catch up to them eventually and present additional, often more costly ramifications.
Other reasons may include:
One time capital cost that was included in the year of costs submitted to tend to costly capital investments, like a new wastewater treatment plant;
The geographic coverage of a city where some cities are low density but span thousands of square miles and the wastewater network becomes quite extensive; and
Age of infrastructure where older infrastructure may require more reactive maintenance than might normally be expected in a relatively newer network.
Effectiveness
Percent of properties served by wastewater removal service. This measure indicates how many properties are directly connected to the wastewater collection network as a percentage of total city properties.
Points to consider:
Regarding the appropriate effectiveness metric for the wastewater removal service, there are several. Information on the outflow quality of wastewater treated was not requested because there may be different standards in different countries. We agree that this quality of wastewater outflow is an important indicator of effectiveness. Other indicators we asked for included the number of wastewater main breaks, also known as sewer main breaks. We did receive some information back from cities but not a sufficient sample size to report any meaningful statistics.
One effectiveness indicator that was provided relates to the percent of properties that are covered within a city by the wastewater removal service. In some developing countries, this is a very significant indicator of how well the city is performing in hooking households up to the wastewater collection and treatment network.
While not all cities could provide the percentage of properties served, for those that did report this information, we noted that one community serves only 34 percent of its properties — perhaps due to septic systems offering an alternative to public wastewater treatment. Only one city reported that it served 100 percent of its properties, and this city is located in a developed country.
One of the emerging challenges relates to the intensification of development in cities where greater concentrations of residents poses pressure on the collection and treatment capacities of sewer systems. How does an established city with increasing road congestion replace and upgrade its underground wastewater network, especially when most of this network is located within the road allowance?
Percent of properties served by wastewater removal service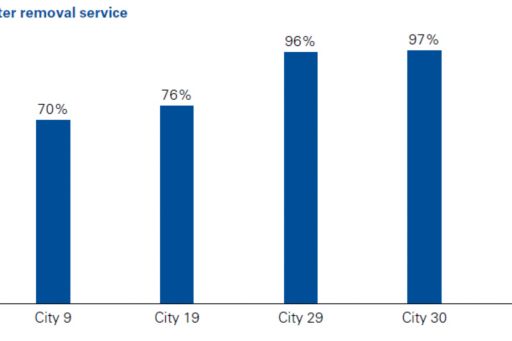 Persistent problems
Tightening environmental regulations
Decoupling combined storm and wastewater assets
Maintaining investment and development targets
Attracting new talent
Protecting the hydrological network and Watersheds
Common cost factors
Treatment chemicals and consumables
Collection and pumping costs
Maintenance and repairs of underground assets
Capital investment, renewal and separation requirements
Level of pre-collection treatment for industrial and commercial wastewater

Innovative ideas
Moscow has seen significant investment into its water treatment facilities with the construction of one of the world's largest UV radiation disinfection facilities that boasts enough capacity to treat around 80 percent of the city's current sewage and waste water.
In Dresden, a newly installed fouling complex has helped the wastewater network achieve a high degree of power self-sustainability.
Last year, the Philadelphia Water Department met the first milestones of their 25-year Green City Clean Waters plan which aims to reduce the amount of storm water entering the city's combined sewer system through the use of green infrastructure.
In Toronto, authorities are taking aggressive action to fill the looming talent gap by creating focused talent and development plans for key staff and their future workforce.

Stay up to date with what matters to you
Gain access to personalized content based on your interests by signing up today