Building permit and enforcement
Building permit and enforcement
Contractors and developers need fast and cost efficient access to building permits.
Healthy cities continuously develop and evolve. Indeed, the economic prosperity of a city can often be judged solely on the number of cranes that loom over the skyline. But to keep those cranes from sitting idle, contractors and developers need fast and cost efficient access to building permits. And that means a more efficient and effective building permit and enforcement service.
Defining the service
Building permission and enforcement services (also known as building permit services) issue building, demolition and alteration permits for new and existing structures in a city and conduct inspections of active sites to assess compliance. In some cases, occupancy permits issued by the local fire department have been included.
Topline findings
The cost of building permits ranges from as low as US$218 to as high as $5,000 per permit.
The median cost per permit is US$1,403.
The median time required to issue a building permit is 60 days.
However, time to issue a building permit ranges from 6 days to 684 days.
Benchmarking analysis
Efficiency
Operating and capital cost per building permit. This measure combines reported operating costs and capital costs for all building permission and enforcement services and divides the total by the number of building permits issues and inspected.
Points to consider:
It was challenging to justify some of the outliers for the cost of a building permit. Some cities show such a cost at less than US$500 while other cities suggested costs at US$5,000 or more. For the eight cities that did report costs, the adjusted mean works out to approximately US$1,700/permit.
Cities will be quick to point out that the cost of issuing a permit for a single family dwelling bears no comparison to the cost of issuing a permit for a shopping mall or 50 story office building. Further refinement of costs would focus on distinguishing between the cost of different types of permits while not necessarily getting mired in too much detail.
Factors influencing the cost of building permits might include the complexity of the regulations governing construction of buildings and how these may differ substantially between countries. Additional factors may be influenced by the age and density of the city, the degree of involvement of various departments in the approval process, and whether the city uses technology solutions, such as electronic submission of building permits as a means of speeding up the work flow.
In the Economic Cities Authority in Saudi Arabia, they were striving for issuing building permits within 60 minutes or 1 hour. Clearly such a fast turnaround time means that the effort on the part of staff to review such plans is reduced to an absolute minimum, or in the case of the Economic Cities, outsourced to qualified private sector plan examiners. These innovations are being considered and in some respects being used as economic development incentives to attract businesses to these new, greenfield cities.
The example from Saudi Arabia points to cost saving measures based on revolutionary thinking. While not every city will adopt such innovation, the example points to ideas that break the barrier of traditional thinking and seriously challenges laborious work flow approval processes.
Operating and capital cost per building permit (US$)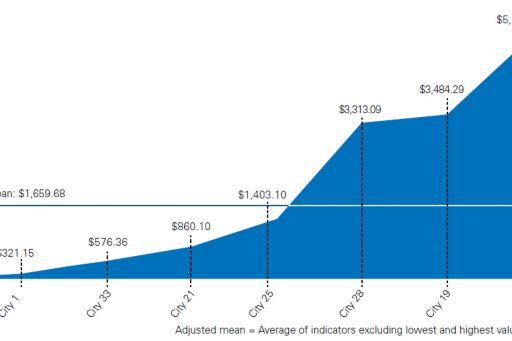 Effectiveness
Average length of time to issue a building permit. This indicator captures the average length of time to issue a permit from the time an application was received.
Points to consider:
When we look at the length of time to issue a permit we note that on average it takes 50 days based on 12 observations. One city takes almost two years (684 days) to issue their building permits. This city might seek out innovations to reduce the average time to issue such permits, but it may also be mired in traditional bureaucratic processes that will require substantial changes to the culture in which this service operates.
Many cities operate this service where permits are typically issued within 2–3 months. These same cities will point out that the length of time is frequently predicated on the cooperation of the contractor/developer in supplying the necessary required supporting material in a timely fashion. Some cities actually monitor the percent of applications that are processed upon the initial application versus second and third submissions, and are working to increase this percentage by publishing more information about what might be expected of the application based on the type of building subject for approval.
The complexity of building permit applications and the regulations controlling new construction continue to be a source of concern and certainly an important factor in benchmarking. For example, a high rise building that has multiple uses — retail, office, residential and institutional uses — brings multiple construction code considerations to the table and in so doing this can involve different structural examiners prior to the final approval being awarded. Seeking out ways to speed up the process while not compromising the integrity of the review process is becoming increasingly important and more challenging.
Depending on the age of buildings within the city, there may be historical building considerations that will delay the permit approval process so as to ensure that the building's architectural and aesthetic qualities are preserved.
More and more cities are now accepting digital submission of building permit applications. This can allow for quicker distribution to all required departments and agencies to receive and comment on the application leading to faster processing times.
Time to issue a building permit (days)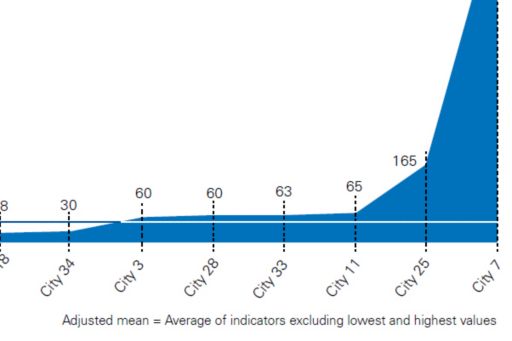 Persistent problems
Managing rapid urban development and the associated increase in demand
Improving inter-sectorial and inter-agency coordination
Implementing new IT and back office systems
Reducing overall permit processing times
Increasing the number of permits approved upon initial application
Enhancing customer experience
Encouraging economic growth and Development
Common cost factors
Type of permit being issued
The level of complexity of the project
The complexity of the permit process and application
The level of digitization
Innovative ideas
In Brisbane, the Suburban Construction Management Team has used the new Planning Act and Environment Protection Act to adopt a stronger compliance focus, including training to facilitate the implementation of Prescribed Infringement Notices.
Authorities in Sao Paulo have implemented a new Electronic Licensing System (SLCe) that should allow projects to be approved in less than five working days by unifying documents within a single permit.
Over the coming year, the city of Philadelphia will introduce a new customer queuing system (that will enable customers to schedule appointments) and a new IT system that should allow customers to submit and pay for permits online.
Having split their applications into subcategories, authorities in Cape Town are now introducing electronic submissions and registering users as business partners with the city.
Stay up to date with what matters to you
Gain access to personalized content based on your interests by signing up today