KPMG wins award at the Meed Awards 2017
KPMG wins award at the Meed Awards 2017
KPMG IN SAUDI ARABIA WINS ADVISORY SERVICES COMPANY OF THE YEAR AT THE MEED AWARDS 2017
KPMG in Saudi Arabia has won the Advisory Services Company of the Year at the MEED Awards 2017 ceremony held in Dubai, United Arab Emirates.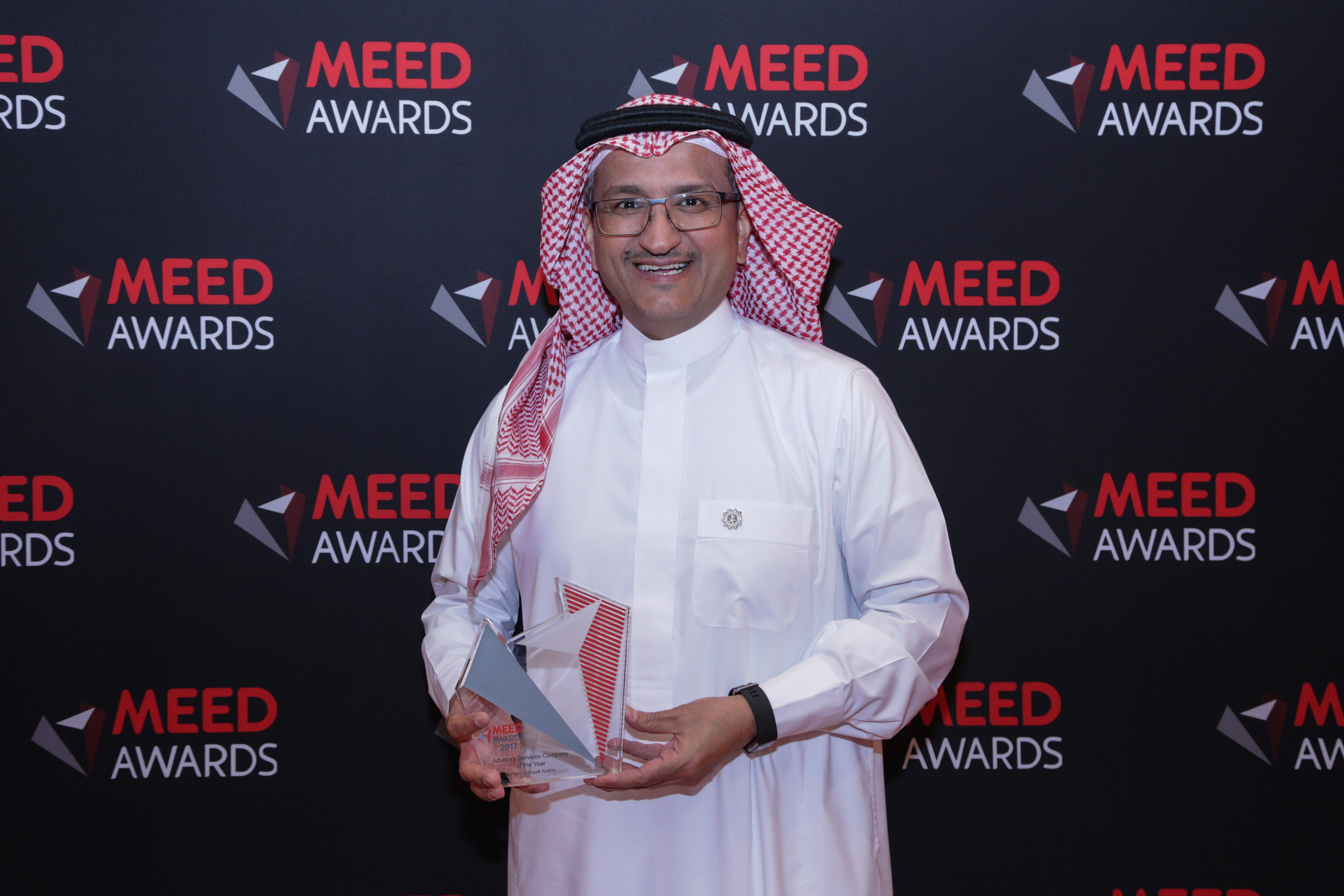 Receiving the award, Mr. Abdullah Al-Fozan, Chairman of KPMG in Saudi Arabia and KPMG in the Middle East and South Asia, said: "I am very proud that we have won this award and thank all members of KPMG in Saudi Arabia who have contributed to this outstanding success."
"The year 2017 has been a continuation of the remarkable success being enjoyed by KPMG in Saudi Arabia and this award crowns our celebration of 25 years of operations in the Kingdom."
Strongly positioned at the top of the advisory companies operating in the Kingdom, KPMG in Saudi Arabia is a trusted advisor for governmental bodies ranging from ministries and authorities to private sector organizations.
Over the past year, the focus has been on preparing the private sector to implement the value-added tax, which comes into effect in January 2018, and also on adopting the new International Financial Reporting Standards (IFRS). As part of its preparatory activities, KPMG has held a series of talk and seminars to introduce and discuss the implementation and challenges of the new IFRS following the transition from the old standards to IFRS.
This increased activity is reflected in KPMG in Saudi Arabia's business growth over the past years.
As a further example of increase in business operations, KPMG in Saudi Arabia has recruited more than 80 Saudi employees during October in various divisions such as audit, taxation and consultancy.
"We continue to attract international and local professionals to join KPMG and add valuable inputs to the advisory services offered to clients. KPMG in Saudi Arabia offers an ideal working environment, making it the Employer of Choice," concluded Al-Fozan.
The MEED Awards celebrate excellence across the GCC – one of the world's fastest moving, most diverse and vibrant markets – and recognize each winning company for the success of its business achievements, work environment sustainability programs, workforce culture, innovative practices and client service.
© 2023 KPMG Professional Services, a Saudi Closed Joint Stock Company and a non-partner member firm of the KPMG global organization of independent member firms affiliated with KPMG International Limited, a private English company limited by guarantee.
For more detail about the structure of the KPMG global organization please visit https://kpmg.com/governance.