Driving effective board evaluations
Mutual Admiration or Thoughtful Reflection?
The Malaysian Code on Corporate Governance issued in April 2017 (MCCG) states that all boards should undertake a formal and objective annual evaluation to determine the effectiveness of the board, its committees and each individual director.
KPMG's Governance & Sustainability team has leveraged on technology to develop the Digital Board Effectiveness Evaluation (BEE) Tool to aid and increase the efficiency of the board evaluation process.
Digital Board Effectiveness Evaluation (BEE) Tool
The Digital BEE Tool is powered by analytics and aims to iron out wrinkles that may be present in a conventional board evaluation exercise such as laborious manual tasks and elongated completion time, propensity of human errors as well as lack of insights generated.
The tool is opportune from the point of view of current developments where there is a growing appreciation amongst directors on the need for a valuable platform to undertake introspection, thus challenging themselves to raise their game in a marketplace that is changing at dizzying pace.

Highlights of the tool

The tool will be customized in consultation to match the needs of our clients and packaged with KPMG's Governance & Sustainability Advisory services.
Learn more about the Digital BEE Tool here.
Board Evaluation Report
The Digital BEE Tool was developed conjointly with insights from the "Board Evaluation – Mutual Admiration or Thoughtful Reflection" report, which analyzes disclosure from 581 listed companies in Malaysia, as well as anecdotes and first-hand insights gathered from the marketplace.
Shedding insights on the thinking, approaches and practices associated with the board evaluation exercise in Malaysia, this seminal report includes highlights on how leading companies are optimizing their board evaluation process by having a focus on key roles in the boardroom, formulating multifaceted evaluation instruments and developing report cards for individual directors.
The report also noted that 82% of independent directors in Large Companies have not exceeded the 9 years tenure yardstick and this is aligned with the notion that long tenures of independent directors and familiarity may erode the board's objectivity.
Read the report here.
Board Effectiveness Evaluation (BEE)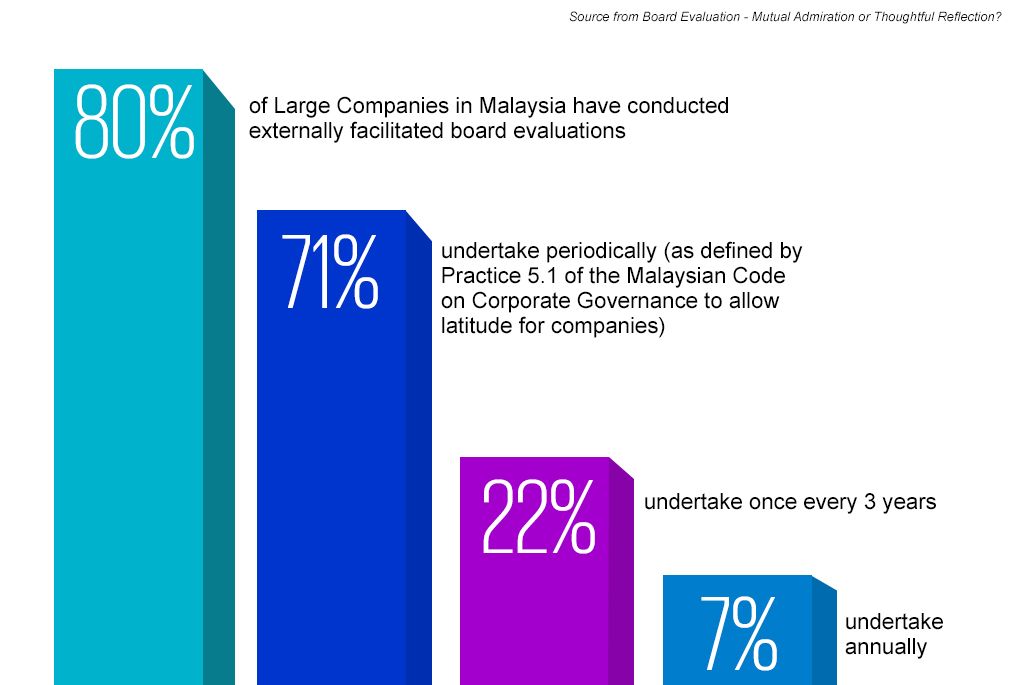 Strengths & Improvement Considerations