Quality Assurance Outsourcing Service Offerings
Quality Assurance Outsourcing Service Offerings
Leverage one stop competencies across QA frameworks Leverage external unbiased QA strategy/checks & balance
Our methodology to establish a QA CoE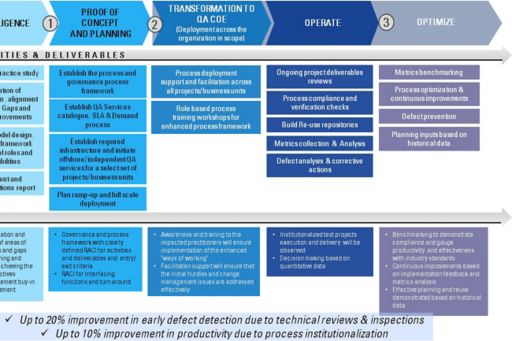 Our Offerings
Software Quality Assurance (SQA) outsourcing:
Independent process compliance verification
Facilitate project teams in closure of verification gaps
Process deployment enablement
Process facilitations for stakeholders
Reporting and escalation of major, unresolved and recurring Non Conformances
Provide inputs to SEPG for process improvement opportunities
Generate and report SQA related metrics
Ongoing status review of SQA activities with management
Software Engineering Process Group (SEPG) outsourcing:
Integrate process objectives in conjunction with business objectives
Define and optimize entire suite of processes

Organizational processes
Project management processes
Engineering processes
Support processes

Identify process optimization needs & opportunities
Establish and maintain organizational process assets
Establish a detailed metrics program in conjunction with information needs
Monitor, baseline and improve organizational process capability
For more details:
Contact us: in-fmbusinessexc@kpmg.com
© 2023 KPMG Assurance and Consulting Services LLP, an Indian Limited Liability Partnership and a member firm of the KPMG global organization of independent member firms affiliated with KPMG International Limited, a private English company limited by guarantee. All rights reserved.
KPMG (Registered) (a partnership firm with Registration No. BA- 62445) converted into KPMG Assurance and Consulting Services LLP (a Limited Liability partnership firm) with LLP Registration No. AAT-0367 with effect from July 23, 2020.
For more detail about the structure of the KPMG global organization please visit https://kpmg.com/governance.

Stay up to date with what matters to you
Gain access to personalized content based on your interests by signing up today