Application Performance and Scalability Service Offerings
Application Performance & Scalability Service Offerings
We help identify and address key performance related issues across phases of the software development life cycle before they occur in real time. We can enable organisations to improve application performance and meet growing customer expectations, reduce cost and improve their bottom line.
KPMG in India approach : Performance engineering for SDLC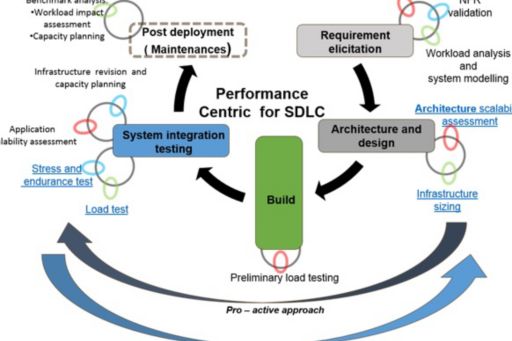 KPMG in India Application performance and scalability service offerings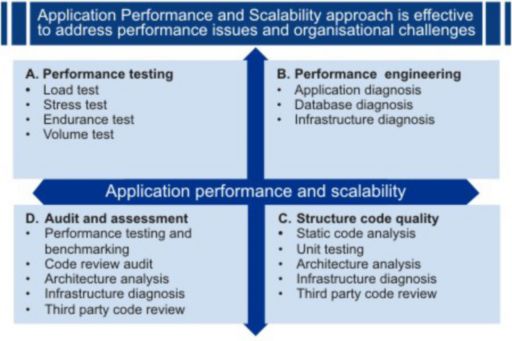 Potential benefits of application performance and scalability
Reduces risk of downtime and finds application performance bottlenecks
Enables the identification of processing bottlenecks using realistic data volumes and transaction rates

Enables identification and removal of serious performance issues before deployment

Provides effective application tuning and deployment across different load levels

Provides insight on application scalability

Increased customer satisfaction

Provides KPIs to executives for resource utilisation.

KPMG key differentiators
Global CoE: catering to over numerous clients

On demand performance engineers and practitioners to improve product performance

Tested framework which helps accelerate and enhance testing processes

Knowledge about enterprise, database, high volume transaction systems and related technologies

Knowledge about open source (JMeter) and commercial tools (load runner, VSTS, IBM RPT, NeoLoad)

Knowledge of skills in performance engineering and testing services

Centralised performance engineering services with a flexible pool of resources to meet fluctuating demands

Enhanced software adoption rates, potentially leading to higher returns on investment and enhanced ability to predict infrastructure investment needs

Customised performance engineering services with an option to choose from a range of services

Testers with ISTQB certification.

Assistance with maintaining industry standard testing processes across the many phases of performance testing life cycle

Competent consultants who have a vast experience in vendor assessment for performance testing specific to client needs

Detailed test analysis reports suggesting potential performance bottlenecks, scalability issues and recommendations

Root cause analysis of an application and its underlying infrastructure

Mixed workload and heterogeneous testing methods to handle volatile and complex test environments.
For more details on application performance and scalability services
Contact us: in-fmbusinessexc@kpmg.com
© 2023 KPMG Assurance and Consulting Services LLP, an Indian Limited Liability Partnership and a member firm of the KPMG global organization of independent member firms affiliated with KPMG International Limited, a private English company limited by guarantee. All rights reserved.
KPMG (Registered) (a partnership firm with Registration No. BA- 62445) converted into KPMG Assurance and Consulting Services LLP (a Limited Liability partnership firm) with LLP Registration No. AAT-0367 with effect from July 23, 2020.
For more detail about the structure of the KPMG global organization please visit https://kpmg.com/governance.

Stay up to date with what matters to you
Gain access to personalized content based on your interests by signing up today