Make the Impossible Possible - The launch of KPMG Ignition Tokyo, Inc.
Make the Impossible Possible - The launch of KPMG Ignit
This article introduces KPMG Ignition Tokyo, Inc., a new company of the KPMG Japan Group, which promotes the digital transformation of audit, tax and advisory professionals.
Computing, including AI, and data-utilizing digital technology will lead to different kinds of routine work, decision-making and cooperative work in a company real-time, automated, centralized and sophisticated. This will allow people to focus on non-formalized, strategic and creative tasks. As a result of such a work shift that comes with digital technology, we believe companies can spend more time and human resources in areas with managerial materiality, which may lead to greater business development and innovation.
As for the digital transformation of a company which is increasingly gaining focus these days, this article explains the approaches of KPMG Ignition Tokyo as a new company of KPMG Japan promoting the digital transformation of audit, tax and advisory professionals.
Point 1 About KPMG Ignition Tokyo (KIT)
We accelerate digital transformation in the areas of audit, tax and advisory, the key pillars of our business activities, to support our clients.
Point 2  KIT digital human resources realizing transformation
In order to increase the speed of digital transformation, we gathered together top-level digital professionals from both within and outside of the KPMG group in our office in Otemachi, Tokyo, and continue to expand.
Point 3  Supporting the digital transformation of clients
We assist our clients by using a platform with cutting-edge digital technologies such as AI and blockchain and providing solutions.
Point 4 Six technology areas for audit, tax and advisory
By concentrating investments in six technical areas which are necessary for the digital transformation of audit, tax and advisory work, we achieve successful results within a short period.
I.The outline of KPMG Ignition Tokyo
Originally established as a division of KPMG Consulting, KPMG Ignition Tokyo, Inc. (KIT) launched its operation as an individual company in July 2019 in Otemachi Building, and comprises digital professionals with a variety of experiences and backgrounds.
Leveraging the geographical advantage of Otemachi, Tokyo, KIT recruited digital professionals from all over the world, and as of October 2019, comprises a team representing 20 countries. Our professionals' background industries include IT, aviation, electronics, entertainment, insurance, finance, advertising, communications, mobile and consulting. There are two groups in our company; the digital HR team covers technological areas such as cloud, DevOps, security, software development, AI/Data and blockchain, and our world-class team of technologists mainly comprises digital professionals driving solutions in audit, tax and advisory areas, and we plan on expanding these two groups.
In order to create an environment in which our technologists can challenge themselves to achieve higher goals, we have newly set "Make the Impossible Possible" as our mission upon establishing KIT. We encourage taking on challenges related to difficult themes to inspire creativity and a spirit of inquiry among our technologists, and take care in preventing the accumulation of different technical debt that hinder the development of a company, proactively introducing cutting-edge solutions in development and cloud environments.
II.Technology areas of focus to increase the speed and development of AI audits
1.Three discontinuous changes in the audit area
KIT supports digital transformation in the audit, tax and advisory areas, and also supports the digital transformation of companies. In particular, as for the audit area which is a key business of KPMG Japan, by collectively working with the Digital Innovation Dept. and Digital Planning Dept. of KPMG AZSA LLP, KIT clarified future changes in the audit and formulated an action plan after holding close discussions, and launched the development of digital platforms and solutions in order to accelerate the realization of audit innovations.
KPMG Japan expects at least three big changes in the future audit environment, which will become triggers for further discontinuous changes from present processes or conventional ways of thinking.
Real-time audit by proactively utilizing computing
Sophistication of audit by combining financial and non-financial data
More precise audit through verification of all transaction data
In order to realize these changes, KIT decided to adopt a platform approach. Given this approach and the position of KIT playing a broad role of providing outcomes for each business division of KPMG Japan, we were able to develop more sophisticated solutions in a shorter period by applying technological achievements from a solution provided to one business division, to another.
In order to establish innovative digital platforms and solutions as a base for the platform approaches, we focus on six technical areas. We will explain these areas. (Refer to Chart 1.)

Chart.1 Six technical areas of focus
Secure Computing
Knowledge Processing
Intelligent Agent
Smart Transaction
Scientific Visualization
Edge Computing & IoT
2. Six technical areas of focus
(1)Secure Computing
In the area of secure computing, we cooperated with KPMG Australia and adopted the distributed ledger technology using blockchain for food traceability. This led to the realization of a platform providing a compliance function, and also enabled the performance of four arithmetic operations of encrypted data. While paying attention to the homomorphic encryption technology contributing to many secret calculation operations, as well as post-quantum cryptography that can be secure against an attack by quantum computers that will be realized in the future, KIT is driving initiatives relating to audit techniques for encrypted assets.
One of the techniques is CAPP2 (Crypto Audit Platform Phase 2), a project which we have developed with the IT Audit Division of AZSA LLC. At present, the CAPP2 can deal with nine kinds of virtual currencies and improve work efficiencies by more than 300 times. For example, it takes only seven minutes for a task in the audit of a virtual currency, which takes a week to complete using the conventional method. In addition to this, these audit tasks can be performed in a more secure environment as the audit process is performed via KPMG Japan's platform. (Refer to Chart 2.)
Chart. 2 CAPP2: Audit platform for encrypted assets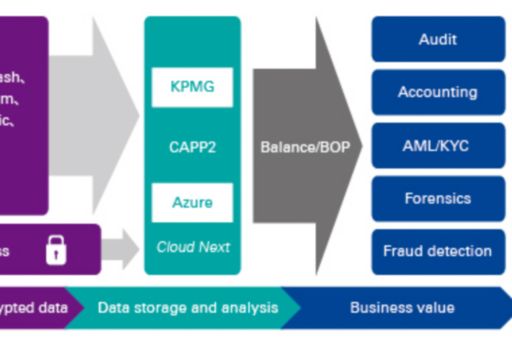 (2)Knowledge Processing
In the area of knowledge processing, we aim to digitalize the professional knowledge which are necessary for audit and tax. We also develop this technology for advisory work, such as capturing details of a contract from an image of a document.
Given the application of technologies such as image and character recognition, as we can easily extract data and knowledge from what was conventionally processed as non-financial data including stock status, construction progress and contracts, it becomes possible to reconcile financial and non-financial data on a computer. This contributes to improvements in the accuracy of an audit. (Refer to Chart 3.)
Chart 3 Data extraction from a contract using AI and image and character recognition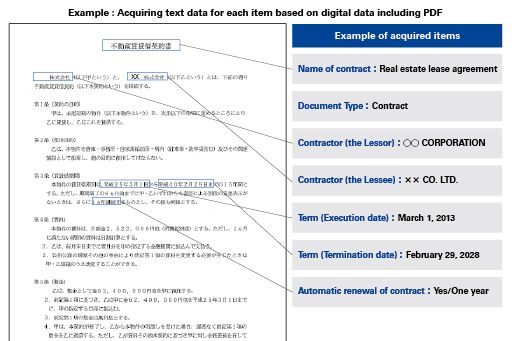 (3)Intelligent Agent
Intelligent Agent is a technology which enables interactive systems like chatbot. It is appropriate for an approach of gradually obtaining desired information, rather than entering a keyword only once to find information. Of course, we promote input/output not only with text data but by also using vocal data, and by combining the development results of the knowledge processing mentioned above and through decentralized processing, we are able to draw out and leverage the digital knowledge of audit and tax professionals, which require confidentiality, as interactive data in a flexible manner. (Refer to Chart 4.)
Chart 4 Chatbot realizing a secure environment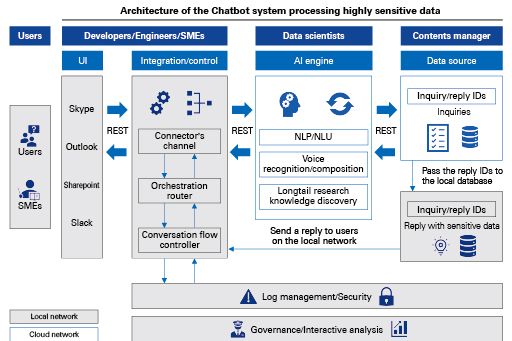 (4)Smart Transaction
The purpose of smart transactions is to detect abnormalities and frauds in the many transactions that audit and tax professionals deal with, particularly in real-time transactions. At present, statistical and machine learning techniques based on collected data are standard approaches in the detection of abnormalities and fraud. However, in the future, the smart transaction will detect problems more exhaustively and precisely, and we will leverage non-financial data and enhance real-time detection. We are also developing a technology to achieve transaction functions that incorporate detection and determination techniques based on predictive relationships.
(5)Scientific Visualization
Scientific visualization is a technology offering the management of companies large amounts of data such as management and financial data, and the analysis results of such data in a way that is easy to understand. In addition, it can interactively visualize diversified information required for the operation of a business. For example, this area includes the technology for virtually realizing things and structures that exist such as a digital twin within a digital domain, and visualizing changes and behaviors which may occur through simulations. (Refer to Chart 5.)
Chart 5 Visualization based on demand predictions derived from a large amount of data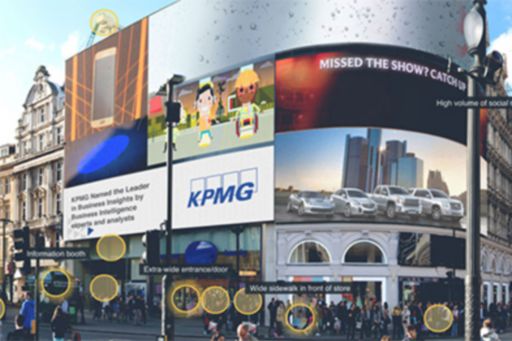 (6)Edge Computing & IoT
The last area of the 6 technologies is edge computing & IoT. Edge computing is a concept which is attracting public attention with the introduction of the 5G mobile communication network. The area closer to user devices located before the cloud is referred to as the edge network, and the aim is to realize a more real-time application by placing computing resources such as servers, and storage resources such as hard disks, in the edge network.
Edge computing and so-called IoT are highly compatible, and KIT believes these two areas are important. By incorporating image recognition, a technology in the knowledge processing area, with IoT such as a drone, a part of audit work including verifying the actual existence of inventory can be automated or reduced.
III.Conclusion
KIT has established and operates a cloud platform as a base for these six areas. The platform launched and managed by KIT includes a structure for a platform that meets various security requirements necessary for audit, tax and advisory work, and which can deal with the safe storage and handling of client data required in a cloud era.
In addition, KIT proactively introduces to the Japanese market platforms and solutions developed and proposed by overseas KPMG firms, and promotes linguistic, functional and workflow localization. We also plan to respond to specific demands in the Japanese market and provide solutions we developed to overseas KPMG firms and their clients.
While these initiatives also allow our people to exploit their full potential in their work, we are now getting ready to deal with various requests in achieving digital transformation.
KIT endeavors to commercially introduce different cutting-edge digital solutions mentioned above, and support the digital transformation in the areas of audit, tax and advisory, while also supporting the digital transformation of our clients.
Author
KPMG Ignition Tokyo, Inc.
President and CEO
KPMG Japan Chief Digital Officer
Partner Masayuki Chatani
*Professional affiliation and official position in the article are at the time of publication.
© 2023 KPMG AZSA LLC, a limited liability audit corporation incorporated under the Japanese Certified Public Accountants Law and a member firm of the KPMG global organization of independent member firms affiliated with KPMG International Limited, a private English company limited by guarantee. All rights reserved. © 2023 KPMG Tax Corporation, a tax corporation incorporated under the Japanese CPTA Law and a member firm of the KPMG global organization of independent member firms affiliated with KPMG International Limited, a private English company limited by guarantee. All rights reserved.

For more detail about the structure of the KPMG global organization please visit https://kpmg.com/governance.