Mobility is the backbone of any country's growth, as the ability to move people and goods efficiently and at minimum costs has a multiplier effect on the economy. India's transport and logistics sector has played a key role in essential and emergency passenger transport and supply of essential goods and drugs across the country amidst the COVID-19 related lockdown. Investment and technological adoption in transportation and logistics infrastructure would lead to higher convenience, affordability, last-mile connectivity and better urban space design for pedestrians and vehicles. This fundamental requirement remains in the post COVID 19 period too. Therefore, we need to move forward with an adaptive approach in the post COVID 19 situation -which is the new normal
Mapping NIP sectors with the Infrastructure Vision 2025 goals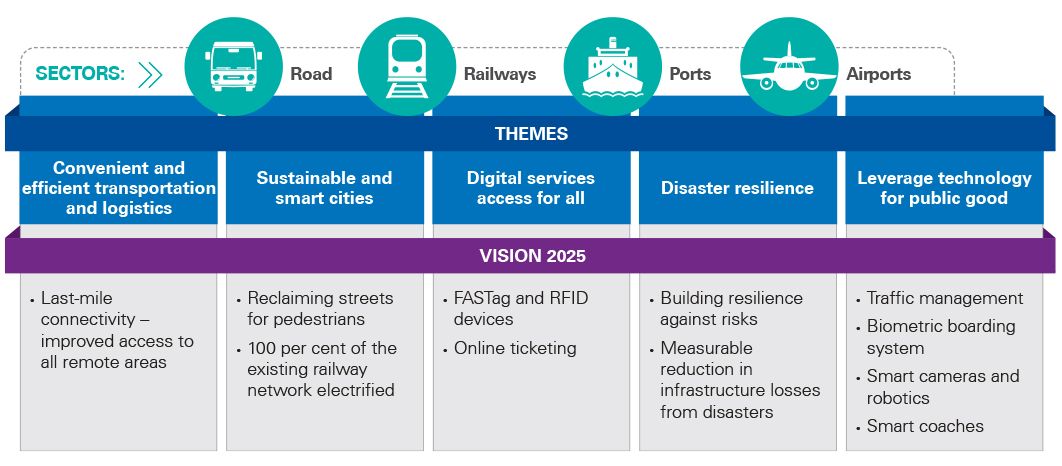 Source: National Infrastructure Pipeline - Report of the Task Force Volume II, Department of Economic Affairs, 29 April 2020
Emphasis on ports and waterways that reduce logistics time and cost (1,2)
Project prioritisation
Roads: The government is expected to prioritise highway projects based on parameters such as linkages with industrial clusters, completion timelines, ticket size, their economic importance and presence of labour at the project site[3].
Railways: Like roads, railway projects may also experience delays. Work on projects is already underway and work on dedicated freight corridors may resume in the second half of FY21. Roads and railways are expected to account for a major share of the investments even post COVID-19.
Ports: The government is likely to prioritise monetisation of the land around major ports in the country such as the Mumbai Port[4] along with projects already under construction in the short term.
Airports: The ongoing large-scale Greenfield airport projects such as the Navi Mumbai airport and the Mopa airport as well as projects that have been delayed would need to be prioritised.
Footnotes

Roads and highways sector – Current trends and future roadmap, KPMG, September 2019
Task Force for creating National Infrastructure Pipeline, Department of Economic Affairs, 31 December 2019
The government is prioritizing projects that are linked with industrial clusters, Construction Week Online, 21 April 2020
Shipping ministry ready with mega plan to turn Mumbai port land into a new mini city, The Print, 02 August 2019