Healthcare in India is on the cusp of significant transformation, with its changing demographics, increasing consumer spending and rising lifestyle diseases driving the need to build better, accessible and inclusive healthcare infrastructure. Moreover, the COVID-19 pandemic has repositioned the healthcare sector on the top of the government's priority list.
Mapping NIP sectors with the Infrastructure Vision 2025 themes (illustrative)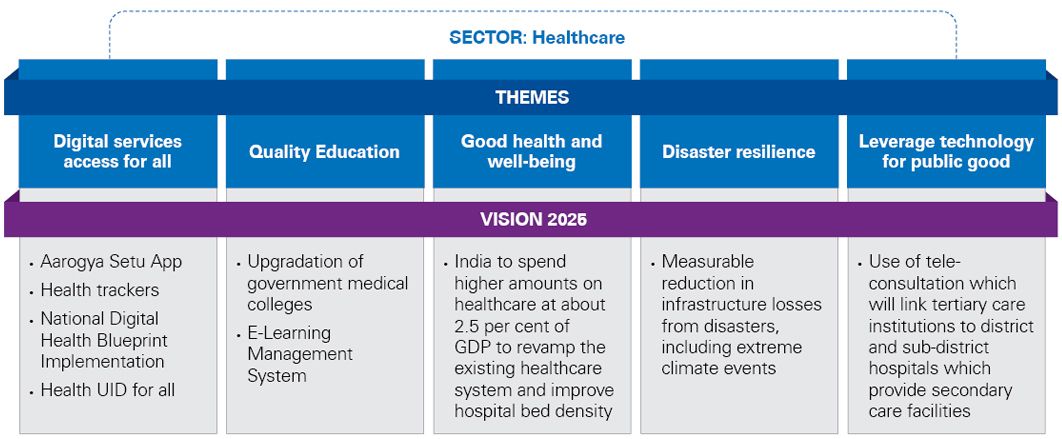 Source: National Infrastructure Pipeline - Report of the Task Force Volume II, Department of Economic Affairs, 29 April 2020
Good health and well-being essential for social infrastructure development (1,2,3,4)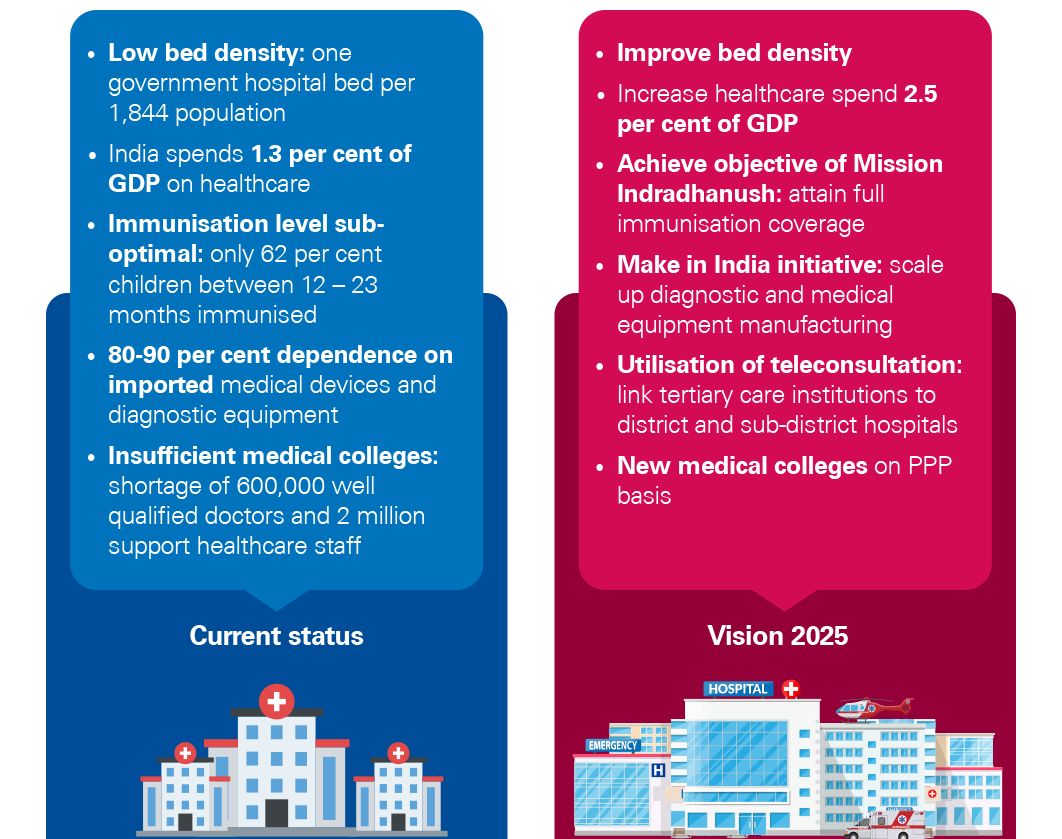 Project prioritisation
Augmenting preventive primary healthcare, construction of medical colleges and digital health would continue to remain the top priority area post COVID-19. States as well as local bodies would take on a larger role in urban health[5] by strengthening primary healthcare infrastructure and improving management systems for providing better affordability, accessibility and connectivity.
Building blocks of success
Going forward, infrastructure design would be undertaken from a multifunctional perspective that would enable it to function as an emergency response unit, whenever the requirement arises. Expanding health protection coverage, strengthening primary healthcare network and increased adoption of digital technologies would be key enablers for achieving the NIP vision for the healthcare sector.
Footnotes
National Infrastructure Pipeline - Report of the Task Force Volume II, Department of Economic Affairs, 29 April 2020
India facing shortage of 600,000 doctors, 2 million nurses: Study, The Economic Times, 14 April 2019
Just 1 doctor to treat 11,000 patients: The scary truth of India's govt healthcare, The Print, 23 June 2018
Industry hails 5% health cess on imports of medical devices, Outlook India, 01 February 2020
KPMG in India analysis 2020