Energy is the backbone for economic development, and access to clean and affordable energy is central to creation of an equitable society. India has significantly progressed in terms of energy security and provision of reliable energy access since early reforms. However, residual challenges remain in creation of a financially sustainable, efficient and resilient energy sector, development of future ready and smart infrastructure and 24x7 clean and affordable energy for all.
At an overall level, India's power deficit has gradually reduced over the years. The sector, however, still faces challenges in finance availability on account of financial stress with banks, the stressed distribution sector and other sectoral issues. Distribution companies' modernisation, clean energy deployment and power market reforms are among the key factors driving power reforms in the country.
Mapping NIP sectors with the Infrastructure Vision 2025 goals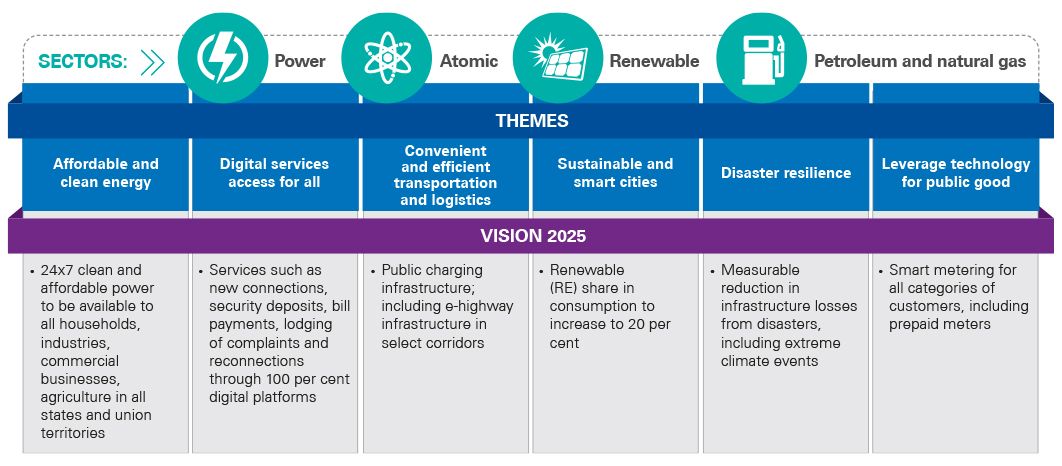 Source: National Infrastructure Pipeline - Report of the Task Force Volume II, Department of Economic Affairs, 29 April 2020
Project prioritisation
Post COVID-19, affordable and reliable power supply will continue to be the focus of infrastructure investments.
Investments in strengthening distribution and the sub- transmission grid along with discom modernisation and upgradation of digital/ IT backbone will be critical. Additionally, focus will be needed to mitigate sector risks/ challenges and channelise investments into new RE projects. Private sector participation is one of the key objectives of NIP and this should be another priority, particularly in distribution and transmission segment.