India aims to provide telecom and high-quality broadband services to its population along with end-to-end online delivery of government services to ensure the socioeconomic empowerment of every citizen.

Mapping NIP sectors with the Infrastructure Vision 2025 goals (illustrative)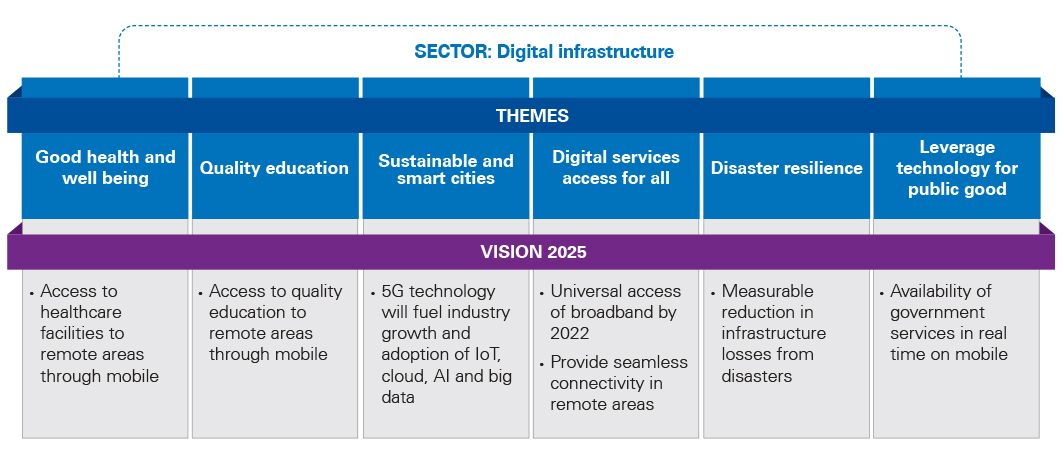 Source: National Infrastructure Pipeline - Report of the Task Force Volume II, Department of Economic Affairs, 29 April 2020
Project prioritisation
Due to the increasing pressure on the sector in view of the ongoing pandemic, the deployment of optic fibre cable (OFC) under the BharatNet initiative has become crucial for upgrading the current system and handling the ever-increasing data load.
Rationalisation of spectrum prices, in line with international benchmarks, along with single window time-bound approvals for Right of Way (RoW) of fibre roll-out would also prove to be critical.
Additional telecom towers need to be installed to increase coverage in rural and non-metro areas and to increase capacity in metros. Government buildings may be mandatorily allowed for installation of towers and telecom services may be brought under the Ease of Doing Business (EoDB) reforms to fast track tower installation.
Policy makers, telcos, OEMs and B2B consumers to work in tandem to ensure uninterrupted access to digital services