Article Posted date
25 August 2020
Infrastructure Vision 2025: setting the path for equitable growth
The government has integrated various infrastructure projects under Infrastructure Vision 2025. Streamlining project prioritization, ensuring the right conditions for implementation and facilitating investment is likely to equip the country with the required infrastructure, helping to make India globally competitive[1].
Strategic goals - Infrastructure aligned with sustainability
Delivering with Impact is key to the effective delivery of India's Infrastructure Vision 2025. By ensuring that its strategic goals are aligned with those of the UN's 2030 SDGs, aims to improve the living standards of people resulting in a growing, sustainable and inclusive economy. The government now needs to focus on creating the enabling conditions required to secure funding for Infrastructure Vision 2025's delivery. Key to this will be greater collaboration with the pubic and private sectors, in helping India cater effectively deal with the challenges and the requirements of increased urbanisation and COVID-19.
Infrastructure goals, strategies and standards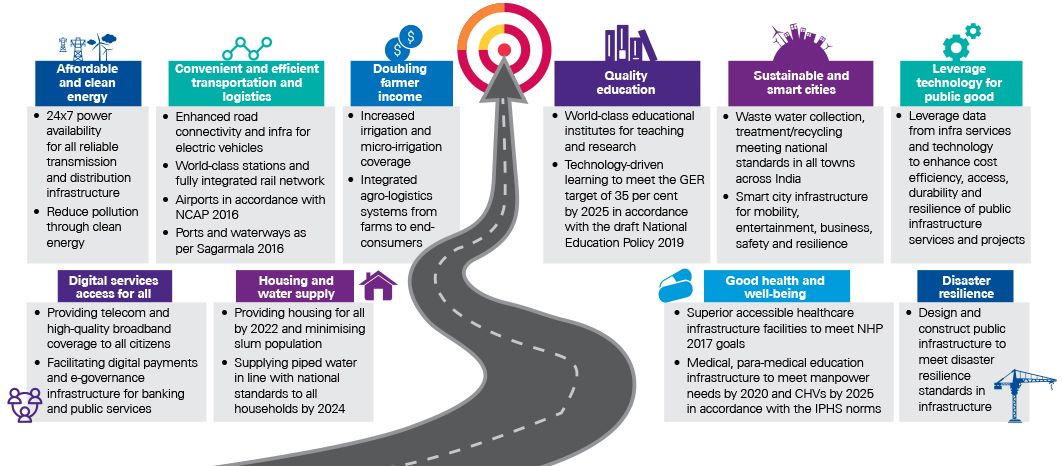 Source: Task Force for creating National Infrastructure Pipeline, Department of Economic Affairs, 31 December 2019
Note: NCAP - National Civil Aviation Policy, GER - gross enrolment ratio, NHP - National Health Policy, CHVs - community health volunteers, IPHS - Indian Public Health Standards
The way forward
With the COVID-19 scenario in the country continuing to evolve, the Indian government has taken up a dynamic approach to address the associated issues with the most recent response being the USD266 billion (INR20 trillion)[3] COVID-19 stimulus package.
Termed as the 'AtmaNirbhar Bharat Abhiyan', the package is expected to serve the dual purpose of paving the path towards recovery and enabling the economy to cope with the evolving business conditions in the post COVID-19 world.
Furthermore, given the economic disruption, unconventional sources of financing along with steps like deficit financing might need to be explored, especially as fiscal deficit is expected to widen sharply.
As India continues to pursue COVID-19 strategies, it needs to focus not only on short-term relief but also on the measures that will help the country to be successful and self-reliant over the long term. By creating an enabling framework of certainty and order, whilst ensuring planning and investing in vital prioritized infrastructure projects, would help the nation in driving forward a growing Indian economy.
Footnotes
Task Force on National Infrastructure Pipeline* presents its Final Report to Finance Minister Smt. Nirmala Sitharaman, Ministry of Finance, 29 April 2020
Task Force for creating National Infrastructure Pipeline, Department of Economic Affairs, 31 December 2019
AtmaNirbhar Bharat Abhiyan, KPMG, 13 May 2020