The 49th annual Business and Finance Awards will take place in the Convention Centre Dublin on Thursday, 7 December 2023.
The awards recognise excellence in business, social and political leadership across six categories. These categories include Company of the Year in association with KPMG, Business Person of the Year in association with KPMG, The Sutherland Leadership Award, Outstanding Contribution to Brand Ireland, FDI of the Year, Diversity, Equity and Inclusion Award, Environmental Social Governance Award, The Elevation Award and more. Nominations are now open.
2023 TK Whitaker Honouree
Renowned Actor and Golden Globe winner Gabriel Byrne will accept the 2023 TK Whitaker Accolade at this year's Business and Finance Awards in association with KPMG. The award recognises his unique contribution to public life during an illustrious career spanning almost five decades.
Gabriel Byrne has starred in more than 100 feature films including Excalibur, Miller's Crossing, Into the West, Little Women, The Usual Suspects, The Man in the Iron Mask and many more. On Broadway, he received 3 Tony Award nominations and has twice won the Outer Critics Circle Award for his performances in the works of Eugene O'Neill.
Commenting on being the recipient of the 2023 TK Whitaker Award, Gabriel Byrne said: "It is an honour to be chosen for the TK Whittaker award and to be aligned with such illustrious previous honourees."
A look-back at last year's awards
Imelda Hurley wins Businessperson of the Year
Imelda Hurley, CEO of Coillte, Ireland's largest forest manager and wood producer, was honoured with the Businessperson of the Year award in association with KPMG. Imelda was selected by the judges for her work leading Coillte's strategy to achieve its climate goals. Imelda Hurley was described on the night as 'an advocate for sustainable business practices and a leader in sustainability discussions'.
Ornua awarded Company of the Year
Ornua was awarded the prestigous Company of the Year award in association with KPMG. Ornua, led by CEO John Jordan, is Ireland's largest exporter of Irish dairy products. The judges noted that Ornua 'continue to set global standards as one of Ireland's largest exporters'. With over 60 years in business and consistent growth, they represent over 14,000 farming families and small businesses nationwide.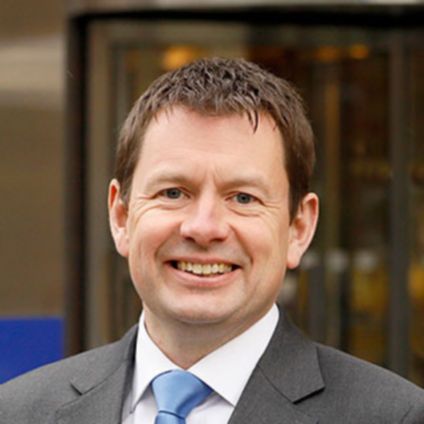 EU's contribution to Ireland honoured
The 2022 Sutherland Leadership Award was presented to President of the European Commission, Ursula von der Leyen, who accepted it on behalf of the European Union. The award recognises the EU's tremendous contribution to Ireland's social and economic development.
Ursula von der Leyen joins a list of former honourees which include Henry (Hank) Paulson, 74th US Secretary of the Treasury; José Manuel Barroso, former President of the European Commission; and Mario Draghi former President of the European Central Bank and Prime Minister of Italy.
President Zelenskyy honoured
President Volodymyr Zelenskyy spoke from Ukraine, accepting the TK Whitaker award for Outstanding Contribution to Public Life. President Zelenskyy spoke of the challenges ahead for his country and thanked Ireland for the solidarity shown to Ukraine following its invasion by Russia earlier in the year.
Established in 2016, the TK Whitaker Award for Outstanding Contribution to Public Life recognises Irish and international social and political leaders for their contribution to public life. Since its inception, the award has honoured Presidents of Ireland Michael D. Higgins and Mary McAleese, former Taoiseach Enda Kenny and renowned film producer Lord David Puttnam CBE.
Rachael Blackmore's contribution to Brand Ireland
KPMG brand ambassador and champion jockey Rachael Blackmore was honoured with the Outstanding Contribution to Brand Ireland Award. In 2021, Rachael made history, becoming the first female jockey to win the Grand National in its 182-year history.
Congratulations to all our winners
Our congratulations to all award winners and honourees who included software as a service company Fineos who won the Elevation Award, leading bank AIB Group plc, who won the Environmental, Social & Governance award, insurance group Aviva who took home the Diversity, Equality & Inclusion award and medical device producer Abbott who received the FDI of the year award.