Article Posted date
20 September 2022
For everyone keen to see further development of women's sport in Ireland, the recent decision by KPMG to become the title sponsor of the Women's Irish Open for the next 3 years was welcome news.
By way of background, KPMG was an avid supporter of the 20x20 campaign which aimed to increase female participation in sports, boost media coverage, and up attendance at women's events by 20% in Ireland by 2020. This commitment to helping plug the gender gap in sport and its commitment to the Women's Irish Open extends KPMG's ongoing investment in the development and empowerment of women in sports around the world.
In Ireland, KPMG proudly support Irish champion jockey, Rachael Blackmore who, in 2021, became the first female jockey to win the Grand National in the 182-year history of the race. KPMG also sponsors the hugely successful Dublin Ladies Gaelic football team. Over the past number of years, globally KPMG have increased their focus on golf, from grassroots level to its title sponsorship of the KPMG Women's PGA Championship, dating back to 2015. The tournament is one of five Majors contested by the top tier in women's golf, and it's a championship that now boasts a $9 million purse, one of the richest in women's golf and representing a 300% increase since KPMG's involvement.

KPMG tech makes a difference
Away from the glitz and glamour of Major championships, KPMG has helped revolutionise women's golf with its Performance Insights technology. A big part of levelling the playing field between men and women is proving that the gap in talent doesn't actually exist. Now, for the first time, KPMG has allowed LPGA tour golfers to track and analyse their data. Extensive information on strokes gained, proximity averages and performance indexing are just some of the statistics now available to all members of the LPGA Tour, helping players to access a personalised digital dashboard to gauge precisely where their game is at - while identifying areas in which they can improve.
Supporting future stars
Far from having its sole focus on established athletes, KPMG has also put a huge emphasis on the next generation of golfers too, highlighted by its continued support of the popular KPMG Irish Kids Golf Tour. The tour is a breeding ground for future champions and is open to girls and boys aged from 6 to 13 years old. The low-entry-cost events are played across some of Ireland's finest courses and simulate the competitive environments that no doubt lie in wait for these future stars of the game.
Promoting participation and widening player pools will always be a key driver for KPMG reinforced by the announcement that three of this year's Kids Golf Tour participants, Douglas' Hailey Martinez, Esker Hills' Ella Cantwell and Fota Island's Julia Falvey Ryan would all tee up alongside one of Europe's best golfers at the KPMG Women's Open Pro-Am. They'll also have the added bonus of testing their skills against Kildare prodigy, Ella Kenny in a "beat the pro contest", the eight-year-old already competing successfully around the world.

Backing Leona Maguire
Many of these aspiring young golfers will already look up to KPMG Brand Ambassador, Leona Maguire, who continues to make waves on the global golf stage. Leona's relationship with KPMG stretches back to 2018 when they became one of the first to financially support and mentor the fledgling Cavan pro who made history when she sat atop the world amateur golf rankings for a record 135 weeks before turning to the paid ranks.
Leona Maguire joined a stable of KPMG stars proudly donning the KPMG logo on their respective journeys around the world, including American professional golfers Stacy Lewis, Maverick McNealy and Mariah Stackhouse, and international stars like Japan's Yuka Saso and Iceland's Olafia Kristinsdottir.

In January this year, the partnership announced a four-year extension following Leona's record-breaking star performance as a rookie as part of Europe's winning Solheim Cup team in 2021. One month after signing the extension, Leona would make more history, becoming the first Irishwoman to win on the LPGA Tour with victory at the LPGA Drive On Championship. Speaking after the event Leona said "I am really grateful to KPMG for all they have done for me since we first started working together in 2018, I have enjoyed every minute of it and thankfully we have had plenty of success along the way.
"To have the backing of KPMG gives me that confidence I need to perform at the highest level and I hope we can continue working together long into the future."

Leona the headline act at Dromoland
Leona will undoubtedly be the star attraction when the KPMG Women's Irish Open returns to Dromoland Castle Co. Clare and the Irish golfing calendar after a decade-long break. The 27-year-old matched KPMG's commitment to the event, confirming she will bypass the $2.2m Arkansas Championship on the LPGA Tour in favour of the €400,000 Ladies European Tour event.
Leona's form of 2022 has allowed her to make such a commitment. Top-10 finishes at the U.S. Women's Open and the AIG Women's Open have cemented the two-time Olympian's place in the end-of-year Tour Championship with events to spare, though her latest trans-Atlantic mission to compete on home soil will spell a busy five-week stretch for the high flying pro.
Leona was an amateur the last time the Women's Irish Open was played on Irish shores back in 2012. Contested at Killeen Castle in Co Meath, Scottish legend, Catriona Matthew ran out a narrow one-shot winner but few would have pictured a ten-year gap before the former Major champion and last year's winning Solheim Cup Captain would get the chance to defend her title.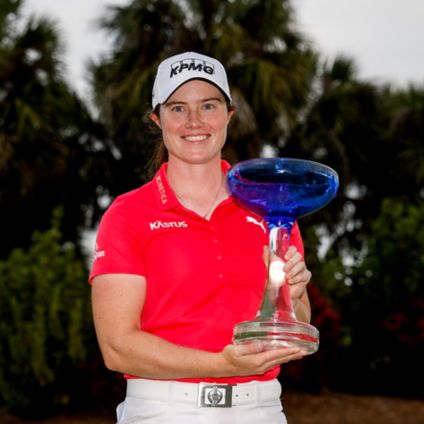 A brief but illustrious honour roll
Held 15 times between 1994 and 2012, the tournament holds a rich, albeit brief history, boasting an honour roll which includes the likes of Dame Laura Davies, Sophie Gustafson and current Solheim Cup Captain, Suzann Pettersen, but even such star-studded past champions couldn't prevent the event from dropping off the LET schedule from 2013.
The event was well-backed by the Irish public but funding was an issue in the midst of a global economic crisis, while the absence of an Irish star on the Ladies European Tour further hampered the cause.

However, there are no such fears in 2022 with a strong and committed title sponsor in KPMG on board, a fantastic venue in Dromoland Castle, and the unwavering support of Sport Ireland and Golf Ireland behind the event.
The KPMG Women's Irish Open also happens to have a superstar in Leona Maguire to lead from the front with the Rolex Ranked World Number 16 determined to elevate the tournament to a place of permanence on the global golf calendar. Speaking at the announcement in Dromoland Castle, Leona said: "That's a big reason as to why I was determined to play this year – I want to help make this event as big as possible".
The importance of support
"Hopefully people can come out and support. Buy tickets, watch it on TV, and hopefully, we can keep building year on year.

"The dream scenario would be to have it co-sanctioned with the LPGA, a bit like the Scottish event or the World Invitational. You want the best of the best showing up for a Women's Irish Open.
"The more people who come out to support, the more players that are there, the bigger the purse gets. It all works in a circular motion but hopefully, we can get as big an event as possible.
"There's huge potential and I have no doubt that Irish people will come out and support it. When I played in those previous Ladies Irish Opens, before any 20x20 movement, the crowds were massive so hopefully, we can have just as good, if not better this year and in the years to come."
Safeguarding the future
The importance of the KPMG Women's Irish Open to Ireland's sporting calendar cannot be overstated, especially when it comes to the development of junior golf in Ireland. The women's game across the entire island has never been in a healthier place. For the first time ever, two Irishwomen, Leona Maguire and Stephanie Meadow hold full membership on the LPGA Tour while their on-course exploits have inspired a whole new generation waiting in the wings, from recently-turned pro, Olivia Mehaffey, to amateur stars like Castlewarden's Curtis Cupper Lauren Walsh, to Lurgan's U.S. Women's Amateur semi-finalist Annabel Wilson, to Kirkistown Castle teenager and incoming Arizona State talent, Beth Coulter.
Leona Maguire, for one, makes no secret of how her exposure to the Women's Irish Open as an amateur between 2009-2012 helped shape the player we know today. If initiatives like 20x20 are to succeed, Leona believes it's imperative that young amateurs experience professional competition as early as possible, while also highlighting the importance of young fans witnessing their heroines in the flesh from outside the ropes.

"Myself and Lisa (twin sister) had the opportunity to play as amateurs from 2009-2012 when it was in Portmarnock and Killeen," Maguire recalled.

"It gives top amateurs a chance to get a taste for what it's like to play against some of the best players in Europe and the world and I think that's very important.
"I've been saying it for the last few years that we really needed this tournament back. It's vital for the growth of the game in Ireland. For all the young girls to actually see an event in real life. It's different to watching it on TV.
"To see someone hitting a drive or holing a putt, to get a little smile from a golfer walking off the green or a golf ball or whatever, it stays with you. It was a big part of my journey when I was younger."
Given the support systems already in place around the event, from Sport Ireland to Golf Ireland to Clare County Council and led by KPMG's involvement, hopefully, Leona Maguire will get her wish. Commenting on KPMG's investment in the tournament Declan Keane, KPMG Chief Operating Officer said:
"We're incredibly proud of our history in supporting both the game of golf, as well as women's sport in Ireland, and we look forward to building our relationship with both over the coming years. We're committed to investing in young talented people in Ireland and it's our hope that the KPMG Women's Irish Open will inspire the next generation of Irish golfers to compete at the highest level of the game."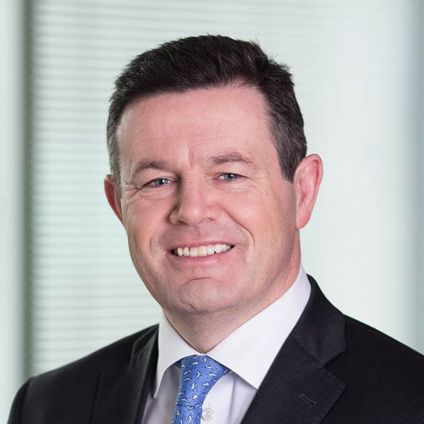 Investment in women in sport
Meanwhile, Mark Nolan, Managing Director at this year's host venue at Dromoland Castle has led the praise for KPMG's investment.
"KPMG's commitment to women's sport and women's golf over the past number of years, both in Ireland and beyond is a clear indication of their vision and we are delighted to join them on this journey and help establish the KPMG Women's Irish Open as one of the premier events on the Ladies European Tour."
Reinforcing the importance of both investment in women in sport and the local economy, Minister for Tourism, Culture, Arts, Gaeltacht, Sport and Media, Catherine Martin hopes the return of the KPMG Women's Irish Open can inspire the next generation of young women and girls into golf.

"The excitement around Ireland's women golfers and their growing success is inspiring," said Martin. "It is welcome news of the sponsor for the Women's Irish Open, which is making a very welcome return to the Irish sporting calendar.
"Irish women's golf is on a high and this event will showcase not only the fantastic golfing talent in Ireland but hopefully inspire more women and girls to play the sport."
A flavour of this year's field
Leona Maguire will likely attract the biggest gallery at Dromoland but there's no shortage of star power already committed to September's LET showpiece.
Ten years on and Catriona Matthew will defend the title she won by a slender stroke at Killeen Castle in 2012. The four-time LPGA Tour winner captured her sole major title at the Women's Open at Royal Lytham in 2009. What's even more remarkable is that she did so just 11 weeks after giving birth to her second child.
Affectionately known as 'Beanie', Matthew described leading Team Europe to victory against a stacked American side at last year's Solheim Cup as her "career highlight" and will arrive to Ireland in form after enjoying a podium finish at the U.S. Senior Women's Open in August.
Mind the gap?
Meanwhile, the gender gap? What gender gap? Just ask Swedish star Linn Grant who will tee up at Dromoland having provided one of the highlights of the year when capturing the Scandinavian Mixed title in June.

Grant became the first woman to win on the DP World Tour, but in truth, it was a procession; Grant finishing nine shots clear of Henrik Stenson and Marc Warren who shared second, and an incredible 14 shots ahead of her nearest female challenger, Gabriella Cowley. The 22-year-old is certainly one to watch at Dromoland and beyond.
England's Meghan MacLaren isn't just one of the brightest minds and most eloquent writers amongst pro golfers, but she lets her clubs do the talking to great effect too. A must-follow on Twitter, MacLaren captured her third LET victory in Australia back in April and will look to put in a big Irish showing as she looks to push towards her LPGA Tour dream.
There's also no shortage of exciting amateurs invited to partake in this year's tournament, with KPMG personally inviting Roscommon's +2.8 handicap teen, Olivia Costello and Scottish Curtis Cup star, Louise Duncan, who's represented by Bounce Sport, to compete.
Much like Leona Maguire was presented with an early benchmark for what it takes to make it at the highest level, Irish amateurs Aideen Walsh, Marina Joyce Moreno, Rebekah Gardner, Katie Poots and Kate Lanigan join Costello and Duncan for an invaluable opportunity to do the same.

With more exciting announcements still to come, not least spaces reserved for Solheim Cup team members, expect the final field for the belated return of the KPMG Women's Irish Open to be bulging with star quality come tournament week.
The future of women's golf
A final word to Vicky Tyas, Commercial & Marketing Director of Golf Ireland who believes the future of the tournament is looking extremely bright with KPMG's support of the event.

"The calibre of the venue at Dromoland and now the addition of KPMG as the lead sponsor over the next three years gives the event enormous strength and depth," said Tyas.
"It is a tremendous commitment and vote of confidence in the development of women's golf and Golf Ireland is sure that the re-establishment of the event will inspire many young children to take up the game and participate in the various levels of the Golf Ireland Pathway in the years ahead."
Get your tickets!
Tickets to see the stars of the Ladies European Tour at the KPMG Women's Irish Open are now on sale at www.womensirishopen.ie. Four-day tickets are priced at €35 while single-day tickets will cost €15. Under 16s attending the event will also be admitted free of charge.
You can follow the tournament via social media @womensirishopen on Instagram and Twitter.