Following last year's COP26 climate change summit are we on the cusp of a major positive shift in finally tackling the climate crisis or is there still a tremendous amount of work to be done? And what does it mean for business on the island of Ireland? Mike Hayes and Russell Smyth of KPMG share some perspectives.
Despite some obvious and well flagged disappointments, by no reasonable yardstick can COP26 be judged a failure. "Are we in a better place post-COP?", asks KPMG's Global Head of Renewables Mike Hayes. "Absolutely yes. It may not have been as successful as it could have been and there was some genuine disappointment in relation to the timelines of some countries pledges and how the developed world couldn't agree on the $100 billion funding for the developing world. But the reality on the ground is that the progress far outweighs these setbacks."
Russell Smyth, who leads KPMG's Sustainable Futures team, echoes that sentiment. "It depends on what lens you view it through. If your expectation was for a two-week meeting to solve the climate crisis you were setting yourself up for disappointment. The fact that 138 countries representing 88 per cent of global greenhouse gas emissions have recognised the urgency of the climate change issue and have set decarbonisation targets is very significant achievement. More has happened on climate in the last 12 months than happened in the last 20 years. Arguably, more has happened in the duration of the summit than in the past year. The string of announcements and initiatives on issues like deforestation and methane leakage probably mean that COP26 has delivered more than was expected."
Gathering momentum on climate
According to Hayes, awareness generated by the event has its own value. "COP26 is helping to create unstoppable and irreversible momentum around climate action. The interest in the event is much greater than we saw at Paris."
And there have been some concrete developments. "There is now a genuine acknowledgement that we are facing a 2030 problem, not a 2050 issue," says Hayes. "Unless we make substantial progress in the next nine years 2050 targets will unreachable. Also, this is the first COP to feature a very, very large contingent from the business community. Business has a very important role to play. After all, 85 per cent of global greenhouse gas emissions come from that source."
There is a growing belief that businesses are moving faster than governments, he adds. "Capital is talking. Investors are saying that companies will have to put climate policies in place, or they will be squeezed for capital. International business alliances are coming together, and they are forcing the pace. That is not to say that governments don't have a role. They absolutely do, particularly in the policy arena. But we can't wait for them to move, and it has been fascinating to see business stepping up. They are saying that it is not enough to have their own decarbonisation plans, they want to use their might and muscle to support the global effort."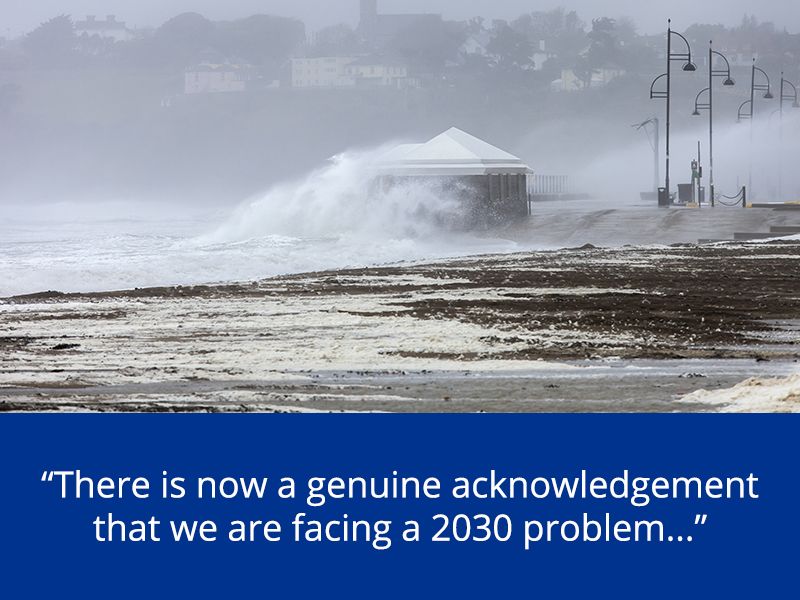 Following the science
Smyth points to the emergence of the Glasgow Financial Alliance for Net Zero (GFANZ) group led by Mark Carney and Michael Bloomberg as evidence of that shift. "More than 450 firms representing $130 trillion of assets have committed to using science-based guidelines to reach net zero carbon emissions by 2050 with interim goals set for 2030," he says. "It's very easy to talk about 2050 targets. That's 30 years from now and most people working today will have retired by then. The time for setting distant targets with no measurement of activity has passed."
The need for carbon accounting
Reviewing the various pledges and commitments made at COP26, Hayes says the real challenge in many instances will be related to data. "We need to find a way to gather, measure and account for carbon data," he says. "This is the relatively new concept of carbon accounting. It's way too inconsistent at the moment."
He believes the establishment of the International Sustainability Standards Board will help. "We should hope that we will see something similar to the evolution of the accounting standards in the twentieth century. They came about as a result of a whole raft of financial scandals which occurred because investors weren't given enough information about companies. We need verifiable, consistent carbon data to compare sustainability claims."
Mandatory ESG reporting is coming
Events at COP26 and elsewhere will ultimately impact on every Irish business, according to Smyth. "The Corporate Sustainability Reporting Directive is the single most impactful climate related regulation for Irish corporates," he says. "It will cover more than 1,000 companies in Ireland now that its scope has been expanded fourfold. The mandatory ESG reporting as well as mandatory assurance it introduces means firms will need to have their claims verified by an independent auditor."
In December 2021 KPMG published findings on the state of readiness of Irish corporates for that directive, with the results showing that a vast majority (72%) of the sample of 50 companies were deemed as "far from ready". And more change is to come, with Smyth noting "COP26 has also generated much greater awareness of climate and ESG issues," Smyth continues "Every company is going to feel more pressure from supply chains and society to improve their performance. Irish companies not directly covered by the directive will feel its impact through the Climate Action Plan on one level. This is the first time for separate sectoral carbon budgets to be set. That will impact every sector and enterprise."
The direction of travel is clear. "Businesses have to accept that the future world is non-carbon," Smyth points out. "They will have to look at how their business can survive and pivot to meet changed conditions. The supply chain is going to say if you want to continue doing business with us you need to be on the right decarbonisation trajectory. Companies will have to change the fuels they burn, the products they consume, the emissions they give off. And the transition is accelerating. That pivot will require years to execute, and businesses need to start now."
Regulatory burden or major opportunity?
Businesses across the island of Ireland have a stark choice, Smyth believes. "They can view it as a regulatory burden and do the minimum or see it as one of the most profound changes in history and seize the opportunities it offers. Investors will not be interested in companies who take the first option. Companies will eventually find they are not able to access capital unless they are on the right climate trajectory."
For the future, Hayes believes greater involvement by citizens will be required. "Most citizens across the world don't even know COP26 was happening. That's the next battleground. Unless we have much greater engagement of people around the world, and not just young people but all strands of society, we will fail."
Get in touch
We understand the challenges faced by businesses trying to get to grips with decarbonisation and the challenges and opportunities it presents. If this sounds like your business, we'd be delighted to hear from you and tell you more about how we're helping companies all over Ireland make the switch. To find out more, contact Michael Hayes or Russell Smyth.
More in Sustainable Futures