Article Posted date
06 May 2021
Having to respond to what could be the fastest social change in modern times, companies worldwide enabled remote workforces nearly overnight. What started as an extraordinary "work anywhere" pilot is now considered permanent for organisations.
As a result, the new reality is a world where we focus on the work, instead of where it happens. This has had profound implications for organisations from a People, Technology and Tax point of view. KPMG's Conor McCarthy, Richard Frank and Thalia O'Toole examine these implications below.
The case for change
There is a profound opportunity for organisations to take the friction out of delivering to the customer and fulfilling the employee experience. It has set the stage for improved productivity, reduced turnover, better access to diverse talent, and lower costs—made possible by encouraging and enabling the organisation's digital transformation.
Organisations need to address these issues:
Today's reality
Working remotely is straining IT and challenges the work-from-home culture
Physical offices are empty - reconfiguration, barriers, and "6-foot offices" are expected
Talent is geographically constrained and the workforce is determining their own virtual environment
Organisations are finding their current service delivery model too rigid or severely lacking
Tomorrow's opportunity
$7+ trillion to be invested in making work more digital by 2023*
Lower real estate costs by up to 10,000 per employee per year**
Higher productivity and lower turnover from reduced commute time and better work/life
Enhanced talent accessible anywhere
More resilient service delivery models that can quickly react and flex as business realities change

* Worldwide Semiannual Digital Transformation Spending Guide, 2019, IDC
** Advantages of Agile Work Strategies For Companies, 2020, Global Workplace Analytics
Here's how:
Reimagine work by reexamining the Value Delivery Model
Existing systems and software often perpetuate a siloed model of engagement and communication that ignored the human element. But value delivery relies on integrated functions operating in concert. To reframe the Value Delivery Model, consider:
Cost consciousness:
Focus on "good" costs (investments into digital, work-from-anywhere enablement, etc.) and cut down on avoidable costs (sprawling real estate, noncore function spends, etc.).
Digital infusion:
Rearchitect delivery platforms and enable increased adoption of digitisation and automation across the business value chain. Accelerate the move to the cloud to enable greater resilience, and invest in infrastructure, collaboration tools, and security architecture.
Delivery footprint:
Recast, restack and repurpose the delivery footprint on an enterprise-wide, cross-functional basis, and evaluate changes in real estate considerations.
Operating model resilience:
Design the work placement strategy and sourcing mix, and develop symbiotic relationships within the ecosystem (specialist providers, start-ups, academia, and platform players).
Risk and compliance:
Revisit the Business Continuity Planning strategy, and leverage analytics to manage emerging financial, regulatory, and cyber risks. Consider the broader tax, social security, employment law and transfer pricing compliance obligations arising from cross border remote working and the re-emergence of business travel.
Workforce shaping:
Reinvigorate existing roles and reconceptualise ways of working, i.e., agile models, gig workers and changes in worker skills, capabilities, and performance as well as succession planning. Establish policies and procedures through engagement with stakeholders which align with business strategy and manage compliance risks.
Focus on the work, not where you work
One size does not fit all. Realising today's opportunities begins with a focus on what people do, what their capabilities are, and how best to enable them. Companies need to:
Design for people and their ways of working, throughout their day and throughout their career.
Enable experiences, with an ecosystem of tools and technologies working together. Shifts in technologies should consider the combined impact of features and integration.
A human-centered design approach provides a path to successfully digitally enabling the business. Such an approach encompasses:
Personas: Address multiple persona dimensions and provide a vehicle to understand the key pain points and needs unique to the organisation. Personas can have very different perceptions of the same experience.
Channels: There are multiple engagement channels in which each experience can be perceived. Each channel possesses different underlying pain points and opportunities, as well as culture aspects.
Experiences: Targeted experiences can vary wildly from enterprise-wide experiences to very targeted business processes and journeys.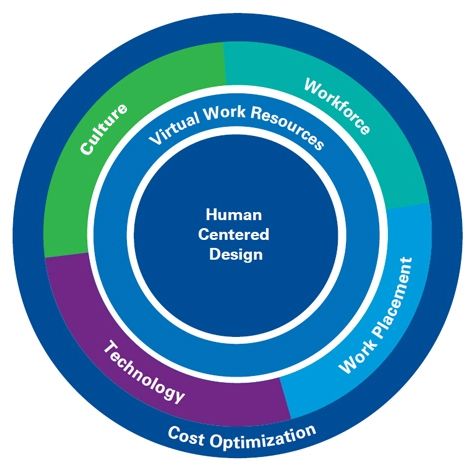 Our approach
At KPMG, our approach addresses the full range of underpinnings that enable sustainable, permanent and successful virtual work to support the enterprise's workforce and growth objectives. Working shoulder to shoulder with you, we lead with a human centric approach to redesign the way work gets done.
Our capabilities include:
Human Centered Design approach including persona analysis, capability gap assessment and journey and road mapping
Virtual Work COE strategy and optimisation
Workforce and employee experience design
Work placement strategy, design and tax considerations
Technology ecosystem design including collaboration, automation, digital enablement, security, and technology support model
Cost optimisation strategy and integration
At KPMG, we understand that organisations must have an empowered workforce and sound operating model to reach their recovery and growth goals. To create a sustainable and resilient operating model requires a holistic, enterprise-wide approach—and a reimagined view on the way your teams work together and serve your customers.
We describe this transformation as "Work anywhere, together." It's the new reality of work.
For more, contact our team
Get our Future of Work insights