Article Posted date
25 March 2021
Ireland's trading relationships have shifted significantly over time and our strategies for managing them have evolved. Joining the EU, our success in attracting FDI and more latterly, the impact of Brexit have contributed in various ways to both the challenges and opportunities we've faced writes Hugh Crehan – Head of FS Markets at KPMG in Ireland.
Ireland's strategy for attracting US direct investment accounts for a highly significant 180,000 jobs in the Republic and last year helped secure 246 new investments and over 20,000 new jobs. Over half (52 percent) of these projects were won in the regions – an important achievement in helping ensure balanced regional development. In the context of Brexit, IDA Ireland has rightly identified an opportunity in highlighting Ireland's unique appeal as an English speaking nation delivering guaranteed access to an EU market of over 460 million consumers.
Ireland's largest trading partner
Whilst proximity will continue to matter in our trading relationships with Britain in particular, the US market continues to have further potential for Irish business and vice versa. The US is by some distance Ireland's largest trading partner in goods and services. It accounted for almost a third (31 percent) of total exports by value in 2019 – a massive €46,938 million and much of this trade is dominated by multinational organisations. At KPMG we're particularly proud to work with so many of the US businesses that choose Ireland as their EU gateway.
In considering US-Irish relations, it's also vital to bear in mind the employment benefits of this relationship for both countries. Whilst our focus on this side of the Atlantic tends to be on jobs here, it isn't always realised that Irish businesses employ over 110,000 people in the US - providing valuable employment opportunities. Meanwhile, over 800 Irish firms export to the US. For Irish businesses not yet exporting to this huge market it makes common sense to consider the strategic options.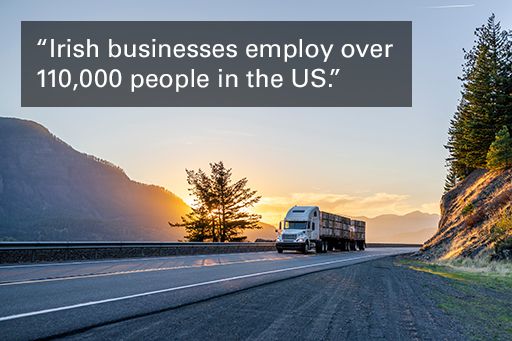 Breaking into the US market
With a large, affluent consumer base and with English as a common language, the opportunities can be significant. However, the sheer scale of the country and regional differences can also be a challenge. We're fortunate to work with a range of Irish businesses looking at their US options in various sectors. In some cases, blazing a trail in the US market means building an export business. In other scenarios it means setting up a US operation. One of the obvious benefits is the scaling opportunities that US expansion can achieve for Irish companies.
Support when you need it
As ever, having the right support and advice is fundamental. From sectoral insights to the tax aspects of doing business in the US to funding and financing options, we work with a host of Irish companies already in the US or considering doing so. In addition to the expertise of your professional advisers, it is also worth bearing in mind the valuable assistance available from Enterprise Ireland.
With a new administration in Washington, Ireland's track record of delivering for US business and the prospects for further success for Irish companies in the US, the opportunities for further strengthening of the US/Irish economic relationship are significant.
Get in touch
We understand the pressures on business to get it right when expanding into new markets. So if you're looking at choosing Ireland for you next business venture or you're an Irish business looking at expanding abroad, we'd be delighted to hear from you. Get in touch here.
This article first appeared in Business & Finance magazine and is reproduced here with their kind permission.