Article Posted date
26 February 2021
Brian Daly, Head of Brexit at KPMG in Ireland, sees Brexit as the biggest realignment in Irish trade in 50 years. Daly says the new agreements will have material consequences for business in Ireland.
"Brexit related issues will stay centre stage for business a long time – for example we have a deal on goods but not as much on services" says Daly, who advises clients to "think strategically, operationally and tactically about Brexit impacts." Some of the problems faced by business relate to the inevitable friction trade barriers cause, and these are considerable in many cases. He cites for example clients looking for support to implement the VAT and Customs changes or grappling with people issues that didn't arise in the past. However, he notes that many Irish based businesses are also looking at opportunities. He notes examples of filling gaps vacated by UK businesses who find it too complex and costly to service the Irish and overall EU market or are unable to provide services including Financial Services into the EU. There will also be new FDI projects into Ireland that would have historically gone to the UK.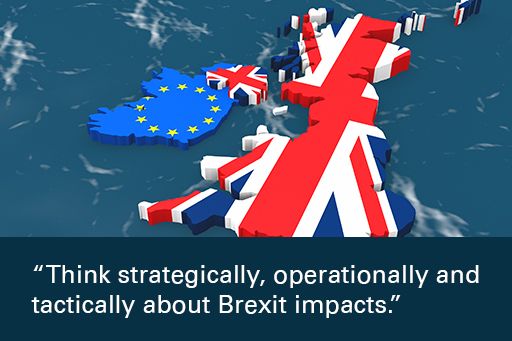 Northern Ireland
As KPMG is the only major accounting firm to operate on an all-island basis, the firm has been marshalling its expertise for clients in both jurisdictions. Johnny Hanna heads up KPMG's Belfast team and is also Head of Tax for KPMG in Northern Ireland. He acknowledges the headlines afforded the Northern Ireland Protocol and recognises the challenges it has posed for many businesses importing goods from Great Britain. "Brexit has unquestionably been a shock to the system for many local businesses, the fact that operational aspects of the Protocol were not agreed until the eleventh hour didn't help and we're working with them on mitigation strategies" says Hanna, who is hopeful that further flexibilities can be agreed between the EU and UK for aspects of the Protocol.
However, he is also buoyed by the fact that more clients are seeking advice on how to benefit from the unique trading regime in Northern Ireland compared with the position in the EU and Great Britain . "Unfettered access to the GB market from Northern Ireland, combined with the continuation of tariff free trading with the EU and no customs procedures or paperwork, does bring potential benefits." Whilst it's early days says Hanna, he points to the "the unique hybrid status of Northern Ireland as it relates to the EU, exceptional talent, competitive cost base and the wide range of skills available. " He believes that whilst there is much to be done to resolve the challenges Brexit poses, it is important to focus on the potential opportunities for new businesses (and jobs) for Northern Ireland that reflect the unique status of the region.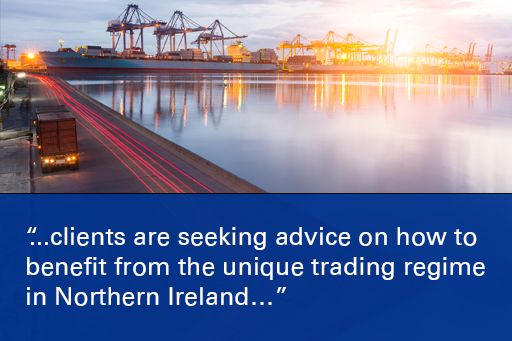 Supply chains
Meanwhile, for Dublin-based KPMG partner Glenn Reynolds, one of the most obvious impacts of Brexit lies in the realignment of supply chains. Reynolds heads up the VAT and Customs division of KPMG – both VAT and customs issues cause some of the biggest Brexit changes for Irish based business. "The learning curve for many companies has been colossal" says Reynolds, whose clients are some of the most successful businesses in the country. Pre-Brexit, economies of scale and established trading patterns created UK distribution hubs for continental EU goods that would ultimately end up in Ireland. "Rules of origin and VAT and customs rules and procedures have been centre stage in the issues we've been dealing with for clients" says Reynolds. He notes that prior to Brexit, businesses may not have had full sight of the origin of every component in their finished goods or products they purchase. "This has triggered a complete reappraisal of supply chain issues for many clients." According to Reynolds, the phrase "substantially transformed" has entered the Brexit lexicon as clients need to understand the origin of their components and the processes that their products undergo to determine if they can continue to have tariff free access to the Great Britain market and vice versa - or if they can import goods tariff free into Ireland from GB. Understanding "Where things get done" and "where goods come from" now requires comprehensive assessment to avoid potentially costly mistakes.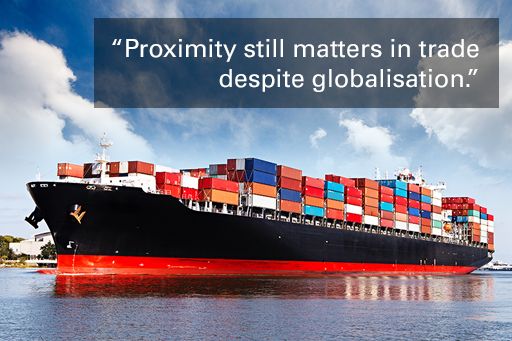 Cautious optimism
Head of Brexit Brian Daly doesn't underestimate the challenges ahead for Ireland, but he is cautiously optimistic. "Proximity still matters in trade despite globalisation and trade friction with your nearest neighbour has consequences for everyone." Traditionally, Irish exporters first foray into international markets has been to Britain. This is likely to continue, he says given the logic of geography, but he also highlights that dependency on the British market has reduced. Much of the Irish economy has diversified and now feeds into worldwide demand for tech, pharma and a host of other globally traded sectors. Daly encourages Irish business struggling with Brexit issues or reflecting on possible opportunities to act now. "Pre the end of 2020 inevitably some businesses adopted a wait and see attitude. That time is now over and the advantage rests with those responding in detail to the new trading environment, both in dealing with the challenges and looking for the opportunities it presents."
Paying extra for goods
Irish consumers will have to pay extra for some goods or go without. "As widely predicted, there has been considerable disruption from day one for certain businesses, particularly for retailers," says KPMG retail and manufacturing lead Niall Savage. "Irish businesses already heavily impacted by the Covid pandemic now need to understand and mitigate the immediate risks arising from Brexit, but equally need to be aware of the potential opportunities presenting themselves."
Despite having more than four years to prepare, Brexit has clearly blindsided several retailers and supporting manufacturers, he adds. "In their defence, the final detailed agreement was only reached on Christmas Eve 2020, so they had just over a week during the pandemic-dominated Christmas holidays to prepare for another new normal."
And life will not be going back to the old normal. "The additional customs processes are permanent, additional requirements for trade between Britain and the EU," says Savage. "They are new, complex and time-consuming. A customs declaration has 57 boxes to complete including commodity code, weight, origin and value. But time and experience should enable most businesses to understand the paperwork and get to grips with new rules-of-origin conditions."
Get in touch
If you would like support on any of the issues or opportunities mentioned above, please contact any member of our Brexit Response Team. We'd be delighted to hear from you.