Variance in the monthly Nordic PE deal volumes as the year-end approaches
KPMG Nordic Private Equity Data Snapshot, November 2021
KPMG Nordic Private Equity Data Snapshot, November 2021
Last 3 months Nordic and Finnish Buyout and VC deal activity compared to preceding 3 months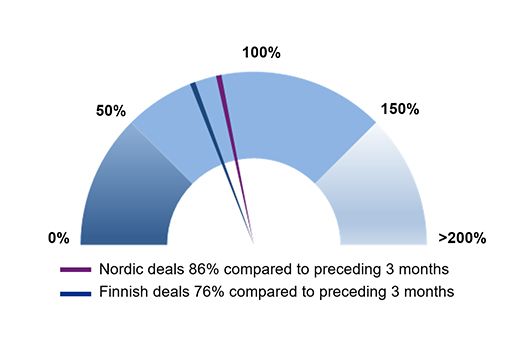 Monthly Nordic Buyout and VC deal volume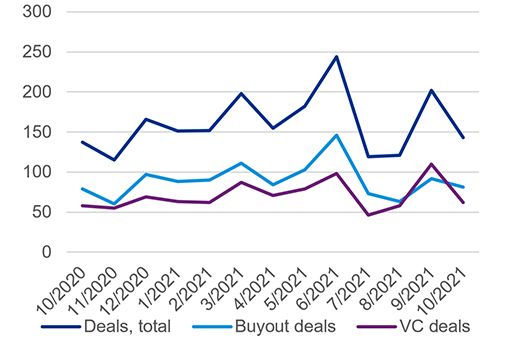 Deal activity
Significant amount of deals recorded after the publication of the October Data Snapshot raised the September deal volume as the second highest in 2021. In October the overall PE deal activity decelerated in each Nordic country and the lower volume was visible both in buyout and venture capital segment, but especially in the VC deals. Despite the fluctuating deal volumes in the autumn, the year-to-date aggregate deal volume has grown 68% compared to last year and the exit market has also been very active.
The rolling 3 month deal figure in October points out a slightly declining trend both in Finland and overall in the Nordics, despite that the primary holiday month July accounts in the comparison period. The highest monthly deal count this year reached in June raises the comparison period figure higher than the corresponding recent 3 month period.
Fundraisings
Nordic Foodtech VC announced the closing of its first fund at EUR 42M, exceeding the EUR 40M target size. A quarter of the capital raised comes from investors linked to the Nordic food ecosystem, such as Valio pension fund, Heino Group and HKScan. The fund launched in April 2020 is the first early-stage VC fund in the Nordics fully focused on investing in foodtech startups.
Korona Invest's fourth fund focusing on Finnish growth-oriented SMEs reached its target size at EUR 80M and held the final close. The new fund continues the investment scope of the previous funds by Korona Invest.
Monthly Nordic Buyout and VC deal volume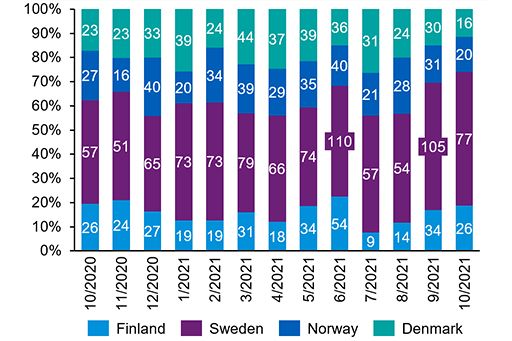 Deal picks of the month
Cloud software firm Aiven has raised $ 60M from existing investors World Innovation Lab, IVP and Atomico, giving the firm a valuation of $ 2bn. The funding round, an extension of the firm's $ 100M Series C announced seven months earlier, was initiated by one of its investors. The firm was last valued at $ 800M.
Finncont, a circular economy company providing solutions and products for environmentally responsible waste treatment and the safe transport and storage of chemicals, was acquired by Sponsor Capital. The aim of the transaction is to support Finncont's future growth both in its current markets as well as internationally.
Finnish infrastructure and property maintenance company Alltime Oy gets MB Funds as its majority owner. Today, Alltime has net sales of around EUR 30M and employs around 250 professionals. The closing of the transaction requires competition authority's approval.