The COVID-19 pandemic has caused customers and businesses to rethink how they interact with each other. With social distancing measures here to stay with us for the foreseeable future, we will all need to adapt to a new way of living. For organisations this will mean evolving their business models to adapt and compete for the New Customer emerging, and reinventing the customer and employee experiences that they deliver.
Already, we are seeing big shifts in consumer behaviours.
In our recent Customer Connections Insight and Analysis report
, 89 percent of customers have already changed the way they interact with companies by adopting more self-serve online and mobile channels. Early indications suggest that these shifts may stick - with 47 percent of shoppers saying that they will continue using these new online channels.
Although many organisations are still in the Resilience stage, the pace at which businesses are approaching Recovery and New Reality is increasing. Companies that have been quick to respond to the crisis are now facing the complex challenge of understanding their New Customer and redefining their businesses as they return to growth. We see two different growth trajectories emerging:
This is based on 749 total votes on the June 3rd 2020.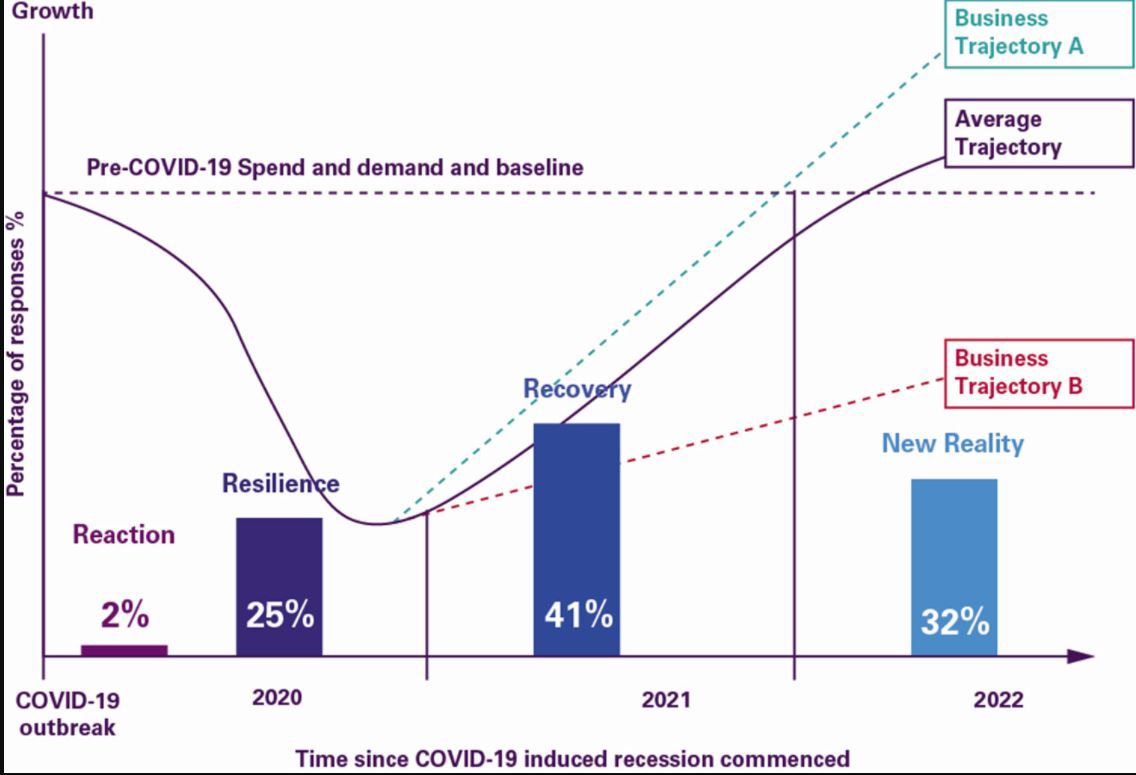 Approaching the New Reality
Organisations need to take a close look at these fundamental customer shifts, to identify quick wins and to help them to define what their future business models will look like. To do this successfully will require having an intuitive understanding of their New Customer and a determination to re-mould their whole enterprise for the better.

Understanding your New Customer
As a society, this unique situation is having a profound impact on the way we all view ourselves in the context of those around us, with community and sustainability being key themes to consider. These influences will continue to have a commercial impact in how we wish to engage and interact with brands going forwards. For instance, the long-term impact of social distancing and a customer's individual appetite for risk will be a key driving force in defining new behaviours.
Already, we are seeing measures being applied as the UK prepares itself for a return to work. For example, in the UK the Department for Transport is already looking at new transportation methods including e-scooters and e-bikes. It has also recently announced £90m in funding to trial new technology in 3 Future Transport Zones across the UK, recognising that commuters are more likely to wish to use their own personal devices to secure their safety when travelling. Many of these initiatives will also create further societal benefits for sustainability - making travel easier, smarter and greener.
Restrictions to shopping in-store have caused e-commerce shopping to increase substantially. For instance, in Italy there has been an increase of 81% in online shopping, comparing the last week of March to the last week of February. Closer to home, Marks and Spencer announced its plans to partner with Deliveroo for four months until their food home delivery option and joint venture with Ocado launches, to provide customers with a same-day delivery service of essential products.
All of these initiatives are happening in response to these shifting customer behaviours. Organisations that can actively adapt to these changes will be the ones who will be able to better attract and retain the New Customers that are emerging.
2. Adapt the enterprise model
Once firms understand the expectations of their New Customer they will need to quickly transform their business and operating models to fulfil customer needs. Organisations must prioritise the fundamental capabilities that are key to delivering these new experiences. The roadmap to the New Reality must be grounded in the right customer insights, supported by a business case to grow revenue streams according to New Customer preferences, and crucially to minimise cost-to-serve.
Already we are seeing big changes happening across organisations. For example: Target, the US Retail giant, has seen 141% growth in digital sales in the last quarter. This has been largely attributed to changes in customer preferences towards self-serve. As a result, the firm has accelerated its investment in the capability to support online sales, using its 1,900 stores across the country as temporary fulfilment centres. These temporary centres fulfilled 80% of digital sales throughout the quarter.
This initiative allowed customers to get same-day online orders by walking into a store or using the "drive-thru" service — options that reduce the retailer's transportation costs. This represents a quick win, however Target has also begun to invest in its longer term fulfillment capabilities. The retailer has acquired technology from logistics start-up Deliv, which will provide sort centres for packages. This eliminates the need to sort packages in the individual stores.
As Chief Financial Officer Michael Fiddelke says, 'the throughput of packages in these locations will naturally increase and we can achieve lower average shipping costs through the scale and route optimization that these downstream centres will provide'. This is an excellent example of a firm adapting its capabilities and delivery model, to serve new behaviours of customers. The early investments they make now will help to reduce cost-to-serve, and also provide a more seamless experience for customers, as the market enters the New Reality.
Another example is the Illinois-based coffee start-up Chicago French Press that is disrupting the traditional coffee market by providing fresh, organic coffee roasted to order and delivering to customers on-demand. The company has seen an increase in sales of over 393% compared to the period prior to COVID-19. Founder Kris Christian explains "Coffee is considered essential for so many people and while they're accustomed to buying per cup on-the-go, they are witnessing quite a bit of savings and an even better coffee experience by brewing it themselves at home." The company also provides coffee education to teach customers how to make better brews at home, and how to use their freshly grounded coffee in innovative ways such as baking recipes, spice rubs and facial scrubs. Chicago French Press had originally intended to open a flagship store in Chicago, however the pandemic shifted the focus primarily to an e-commerce business model. The decision to pivot to an online delivery service fuelled the exponential growth to the firm's bottom line.
This quick response shows the flexibility required to rapidly adapt to evolving customer preferences. By understanding what customers want, businesses are able to tailor the value propositions, and adapt business models, with the right underpinning capabilities to deliver the desired experience.
How your business can compete in the New Reality
As customers switch towards digital away from traditional channels, this will require businesses to shift capital expenditure to improve the online experience. Social distancing will continue to have an impact on businesses, requiring them to become more innovative, flexible and adaptable to new business models.
When we emerge from the global crisis, consumers will have learnt and unlearnt behaviours, which will have a long-lasting impact on the way we interact with one another. To compete, companies will need to differentiate themselves in the market to embrace these new ways of working and serve the expectations of the New Customer. This will reduce cost-to-serve, increase revenue streams, and create dynamic operating models. The companies who get this right will be leaders of the New Reality.
Originally authored by Nathan Southall, Senior Manager, Ryan Bright, Assistant Manager, Olu Odubajo, Assistant Manager and Nathan Simkiss, Graduate Trainee, KPMG Customer.