Article Posted date
28 April 2022
The coronavirus crisis and the global sales and production chains it fundamentally changed brought with it a serious livelihood risk for many companies with a focus on commodities. Commodity and energy prices, which have risen sharply since October 2021, are also central to risk management for companies. The purpose of this article is to highlight the current situation for agriculture businesses.
Since the start of the conflict between Russia and Ukraine, global political and economic uncertainties have also been reflected in commodity prices. The main price increase concerns fertiliser, corn, soy beans, sunflower seeds and wheat. As Ukraine and Russia are among the world's leading wheat exporters (Fig. 2), price volatility is particularly noticeable in wheat. (Fig. 1)
Fig. 1: Development of wheat prices on the CBOT and daily percentage change since 01/02/2022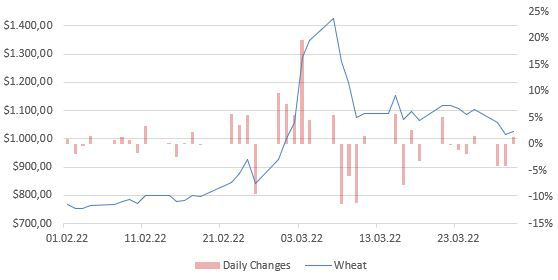 Fig. 2: Development of harvest quantities of wheat for the years 2019/2020 to 2021/2022.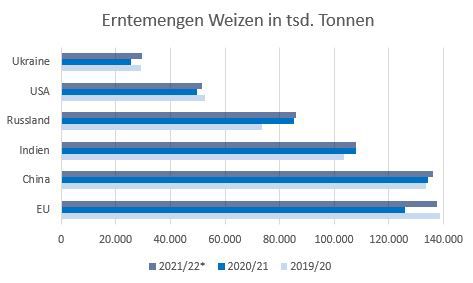 The current level of prices poses significant challenges not only for farms, commodity traders and processing plants in the interplay of sourcing, production and distribution, but also the risk of famine and supply shortages within emerging and developing African countries, which are among the largest customers of Ukrainian and Russian grain exports.
From supply shortages, rising inflation and consumer prices
Since the start of the Russian-Ukraine conflict, exports of agricultural commodities have fallen sharply as expected. Fields can only be cultivated at the greatest risk and it is hardly possible for Ukraine to export commodities by sea and land. As a result, the procurement of otherwise highly sought-after commodities such as wheat, corn, and sunflower oil from Russia and Ukraine, especially for North and West African countries, the Middle East, but also European agricultural companies, is suffering from supply shortages or high prices. In addition, the prices of important production factors such as seeds and fertilisers are under pressure from the simultaneously higher energy prices for electricity, oil and gas.
The increase in procurement costs directly impacts the cost of basic food and processed products. In addition, there are long waiting times for goods due to slower supply chains, which poses challenges especially for farmers who rely on animal food, fertiliser and similar goods required for animal husbandry. However, the effects of supply shortages are also being seen on the producer side as well as in the food industry. In retail, the effects are already reflected by partially empty shelves. Accordingly, trade could respond to increased procurement costs by passing them on to end users (see Fig. 4). The consequence: A significant contribution to existing inflation. (see Fig. 3 for current inflation)
Fig. 3: Inflation rate in Germany over the past three months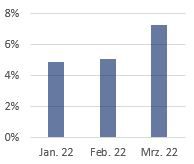 Fig. 4: History of the Harmonised Consumer Price Index of Germany over the last 2 years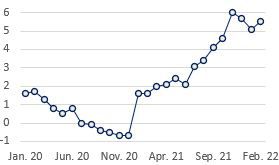 Economists believe that an increase in inflation rate to a value of at least 4% at the end of the year is likely. BGA1 says that higher levels of producer prices are also expected in Europe in the long term. Analysts and economists disagree on whether the current development is a direct result of the Russian-Ukraine conflict or a long-term trend.
Passing on the market price change risk
"No manufacturer can survive without passing on the dramatically rising costs," is how Lorenz's managing director describes the current management of market price risk.
Currently, the food industry and the brick-and-mortar retail trade are particularly affected by the high procurement prices they pass on to the customer to stabilise trade margins. As a result the prices of basic foodstuffs have risen steadily across the board. Even the otherwise inexpensive and price-stable own brands of discounters and supermarkets have had to be marked up due to the current commodity, energy and logistics prices. However, the market price risk cannot be passed on in all industries. A recent example of this is the case of a supplier who has concluded a multi-year supply contract or cooperation with brick-and-mortar retailers. For example, this could involve meat production and one or more retail chains. The producer is responsible for the market price risk without corresponding price hedging through fixed price contracts or derivatives on the procurement side. In the offer phase, prices for the sale of the produced goods are fixed on the sales side. On the procurement side, however, there is usually no price fixing for the required commodities until the start of production. Thus, in this example, meat production is fully subject to the risk of an interim increase in meat prices with high price volatility due to increased feed costs. The increased energy prices also contribute this, further pushing down or even completely exhausting the margin already reduced by the increased commodity prices, thereby endangering continued existence with the current supply chains and market conditions without previously taken hedging measures. This example can be transferred to other industrial sectors where there is an intensive use of commodities.
Minimise procurement and sales risk
Many companies in the commodity-intensive industry and commodity trading sector face the challenge of being mostly unable to properly determine their exposure from open positions on the procurement and sales side. This is usually due to a heterogeneous data and system landscape, which makes it difficult to measure and determine exposure in a uniform and central manner. In times of a sideways moving market, this may not result in greater risk, but in times of highly volatile commodity prices, the situation is different. The current market situation again gives companies reason to question the adequacy of the previous strategies, methods and processes in risk management and the design of the risk cycle in trade and treasury on the ability to cope with uncertainties in a sustainable manner.
For dealing with volatile commodity prices in the long-term, companies have several alternative courses of action:
Risk strategy and risk metrics
Check whether your current risk strategy is aligned with the business objective and that the importance of relevant risks (market, credit and liquidity risks) to the business is known. Ensure that current risk metrics allow a reliable statement on the impact on the company-specific performance metrics (EBIT, cash, equity ratio) by which it is managed. Establish a clear risk management strategy.
Exposure Survey
Review the amount and timing of your commodity risk. Get an overview of what types of transactions are included in exposure/hedging quantities (physical inventories, physical supply contracts, financial contracts, time buckets, delivery locations, etc.). It must also be taken into account to what extent and, if applicable, with what time delay the risks can be passed on, since, for example, the risk is overestimated if only the purchase prices for commodities are observed, without at the same time taking into account the reactions of the sales prices to changes in the commodity markets.
Risk-bearing capacity
Determine what risk you are willing to take in this strategic area. Choose an appropriate methodology to measure and report the risk. Decide which risks may be taken (risk return profile). A distinction can also be made between a limit for business activity during normal times and an additional buffer for extreme scenarios.
Hedging Strategy
Formulate a clear hedging strategy in view of your commodity purchasing goals. Consider whether there is the possibility of proprietary trading or taking market timing positions. Set the methodology for measuring the success of your hedging strategy and perform it regularly (for example, benchmarking). Ensure that the effectiveness of the hedging relationship is still valid from an economic and accounting perspective given the current market situation (for example, effectiveness of proxy hedges).
Framework conditions for commodity trading
Create a clear governance structure that allows for the definition of the framework for commodity trading and clearly defines responsibilities. Identify who will prescribe changes to the existing framework conditions or if exceptions to compliance with framework conditions are possible. Determine which products/instruments are permitted for trade.
The past few months have once again shown that it may indeed be expedient to make management and cost controlling aware of the necessity for and benefits of effective and comprehensive risk management for market price risks. Therefore, the following applies: Prepare for the next extreme cases in good time and develop measures to protect yourself against coming turbulence.
Your finance and treasury management team is happy to answer any questions you may have.
Source: KPMG Corporate Treasury News, Issue 120, April 2022
Authors:
Ralph Schilling, CFA, Partner, Head of Finance and Treasury Management, KPMG AG
Moritz zu Putlitz, Manager, Finance and Treasury Management, KPMG AG
_______________________________________________________________________________________________
1Federal Association for Wholesale, Foreign Trade, Services e. V.
KPMG Corporate Treasury News